I'm a comic book fan, and that's where I first heard of a character described as being an antihero – discussed at some length in the pages of multiple comic fanzines. The comic book universe is full of non-traditional, disaffected loner, sometimes morally ambiguous, and often reluctant, heroes. These characters have an appeal for many reasons, but I think largely it's because they tend to be mavericks. In romance novels, I think of the antihero protagonist as "the most unlikely hero".
"Goes with the whole King of the Badasses. Kind of hard to lead an army of the damned if I'm the King of Nice."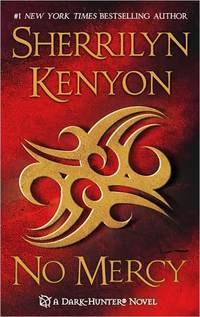 #1 New York Times bestselling author Sherrilyn Kenyon brings us back to the electrifying world of the Dark-Hunters and introduces us to a brazen heroine for whom there is
NO MERCY
Live fast, fight hard—and if you have to die, take as many of your enemies with you as you can. That is the Amazon credo and it was one Samia lived and died by. But today, in contemporary New Orleans, the immortal Amazon warrior is about to learn that there's a worse evil coming to slaughter mankind than she ever could have imagined.
Meet Dev Peltier. A shapeshifter who has stood guard at the front of Sanctuary for almost two hundred years, he's seen it all—or so he thought. His enemies have just discovered a new source of power—one that makes a mockery of anything faced to date. Now the war is on and it's up to Dev and Samia to guard ground zero. But in order to win, they will have to break the most cardinal of all rules—and pray it doesn't unravel the universe as we know it…
The first time I started associating antiheroes with romance was when I started reading Sherrilyn Kenyon's "Dark Hunter" series. Sherrilyn Kenyon has many a slightly surly, wronged by society, male protagonist who goes his own way and doesn't meet the traditional profile of a hero. One such character that I love is Zarek with his straightforward, tough, and often tactless approach to life. However, it is Sherrilyn Kenyon's character Stryker that I find to be a model antihero. Stryker is a character who is often at odds with his father, his children, the love of his life, and the world-at-large and acts only according to his own code of honor, and damn the consequences. Fans either love him or hate him. I first read about him in the book DARK SIDE OF THE MOON in which he was a secondary character, but I thought he stole the show. Stryker has done things that many people would find reprehensible. In spite of his past misdeeds, in ONE SILENT NIGHT, Sherrilyn Kenyon doesn't try to justify all of his actions, but tries to get readers to see things through his eyes and gain a different perspective on the character. Through this alternate view, he is a greatly flawed hero rather than a stock villain.
"No one's ever told me that I'm a comfortable sort. I'm sure I don't like it. I'll have to do something diabolical soon to correct your impression."
—Lisa Kleypas, DEVIL IN WINTER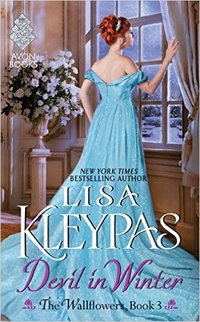 "I'm Sebastian, Lord St. Vincent. I can't be celibate. Everyone knows that."
Desperate to escape her scheming relatives, Evangeline Jenner has sought the help of the most infamous scoundrel in London.
A marriage of convenience is the only solution.
No one would have ever paired the shy, stammering wallflower with the sinfully handsome viscount. It quickly becomes clear, however, that Evie is a woman of hidden strength—and Sebastian desires her more than any woman he's ever known.
Determined to win her husband's elusive heart, Evie dares to strike a bargain with the devil: If Sebastian can stay celibate for three months, she will allow him into her bed.
When Evie is threatened by a vengeful enemy from the past, Sebastian vows to do whatever it takes to protect his wife . . . even at the expense of his own life.
Together they will defy their perilous fate, for the sake of all-consuming love.
In historical romances, the rake is a natural fit as an antihero. Often living a life of dissolution, a rake doesn't usually have a lot of typically heroic traits, so making one the hero in a romance is not necessarily an easy task and takes a skilled author. Two of my favorite rake antiheroes are Sebastian, Lord St. Vincent from DEVIL IN WINTER by Lisa Kleypas, and Lord Dutton from MUCH ADO ABOUT DUTTON by Claudia Dain. For me, both characters are able to stay on the "bad boy" side of the fence without venturing into hardcore villain territory. However, it's up to the readers to decide for themselves what separates an appealing and complex rake antihero from a despicable unredeemed villain. St. Vincent has always been a fan favorite in spite of his wicked behavior in IT HAPPENED ONE AUTUMN. Sebastian's wry humor and pragmatism makes him especially endearing and sexy. In just about every book he's in, Sebastian says what most people are thinking – thoroughly tactless yet said in an equally thoroughly amusing way. With Lord Dutton, Claudia Dain invested the time in developing a character that pays off big for longtime readers. Through a divine alchemy, Claudia Dain takes Dutton from a leering, cocky ineffectual aristocrat, and general low level scoundrel, breaks him over the course of several books, and rebuilds him without losing his original bad boy appeal. What Claudia Dain and Lisa Kleypas do tremendously well is re-purpose a rake and alter his perspective without fundamentally changing the best, and most deliciously wicked aspects of his personality.
"Argent doesn't have friends," Dorian muttered. "He has people he'd find it a little more distasteful to kill."
—THE HUNTER, Kerrigan Byrne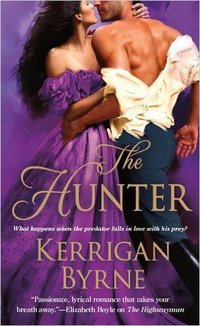 They're rebels, scoundrels, and blackguards–dark, dashing men on the wrong side of the law. But for the women who love them, a hint of danger only makes the heart beat faster…
A scandalous proposal…
Christopher Argent lives in the shadows as the empire's most elite assassin. Emotion is something he tossed away years ago, making him one of the most clear-eyed, cold-hearted, wealthiest, and therefore untouchable men in London. But when his latest target turns out to be London's own darling, Millicent LeCour, Christopher's whole world is turned upside down. Overwhelmed by her stunning combination of seduction and innocence, Christopher cannot complete the mission. She has made him feel again. Now, he will do anything to save her life, even if it means risking his own…
A perilous passion…
When Millie learns what Christopher was hired to do, she is torn between the fear in her heart and the fire in her soul.
Putting herself in this notorious hunter's arms may be her only path to safety–even if doing so could be the deadliest mistake she's ever made. But how can she resist him? As the heat between her and Christopher burns out of control, danger lurks in the shadows. Is their desire worth the risk?
Only the enemy knows what fate has in store…
While "mad, bad, and dangerous to know" was once used to describe Lord Byron, it is also a fitting description for the antiheroes in Kerrigan Byrne's "Victorian Rebels" historical romance series, and Carolyn Jewel's "My Immortals" series about modern-day, magic infused, demon warlords. Although these two series are wildly different, the male protagonists have a lot in common. For example, Christopher Argent and Kynan Aijan are both killers, even though the circumstances that led them down that path vary. Both men have endured oppression and torture that left a long lasting mark and forever altered their worldview. Both men have done very bad things, but make for compelling characters to read about. Both men meet women who rock their world and change the trajectory of their life. Each author tells their story without offering moral pronouncements but, instead, tell gripping stories about two deeply fascinating and flawed characters. In THE HUNTER, Kerrigan Byrne takes an unconventional hero and is able to draw enough contrast between him and a truly evil villain. Christopher Argent is stunningly sexy and unexpectedly sweet and easy to fall for. Like Claudia Dain, Carolyn Jewel invests the time in creating a character that slowly evolves over many books, making for an extremely satisfying journey for the reader to take with the character. In MY DEMON WARLORD, Kynan becomes a character to cheer on.
Antiheroes might be the most unlikely hero, but they are my favorite heroes. Their lack of heavenly perfection makes them more human and easy to root for. Their often brutal honesty is attractive rather than off-putting. Their complexities and vagaries add spice to a story and make it for interesting and infinitely more enjoyable.