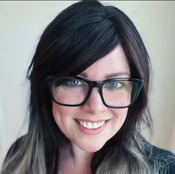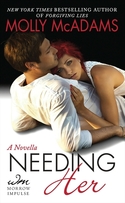 So, if you've read FROM ASHES, then you know the whys of Connor's weird mood in the beginning of NEEDING HER. If not—eh, well, you find out later in NEEDING HER, I guess 😉 But ever since I wrote his character in FROM ASHES, I've known he would get his own story. He had to! I loved him! With how things ended though, I knew it couldn't just start off all rainbows and puppies for him. He was hurt, and he needed his time to be hurt.
Bring in Maci: she's his best friends' little sister, and the girl next door. It is everything cliché, and everything perfect for these two characters. I knew Maci would help him out of his funk, I just needed a way that fit them. Since they would have grown up together, they would've had to go through that phase where I'm sure Connor couldn't stand the little gangly girl who always followed him around, and he would have no doubt picked on her. I didn't have brothers, but I had cousins my age who were boys, and pranks between their friends and me were always happening. I don't know, to me it just seemed perfect.
A good prank will usually piss off the person being pranked at first, but it always makes for great stories and even better revenge later. With Connor's intensity and Maci's fiery attitude, I knew this prank war would start a tension neither would be able to ignore for long.
NEEDING HER available now in e-Book
Maci Price has spent her adult life hiding relationships from her four older brothers. But the convenience of a no-strings-attached hook-up becomes less appealing when the guy's only concern is himself. Set on finding Maci a man that will take care of her, her friend begins pushing the idea of Maci's neighbor – her brothers' best friend, Connor.
Connor Green has known what he wanted to do with his life since he was young. Other than becoming a detective, not much else mattered until an unsuspecting girl came back to town and shook up his world. But she belonged to someone else and he's spent months trying to find himself again after losing her.
When Maci starts up old pranks to get Connor out of his brooding state, an all-out war ensues that leads to a night neither can forget but are forced to ignore.
Together they're electric. Apart they're safe. And soon they'll find they're exactly what the other needs.
About Molly
Molly McAdams grew up in California but now lives in the oh-so-amazing state of Texas with her husband and furry daughter. Her hobbies include hiking, snowboarding, traveling and long walks on the beach…which roughly translates to being a homebody with her hubby and dishing out movie quotes. When she's not at work, she can be found hiding out in her bedroom surrounded by her laptop, cell, Kindle and fighting over the TV remote. She has a weakness for crude-humored movies, fried pickles and loves curling up in a fluffy comforter during a thunderstorm…or under one in a bathtub if there are tornados. That way she can pretend they aren't really happening.
What is the best prank YOU'VE ever pulled? One commenter will get a copy (e-book) of NEEDING HER
To comment on Molly McAdams's blog please click here.