I've never been a reader who enjoys the helpless, spineless, petty wiles of a senseless heroine—so, it is only natural that when I started crafting my own books I knew only an intelligent and cunning heroine would do. A woman who loves adventure and can go toe to toe with any alpha hero brings a story to life.
My A Lady Forsaken Series features women of varying intellect and education, but all possess the wit to thrive and secure themselves a promising future complete with love and laughter. Each has their own struggles to wade through and wounds to heal, but with their cunning nature—and strong men by their side—they overcome all odds to find happiness.
SCORNED EVER MORE, A Lady Forsaken (Book Three), details the life of a French spy, Lady Lorelei de La Valette, pushed into a form of servitude by country and family. She's sent to England to infiltrate society and gain the hand of Lord Chastain, a man deemed valuable to Napoleon—love was never meant to happen, especially a love for the Marquis of Drake, Chastain's best friend. Lorelei is faced with two options, deny her heart and fulfill her mission or allow love to take its course and forsake her country. Yet, Lorelei knows there may be a way to have both. You'll have to read the book to find out if her wit was enough to save Lorelei's mission—and her happily ever after.
Resourcefulness is a trait normally reserved for men in historical romances; the man who invests in a risky business venture to restore his family's fortune or a man who marries to save his family from scandal; however, resourcefulness is not a characteristic that should be limited to heroes. In SHUNNED NO MORE, A Lady Forsaken (Book One), Lady Viola Oberbrook is shunned by society after her selfish, petty ways cause the deaths of two men. She flees to the country an entitled debutante who doesn't understand the grave mistake she's made and why society would turn against the beautiful daughter of a wealthy duke. Instead of spending her time and energy forcing herself on the ton, Viola decides to make amends for her behavior, though no action can bring the men back from the beyond. She dedicates herself to raising money to help an orphanage for wounded and abandoned children in London's East End. Unfortunately, her identity is discovered and she has no other option but to show all of London how much she's changed—and in doing so, win the heart of a man who has all the reason to despise her very existence.
While writing my A Lady Forsaken Series I found a new set of female characters—the Craven House women. Each has their own weakness; one is a thief, another a mistress, the youngest a gambler, and the eldest a madame. Personally, I did not see these traits as weaknesses but characteristics that make a heroine worth exploring; if a woman, and all she does, is seen as scandalous, can she use her intelligence to overcome the mold she's been placed in? THE THEIF STEALS HER EARL tells the story of Miss Judith Pengarden, a woman taken to stealing as a way to help support her large family. She is not a bad person, nor does she pinch items for the fun of it; she sees this as her only option for helping the family she loves. She uses her skills and wit to disentangle herself from several scandalous situations. You'll have to check out her book to find out if this thief can steal the heart of an Earl most proper.
My next release, THEODORA, Lady Archer's Creed (Book One), features a woman who not only has the intellect and wit to make a favorable match in society, but she's smart enough to know that life isn't all about marrying well and having children. There is friendship, loyalty, and integrity to think about. Lady Theodora Montgomery, the only sister of Lord Cartwright, has interests that do not include lady's fashion and the current dance trend favored in London ballrooms—she dedicates much time to her skill with a bow and arrow and her academic pursuits. Without the opportunity to explore her own passions and desires, Theo knows a content and happy future are impossible. But maybe, just maybe, Theo can find a man who understands her passion for knowledge, accepts her need to help her friends, and loves her all the more for her unconventional desires.
There are no rules—or guidelines—when creating the perfect heroine. With that comes the lack of limitations to her depth, her passion, her desire, and her ability to be her own individual self. Her ideals, goals, aspirations, and dreams distinct and separate from her hero. As an author, I take the time to explore all my heroines have to offer a story—and their hero's—resulting in tales that captivate readers, encouraging them to discover their own intellect and wit along the way.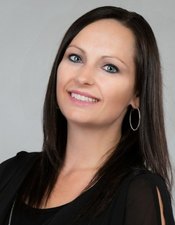 Christina McKnight is a book lover turned writer. From a young age, her mother encouraged her to tell her own stories. She's been writing ever since. Currently, she focuses on Historical Romance.
Christina enjoys a quiet life in Northern California with her family, her wine, and lots of coffee. Oh, and her books…don't forget her books! Most days she can be found writing, reading, or traveling the great state of California.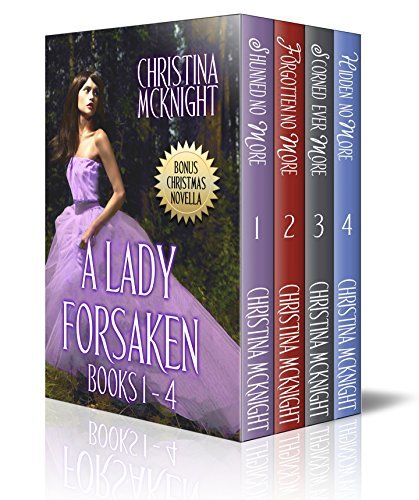 Books 1-4, plus novella
Shunned No More, A Lady Forsaken Book One
A lady Shunned by all…
A lord Betrayed by one…
An impossible match, destined to be…
Forgotten No More, A Lady Forsaken Book Two
A lady forgotten by all…
A man mesmerized by one…
A love neither can abandon…
Scorned Ever More, A Lady Forsaken Book Three
A man willing to sacrifice all…
A woman determined to take everything…
A love lost forever…
Christmas Ever More, A Lady Forsaken Novella
A lady seeking forgiveness for her past…
A woman forging a new path in life…
A girl lost and in search of a place to belong…
A trio of women holding out hope for three different holiday
miracles…
Christmas ever more.
Hidden No More, A Lady Forsaken Book Four
A lady concealed from society…
A man uncovering the secrets of his past…
A love neither can hide…
Romance Historical [Author Self-Published, On Sale: May 26, 2016, e-Book (reprint), ISBN: 9781945089022 / eISBN: 9781945089022]