1–What's the name of your latest release? 
BJORN CURSED, book 4 of the Forgotten Brotherhood series.
2–What is it about?
The Forgotten Brotherhood are a group of paranormal assassins. They aren't the monsters lurking under the bed. They're the ones that kill them. Bjorn was cursed by a god and became the first Norse werewolf. Now his past is being used to jeopardize not only his own life but the lives of those he loves and the other members of the Brotherhood.
3–What word best describes your heroine? 
Anja Knutson is one tough lady. Through her courage and sacrifice, she gained a second chance at life for her children, even though it meant servitude to a goddess for eternity in the afterlife.
4–What makes your hero irresistible? 
Bjorn was driven by anger and vengeance after the death of his family, which ended up with him being cursed and becoming the first Norse werewolf. He's stubborn and dangerous, but utterly loyal to those he loves. There's nothing he won't do to protect them, even defy the gods themselves.
5–Who are the people your main characters turn to when they need help?
Anja has absolutely no one she can turn to when she needs help, that is until she's reunited with Bjorn. Bjorn is a loner with no family and only the Brotherhood to call on, and they're not exactly a social group, but he knows they'll have his back if necessary.
6–What do you love about the setting of your book? 
The setting varies in this book, going from the hustle and bustle of the street of New York to upstate in the Adirondack Mountains.
7–Are you a plotter (follow an outline) or a pantster (write by the seat of your pants)?
I'm more a pantster than a plotter. If I plot, I lose the drive to write the book. I know the basics about my characters when I begin. For me, everything starts with them. Once I have the first scene in my head, I start writing and trust the characters will do the rest. I've often said, I feel as though I'm simply taking dictation.
8–What is an ideal writing day for you? 
My ideal writing day has changed this past year. The pandemic has made it challenging for me to write. I'm a morning writer and was always used to settling in for two or three solid hours of intense work. Now, I'm writing in shorter spurts in the mornings and early afternoons. I'm trying to find my rhythm again.
9–Do you listen to music while you write, need total silence, or do you have the TV on?
I need silence. Music or TV is distracting.
10– How do you approach research?
It varies depending on the book and what I need. The internet is a treasure-trove of information. I use tourist guides, YouTube videos, maps and more. Whatever I need, I find.
11–What is your publishing journey story?
Back in the mid-90s, I wrote two book that didn't sell. I put them away and forgot about writing until 2003. I started writing again because I saw a call for a competition. I was late for the competition but kept writing and submitted my manuscript to an online publisher—something very new at the time. In October of 2004, my first book—Annabelle Lee—was published. (It's now released as Uncovering Annabelle.) And those first two books? They found a home and were published as Discovering Dani and The Way Home—the first two books in my Jamesville series. My writing style has changed so much since those early days. As a writer, I'm constantly growing.
12–Do you have critique partners/writing groups you want to give a shout-out to?
I get encouragement from readers and fellow writers daily, for which I am grateful. And my ex and I may no longer be married, but we remain good friends, and he still reads a lot of my stuff, (he's a writer, too) and we talk things through when I need to bounce ideas.
13–What're the most frustrating things about being an author?
All the non-writing tasks that are a part of the job—social media/website/blogs, etc… They're all amazing tools to connect with readers and other authors but they are time-consuming and terrifying for someone like me who is not technically inclined at all.
14–What's your favorite scent?
I don't have one favorite but many. I love the sweet scent of freshly mowed grass, lavender, the delicious smell of freshly baked bread, and vanilla.
15–What movie will you watch no matter what if it's on TV?
I have several—The Day After Tomorrow, Battleship, and Twister. Twister is the worst. If I come across it on television, I must watch it. I have no idea how many times I've seen it.
16–Do you like breakfast, lunch, or dinner best? 
I never miss a meal, but I'm a breakfast gal. I love breakfast foods—pancakes, French toast, eggs, toast, yogurt, oatmeal. LOL
17–What's one thing you wish you knew more about?
Technology. It constantly baffles me.
18–What's the silliest thing you've recently done?
I spend a lot of time alone. More so in these times of self-isolating. I often sing and dance around my apartment. I'm not particularly good at either, but I have fun.
19–What can readers expect from you next? 
I'm currently working on another Forgotten Brotherhood book.
20–How can readers reach you?
They can check out my website at http://www.njwalters.com or my newsletter at http://eepurl.com/gdblg5. I can always be found on Facebook at https://www.facebook.com/N.J.WaltersAuthor. Readers can also follow me on Amazon at http://www.amazon.com/author/njwalters or BookBub https://www.bookbub.com/authors/n-j-walters.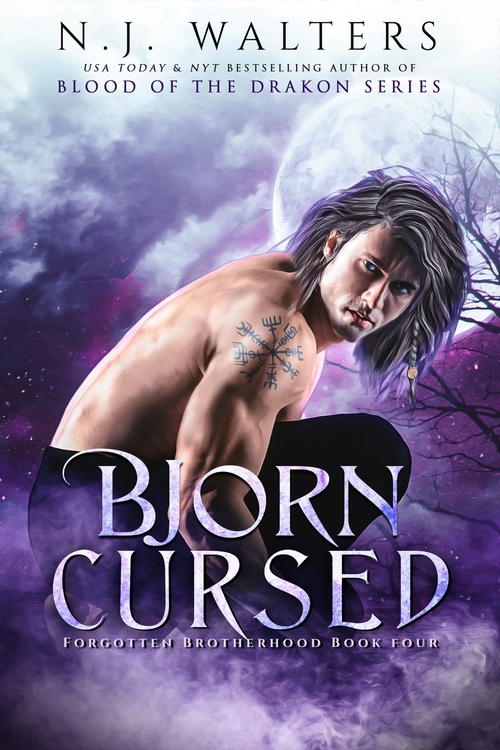 Lucifer is up to his old tricks, causing problems for the Forgotten Brotherhood. This time, he's had a woman removed from the Norse afterlife and placed her right in the path of Bjorn Knutson. After the slaughter of his wife and family centuries ago, tortured and broken, Bjorn was cursed as the first Norse werewolf. Now he's been tasked by Odin himself with killing the woman who escaped. Failure is not an option.
Before he can track her, he stumbles across a woman being accosted by three men in the middle of the night. Even though she's human, he intervenes and is shocked to recognize the face of the one woman he could never kill–his wife Anja.
She's also the one he's hunting. . . and if he doesn't kill her then both their lives are at stake.
Romance Paranormal [Entangled: Amara, On Sale: January 18, 2021, e-Book, ISBN: 9781649370884 / eISBN: 9781649370884]
A second chance if they can beat the gods!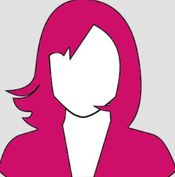 N.J. Walters is a New York Times and USA Today bestselling author who has always been a voracious reader, and now she spends her days writing novels of her own. Vampires, werewolves, dragons, time-travelers, seductive handymen, and next-door neighbors with smoldering good looks—all vie for her attention. It's a tough life, but someone's got to live it.