When we think of a romance hero we usually think of a military or ex-military man, firefighter, policeman, spy, cowboy, rancher, or billionaire businessman. How often do we think of a farmer? A reader recently commented that she was both surprised and pleased that the hero of my latest book was an organic farmer. As she put it, "Farmers can be hot too." He's also a half-breed werewolf, but that's another story.
I realized it's not the first time I've had a hero who makes his living as a farmer. That got me to thinking about why I chose that profession for my hero. Of course the easy and true answer is, "He chose it, not me." That's how it works for me when I write. The characters tell me who they are and what they do for a living. I'm just taking dictation.
I think there is something intrinsically down-to-earth about a man who works the soil for a living. A natural confidence that arises from working for himself and depending on his own abilities. He must be willing to trust his instincts and adapt to changing situations. So many variables are out of his control and not everything is going to go his way so it breeds resilience and patience, as well as a healthy respect for nature and the elements. He's not afraid to get his hands dirty. Hard physical labor builds not only character but muscles too. But there is a softer side to him. A man who can coax vegetables and flowers to bloom can also cultivate an emotional bond with a woman.
What woman wouldn't want a man with strong, callused hands, a man who is confident in who he is, a man who knows he can provide a living to those he loves through hard work, perseverance, and skill. And when that man reaches for her in the dark of the night with love in his heart, I don't know of any woman who would be able to resist.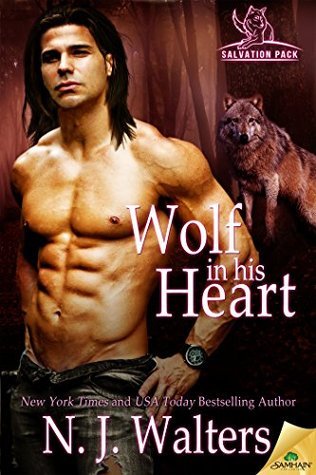 He's a wolf where it counts—in his heart and in her bed.
Exiled from her wolf pack for rejecting her parents' choice for a mate, Rina Matheson has been on her own for over a year. Now she's running for her life from a man who knows what she is and is obsessed with hunting her down.
Sage Gallagher—organic farmer, half-breed werewolf, and member of the Salvation Pack—finds more than a lost hiker while camping in the Great Smoky Mountains. So much more. Instant attraction slams through him with knee-buckling power the minute he sees Rina. His first instinct is to get her home where he and his pack can protect her.
Rina doesn't trust easily. Especially not half-breeds, who she was raised to consider abominations. But Sage's quiet strength calls to her lonely soul, and amazingly enough, her wolf responds. As he slowly works his way past her guard, she is soon in danger of losing her heart—even as danger draws closer to taking her life.
Warning: Your heart is in danger of being lost to one very special half-breed werewolf.
Romance Paranormal [Samhain, On Sale: July 5, 2016, e-Book, ISBN: 9781619233690 / eISBN: 9781619233690]
N.J. Walters is a New York Times and USA Today bestselling author who has always been a voracious reader, and now she spends her days writing novels of her own. Vampires, werewolves, dragons, time-travelers, seductive handymen, and next-door neighbors with smoldering good looks—all vie for her attention. It's a tough life, but someone's got to live it.