REDEEMING A ROYAL is the third and last installment of my Royals of Aldonia series. And while that makes me so sad because I have truly fallen in love with this royal family, I feel it's only fair, to be honest, and say that this series was never supposed to happen!
Allow me to explain. . .
When I write books from a series, I always write them as inter-connecting standalones. So, any of them can be read without having to read the ones that came before.
And the reason I write them like that is because the Royals of Aldonia is the third series of mine that wasn't supposed to exist.
Reader – I have a problem!
The Hidden Prince, which is book one and a novella, was supposed to be just that. A cosy, Christmas novella because nothing can be more swoon-worthy than a prince at Christmas. Right? Well, yes and no.
Because while I was writing The Hidden Prince–Prince Alexander's story–I wrote about his sister Princess Harriet who was very much a secondary character and who was supposed to trot off into the sunset with the rest of those characters.
I should have known that she was far too feisty for that!
Over a year later, I was still thinking about her. And about her life as a royal. I'd invented Aldonia just to give Prince Alexander a home. Yet even as I wrote different stories, different genres even, I couldn't help imagining Aldonia.
And of course, I couldn't stop imagining the life Princess Harriet would have had to return home without her brother.
Before I knew it, I was sitting at my laptop at two in the morning writing about Princess Harriet and the spy who fooled her, loved her, and ultimately won her heart.
So that was that. Right? Wrong!
Because of course, Princess Harriet and Prince Alexander have an older brother. The Crown Prince. Prince Christopher who unwittingly became my piece de resistance.
Because we didn't meet Christopher in Alexander's story, I had no idea how much he would demand his own story. And how important he would become to me.
But in Protecting The Princess, he was integral to the storyline and before I'd finished the first couple of chapters I knew he'd need his own book. . .
As a writer, I love all my characters. They're my babies and I treasure them. But every once a while a character comes along that just has a little–something. I don't know how to describe it. it's a feeling–a little piece of magic in his book.
That was Prince Christopher for me.
His story just flowed from my fingers. I plotted storylines that ended up not being used. I jotted down ideas of dialogue that didn't come to fruition.
And that's because the book literally felt like it was writing itself. It just–happened.
Rarely have I had a character that I wanted a happy ending for so badly. And Lucy Allenwood is the lady to give him just that.
She was such fun to write and the perfect foil for his sometimes quite severe disposition.
I knew that in bringing the series to an end, it needed to be a pretty special book. Reader reactions to this series have been amazing to me. This is one beloved royal family, and Prince Christopher as their leader, needed a story to live up to that expectation.
I like to think I've managed that. Certainly, his story will always have a place in my heart.
The ending of a series is bittersweet because the sense of accomplishment is coupled with the knowledge that you have to say goodbye to these characters, and let them live out their happy endings in the recesses of your imagination.
That's especially true of the Royals of Aldonia series–the books that weren't meant to be.
But I'm so glad that in typical Princess Harriet and Prince Christopher fashion–they made their demands and I, as a lowly subject, had no choice but to carry them out.
The Royals of Aldonia #3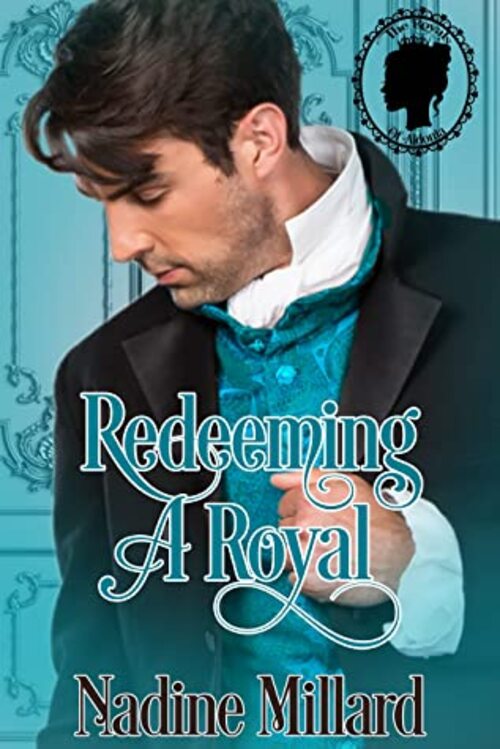 Heavy is the heart that wears the crown. . .
Prince Christopher Wesselbach learned from a young age that crown and country come before everything else.
Now, as Crown Prince and future king, he knows that duty to the throne requires him to marry.
But he also knows from bitter experience that women are fickle and not to be trusted. So, he'll choose a wife based on what Aldonia needs in a queen and nothing else. He won't allow a woman to change the life he chooses to live, and he won't be foolish enough to let his heart get involved in the decision.
***
Lady Lucia Allenwood does not fit in with royalty. If stealing from the queen wasn't proof enough of that, then engaging in illicit meetings with a handsome stranger certainly was.
But her cousin seems to have caught the interest of the elusive Prince Christopher and so Lucy must do her best to stay out of trouble, and not disgrace the family name.
***
Despite their best intentions, Lucy and Christopher can't seem to stay out of each other's ways, and when they clash, sparks inevitably fly.
But can Christopher learn to trust? Not just a lady, but his own heart?
And will Lucy be able to redeem this royal?
Romance Historical [Self-Published, On Sale: July 21, 2020, e-Book, / ]
Nadine Millard is a bestselling writer hailing from Dublin, Ireland.
When she's not writing historical romance, she's managing her chaotic household of three children, a husband, and a very spoiled dog!
She's a big fan of coffee and wine with a good book and will often be found at her laptop at 2am when a book idea strikes.