Hi, Nancy! Welcome back to Fresh Fiction. Please tell us about yourself and your latest novel, A HEARTFELT CHRISTMAS PROMISE.  
Hey there! It's been a while since we've chatted. I'm so excited to be here to share a little about my newest book. Isn't the cover adorable? I'm a dog lover so I'm crazy about this cover. I know people love reading on their ereaders, but I hope they'll not only download the digital copy, but also splurge on the purchase of a copy of A Heartfelt Christmas Promise in trade paperback for their bookshelf and include it in their holiday decor. It's such a fun cover, and so different from all of my other holiday books.
PSSST- If you order a print copy and need an autographed bookplate. .  . email me for one with your full address I'd be happy to personalize them for you and your friends!
What do you love about writing Christmas romance novels? What do you do to get in the holiday spirit while writing these books?  
I love the chance to whisk my readers away from the day-to-day, and what better way to do it with the joy Christmas brings. The smell of pine. Fresh cookies just out of the oven. The sound of wrapping paper as it's ripped away, or that feeling you need to rush in and hurry along Aunt Edna who is trying to save every piece in a painstakingly slow peel. . . lol. The glitter and glow of ornaments and snow. . . or wishing for snow if you live where the holiday is usually green.
Writing Christmas romances is so much fun for me, no matter when I'm writing them which is usually in the spring and summer. I hope readers can feel my love for the season in every single story. Honestly, it's easy for me to get in the Christmas spirit even when it's ninety degrees out. I have been known to crank up the air and turn on the fireplace, but my fictional small towns are so inviting it's not hard to persuade me to venture back in to work on those stories.
In A HEARTFELT CHRISTMAS PROMISE, there' a "city-mouse/country-mouse" aspect to the story of Vanessa and Mike, as well as opposites attract. What do you think readers will love about Vanessa and Mike and their differences?  
Ha. There definitely is. The nice thing is there are wonderful aspects to both the city and the country, and in this story we see it from both sides. I think you'll love how some of the corporate edges peel back from Vanessa around Mike, and that she finds a peace in the differences, but doesn't have to abandon who she is or what she's good at to do it. Mike is 100% yummy. I'll give you a little inside information on him. The inspiration for his character came from the Super Bowl Budweiser commercials that aired starting in 2014. That Clydesdale trainer with the puppy who ran away, got lost, muddy and wet returning to the farm. . . you remember them, don't you? Those commercials stole my heart. And that guy. . . well he is everything you want a man to be. Handsome, strong, tender-hearted and good. . . an everyday hero. I think readers will love him as much as Vanessa. . . and I do!
The town of Frazier Hills comes fully to life in your book! What was your process for creating this wonderful place?  
I adore small towns, and it's not just the charm of Main Street, but the residents that bring them to life. I create small towns that I'd like to visit. They are a mix of pieces and parts of real ones I've visited across the nation, and my imagination. The buildings like the Porter's storefront and factory are like many I've seen in small towns that have been abandoned. It's tough when small towns lose a main source of employment. It changes the whole vibe of the town. I love that in this story we were able to. . . oh wait. . . that would be a spoiler. Sorry!?!?
A few of your novels have been turned into Hallmark movies! What was that like? Did you get to visit any of the movie sets?
Oh gosh. Having a novel turned into a Hallmark movie is a dream come true. Being lucky enough to have three? Wow! I still cry when I think about it. I also got to be the literary voice of the Hallmark Original Christmas in Evergreen movie novels. There are three of those so far. That is just as exciting, and quite a challenge to live up to the beauty of those movies that readers have already seen.
I did go on set and I'm sure some folks have heard this story before, but while onset of the first movie, Christmas Joy, when they sat me down in my director's chair in Video Village to watch them shoot they just so happened to be filming my very favorite scene in that book. The one where Joy's special ornament gets dropped and breaks. It was so perfect, and a little strange at the same time to hear the words I wrote and the actions in my head come to life. I cried just about the whole time I was there. Good, happy, tickle-your-nose tears. I will never forget that feeling.
Aside from the excitement of having a novel turned into a movie, I found the whole process to be so interesting. It was a wonderful first-hand experience of the differences between writing a novel and a screenplay. I love learning new things and I learned so much. Who knew a screenplay was only a hundred pages long? My books are almost four times that! No wonder people think books are better. . . there's just so much more story in a book. I am so honored to have had this experience, and I really love how the movies turned out. Hallmark did a great job capturing the essence of my stories. The Secret Ingredient, Christmas Joy, and Hope at Christmas will all be airing again. Keep an eye out for them! Sand Dollar Cove got the COVID-scoot so it didn't get filmed this year. Stay tuned for updates on that one next year.
Do you have any holiday traditions you do every year with your family? 
We cook the big traditional Christmas dinner with turkey and ham and all the fixins. I love it when egg nog hits the store shelves. That signifies the holiday is coming for me. My step-son will be eight this year, and it's been so much fun creating new traditions with him. Last year we surprised him with snow! Yep. My husband borrowed a snow machine and we had a soapy blizzard on the back patio.  He danced in the snow with delight!  Stockings always include silly competitive games like balsa airplanes and those crazy paddle balls so we can have some kid-like fun. One year we all tried to juggle. My brother-in-law is an ace juggler. No one else was worth a toot. Our holidays are lighthearted and relaxing.
What can readers expect from you next? 
Oh, I'm so excited to leak this information here first!!! <squeee>
In May 2021 and 2022 I'll be releasing a couple of new women's fiction titles. The Shell Collector will come out next May. It's a beautiful story set on Whelk's Island, North Carolina. . . a fictional town. . . between Maeve, an older widow who grew up there, and Amanda who has just moved there with her two young children. She was widowed two years ago and this move is her grasp at finding a new normal. It's a story of healing, hope and courage.
I'm also knee-deep in writing the book that will come out the following year about a woman who has bent-over-backwards to save her marriage only to still have it crumble. In an interesting twist, she meets the rancher who owns the property where a fancy wedding venue has just opened and wounded hearts connect and recover. This story is filled with heart and a little sadness, but some fun scenes that make me giggle just thinking about them.
Readers should sign up for my newsletter, if they haven't already, because I'll be leaking some quotes and snippets along with the cover reveal and no one is going to want to miss that.
Rapid Fire Random Questions
OH GOODY! These are my favorite (~rubs hands together~) Here we go!
Favorite Romance Trope: Second chance romances. Love, love, love them which is probably why I write so many.
Go to mani/pedi nail polish colors: Hot pink.
Do you dog-ear or use a bookmark in your books?: Both, but although I might dogear my own book… don't you dare do it to one that I've leant you! Lol.
Pancakes or waffles?: Waffles with pecans please. Oh, and butter. Not margarine.
Favorite book from childhood: Any Nancy Drew book.
Morning person or night owl: Night Owl. I rarely get out of bed until after 9am.
First thing you'd splurge on if you won the lottery: A trip to see the Northern Lights in one of those cool igloos with the see-through ceilings.
A song that will always cheer you up: "All Summer Long" by Kid Rock (or Sweet Home Alabama with anyone singing it!)
Favorite season: This is so hard, because I love all of them. Today, I'm going to say fall, because the air is finally crisp here in North Carolina and the leaves are beginning to fall and I see some tinge of color change in the landscape. I'm so ready for summer to be over. I've had enough sun, sunburn, heat and big hair for now. 😉
You have a totally free afternoon – no deadlines, no obligations, no Twitter notifications!  What do you do?: Nap. Schedule a massage. Spend time with someone I love.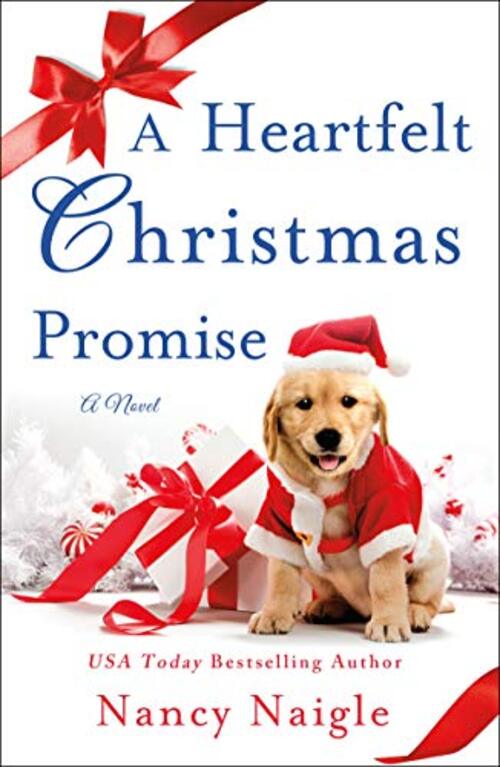 A perfect gift that captures the spirit of the season, USA Today bestselling author Nancy Naigle's A Heartfelt Christmas Promise celebrates the holidays, small-town traditions, and the generosity of love between two lost souls who find everything they ever wanted in each other.
Vanessa Larkin was supposed to be spending Christmas in Paris, France on a business trip she hoped to enjoy as a working vacation. Instead, she's been assigned to Fraser Hills, North Carolina—home of the Best Fruitcake in the USA—to convert her company's property into warehouse space and shut down Porter's, the fruitcake factory. Offering retirement packages and selling locals on new job opportunities may not spread holiday cheer, but Vanessa believes she's helping secure the town's future.
Mike Marshall's family founded Porter's. For decades, the factory served as the lifeblood of the community until his grandfather sold the business to a Chicago corporation. The sale cost the town its independence—and the Marshalls their family ties. A horse farmer, Mike was never involved with his grandfather's company, but still felt Fraser Hills lost part of its identity. And as a widower raising a teenage daughter, he's suffered enough losses in one lifetime. News of the factory's closing means losing another piece of the town's legacy.
Far from the skyscrapers and rapid pace of the city, Vanessa finds herself enjoying the easygoing rhythms of rural living. With Mike as her guide, she learns to appreciate the simple pleasures found in shared holiday festivities among friends. Fraser Hills is a town she is growing to love—and Mike is someone she is falling in love with. Now all Vanessa needs is a Christmas miracle to give her newfound friends and home a gift they'll cherish for many New Years to come.
Romance Contemporary | Fiction [St. Martin's Paperbacks, On Sale: August 25, 2020, Mass Market Paperback / e-Book, ISBN: 9781250312648 / eISBN: 9781250312655]
Love stories from the crossroad of small town and suspense
Nancy Naigle writes love stories from the crossroad of small town and suspense. With a career spent on the cutting edge of technology in the banking industry, Nancy spends her extra time writing the kind of stories she likes to read, in hopes that just maybe other career gals can find an escape from their hectic lifestyles in the make believe worlds she creates.