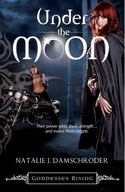 You know what the biggest challenge of a release-month blog tour is? Yep, you're right—finding fresh topics. Between my own scheduling and my publicists, I'm at somewhere around 3 dozen blogs between November 1 and December 31.
What's a great strategy for surviving the challenge? Stealing other people's stories.
A couple of weeks ago, my mother-in-law was getting ready for work when her cat, Angel, wanted to play. She brought Mom the little felt toy mouse they play fetch with and cried at her until, exasperated, Mom picked it up by the tail and tossed it across the room, into the dining room. Angel just sat and stared at her.
Fast forward to the end of the day. Mom comes home from work, and sees the mouse lying in the dining room still. But she looks closely, and it's not the little felt toy mouse. It's a real mouse. A real, dead mouse. Cue grossout.
Poor Angel, she was so proud, and totally dissed. Their other, really fat, lazy cat, Charlie, went after another little mouse that evening. My nephew got it out from under the washing machine while my mother-in-law waited in the bedroom.
I have three cats, but none of them have chased mice. Of course, wehenever mice get into our house, they tend to skitter around in the basement's drop ceiling, so I can't blame the cats. If a mouse ever skittered around our house?
Frisbee would watch it with an air of boredom
Maya would cry at me to do something about it
BG would chase it for 20 seconds, then lose interest
I don't write pets into most of my stories. I did it once, in SOPHIE'S PLAYBOY, but they're cumbersome. The characters have to remember to feed them and, if they're dogs, to let them outside or walk them. Not really conducive to action adventure.
Consequently, these two books are pet-free:
BEHIND THE SCENES October 31, 2011
Carina Press | Audible
Kennedy Smyth's firm provides security for companies and charities in seriously dangerous countries. She doesn't usually take on "frivolous" jobs, but when an old friend asks her to protect his son's movie shoot, she finds it hard to refuse. Also hard to resist is the film's charismatic star, Rogan St. James. The handsome actor piques her interest, while the strange actions of the terrorist threatening the set raise her suspicions.
Even though he's a successful actor, Rogan wants more—a real woman to love, the type he doesn't think exists…until he meets Kennedy. She intrigues him with her confidence and passion for her work, and frustrates him with her refusal to let him get close.
But Kennedy finds herself in a vulnerable position when she discovers that the terrorist isn't actually out to derail the film. She's the real target—and if he finds out how much Rogan means to her, he could be next…
UNDER THE MOON November 15, 2011
Entangled Publishing
Their power gives them strength…and makes them targets.
Quinn Caldwell is the epitome of a modern goddess. Her power source is the moon, her abilities restricted only by physical resources and lunar phase. She runs a consulting business and her father's bar, serves on the board of the ancient Society for Goddess Education and Defense, and yearns for Nick Jarrett, professional goddess protector and the soul mate she can never have.
But someone has developed the rare and difficult ability to drain a goddess of her powers, and Quinn is a target. With the world thinking Nick has gone rogue (whatever that means) and that Quinn is influenced by "family ties" she didn't know she had, keeping themselves safe while working to find the enemy proves harder each day.
But not as hard as denying their hearts…
How do you feel about pets in the books you read? Do you have pets? I'd love to hear your dead-mouse-tossing type stories! 🙂 One commenter will win UNDER THE MOON (ebook)
You can learn more about Natalie and her books at her website, eHarlequin, Goodreads, Twitter, and Facebook. She blogs with four other obsessed passionate Supernatural fans at Supernatural Sisters, with a number of fantastic romance authors at Everybody Needs a Little Romance, and just to hear herself talk at Indulge Yourself.
To comment on Natalie J. Damschroder's blog please click here.