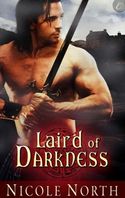 Since I'm here at Fresh Fiction, I'd like to talk about fresh heroines. These sorts of female characters are out of the ordinary, unconventional, interesting, spirited, bold, strong, and do things you might not expect. Alana, the heroine of my new Carina Press release, LAIRD OF DARKNESS is just this sort of heroine. She's also entertaining.
The story takes place in late medieval times in a Scotland filled with magic and mythical creatures. But this young noblewoman isn't a virgin as young ladies of the time were expected to be. She's not a prostitute, either. She's simply a girl who had a tryst with a handsome stable lad of her own choosing when they were both teens.
Why would I break with convention and create a sexually experienced lady? I wanted Alana to be a bit different from the heroines you normally find in historical romance. I wanted her to have an interesting past and memories she could draw upon when she is tempted by the hot dark Highlander, Duncan, who takes her hostage. It turns out she isn't as afraid of him as he's hoping she'll be. In fact, she sees through his harsh, dark façade to the vulnerability he's trying to hide. She's incredibly drawn to him and decides to go after what she's craving.
I wrote this novella as an erotic romance and, because of this, creating a heroine with a bit of experience makes the hot (and early) love scenes more believable.
In the first letter my editor sent me, she expressed how much she liked the heroine, and one reason she felt this way was because the heroine wasn't a virgin. She found it refreshing that Alana was a different sort of heroine.
Alana is also strong and bold enough to stand toe to toe with Duncan. She's daring enough to try and trick him. She's spunky enough to fight, kick and try to escape him… even though none of these things work. She's well and truly caught. But during the darkness of night, she discovers that being Duncan's hostage isn't so bad after all. Not only does he make her feel safe and comforted, he is a better lover than she could've ever imagined or hoped for.
When it comes time to bargain for her freedom, she doesn't back down, nor allow emotion to cloud her decision. Sure, she wishes she could stay with Duncan, but she can't remain his hostage forever. Besides, he wants to trade her for a magical bow, and she's been promised in marriage to another man. Will she get everything she wants? Or will she be controlled by the whims of men as most other ladies were during the time?
How do you feel about unconventional, unusual or fresh heroines? I'll give away a copy of the ebook to one commenter!
LAIRD OF DARKNESS: Half-Fae Laird Duncan MacDougall is cursed. His nights are haunted by Otherworld creatures sent to kill him. The only way to stop them is to possess the magic bow currently in the hands of his enemy half-brother, Kinnon MacClaren. In desperation, Duncan plans to take MacClaren's bride-to-be hostage and exchange her for the bow.
Lady Alana Forbes has never met her intended, but she hopes he is handsome-and a good lover, for Alana is no innocent virgin. On her way to Castle Claren, Alana and her escorts are intercepted, and she is kidnapped by a man with extraordinary abilities-and every attribute she longs for in a mate.
Duncan didn't expect the woman he thought of as a mere pawn would be so beautiful, and so arousing. Alana is drawn to him as well-but Duncan still needs the bow, and Alana is betrothed to another. How far will Alana go to save the life of the man she's come to love?
First chapter excerpt of LAIRD OF DARKNESS
Website: http://www.nicolenorth.com/
Twitter: @NicoleNorth
LAIRD OF DARKNESS is available at:
Bio: Nicole North's erotic romance novellas have been described by reviewers as "exciting, high octane, captivating, scintillating, sinfully delicious and pure romance." Her stories contain "heart and heat, killer love scenes, magic and extraordinary characters." She has sold four stories to Red Sage Publishing. LAIRD OF DARKNESS is her first novella for Carina Press. Nicole's stories usually focus on her favorite things: Scotland, Highlanders and hot men in kilts. She and her husband live in the Southeastern US, but she wishes she lived in the Scottish Highlands at least half the year. As she puts it, Scotland is a beautiful, magical and enchanting place where anything seems possible. She teaches online workshops about various aspects of writing, including sexual tension and how to write great love scenes. Though she has a degree in psychology, writing romance is her first love.
To comment on Nicole North's blog please click here.