Danielle: Welcome back to Fresh Fiction, Olivia!  Can you tell our readers a little bit about your series, Unlikely Duchesses?
Olivia: The "Unlikely Duchesses" series features feisty women who seek employment as a governess in the home of a duke.  They're slightly scandalous, not perfect ladies, and of course, they don't care a fig for the rules of high society.
Book 1:  THE DUKE I ONCE KNEW showcases Max Bryce, the Duke of Rothwell, a rake who was rejected by his first love, Abby Linton, the girl next door. When he meets the spirited spinster again fifteen years later, Abby is governess to his sister and scornful of the rogue that he's become.  Yet the old spark is still there, fanned into flames by their sizzling encounters.
Book 2:  FOREVER MY DUKE features Hadrian Ames, the Duke of Clayton, whose ordered life is turned topsy-turvy when he meets a lively American woman. Natalie Fanshawe is hard-working, independent, and plucky, with a definite preference for America's system of equality over England's class hierarchy.  The last thing she wants is to marry a duke!
Book 3:  WHEN A DUKE LOVES A GOVERNESS continues the series with a penniless hatmaker who dreams of opening her own millinery shop.  Tessa James hopes to finagle a loan from the lord who sired and abandoned her.  To find him, she must enter the aristocratic world by becoming a governess to the Duke of Carlin's naughty four-year-old daughter.  Carlin hires Tessa in desperation despite his misgivings that she's too bold and beautiful – and that she might be fibbing about her qualifications.
Historical romance is always a fan-favorite! What do you enjoy about writing it?  What do you think stories set in the past tell us?
My books are set in Regency England, an era that evokes the gracefulness of ladies and gentlemen whirling in a waltz, the brilliance of witty conversation, and the delight of watching a toplofty lord fall for a high-spirited, fun-loving heroine.  This time period is the perfect backdrop for the Cinderella magic of falling in love with a handsome English duke.
Tessa James wants to seek out the aristocratic father she's never met, to hopefully help her open her own hat shop. What better way to do this than to go undercover as a governess? Tessa was such a fun character and goes on quite the journey in WHEN A DUKE LOVES A GOVERNESS. What are some of your favorite things about Tessa?
Since the age of six, when her mother died, Tessa has had to fend for herself, first as an orphan in a workhouse and then in a millinery shop, where she labored under the thumb of a bullying supervisor.  Many people would crumble under such difficult circumstances, but adversity has strengthened Tessa. Rather than succumb to despair, she will do whatever it takes to accomplish her dreams.  I also love the fact that her being orphaned at a young age has made her compassionate and understanding toward the duke's motherless daughter. 
In addition to falling in love with his daughter's governess, Guy Whitby, the Duke of Carlin, also has a side story with developing a relationship with his unruly daughter, Sophy.  What does Guy have to come to terms with in order to be a better father?
After the death of his wife in childbirth, Guy left his infant daughter with her grandparents while he went on a four-year scientific voyage around the world.  He believed he was doing what was best for Sophy, but the grandparents were over-indulgent, and things didn't turn out as planned.  Now he feels tremendously guilt-ridden for having abandoned Sophy, yet he has no notion of how to fix the wayward behavior that has driven away a string of governesses.  It takes Tessa's unconventional methods to help him come to understand the little girl – and to finally learn how to win his daughter's love.
Tessa has a great occupation—she's a milliner! What kind of research did you do into hat-making?
With Regency England so popular, there's quite a lot of information about hat-making available on the internet.  In particular, people who enjoy crafts and reenactments love to share their techniques and will guide you step-by-step through the process of making your own bonnet.  A google search for Regency bonnets will take you to sites like decortoadore.net, thedreamstress.com, and betterdressesvintage.com.  On Pinterest, look for "Regency bonnet tutorial."  Happy hat-making!
What can readers expect from you next?
I recently turned in a proposal for a book about a governess who receives the unexpected inheritance of a property that borders a duke's estate.  The prime piece of land had been promised to the duke by his great-uncle, and he's none too pleased to see the heroine turn it into a home for destitute women.  Add in a missing necklace once owned by Queen Marie Antoinette, and the stage is set for lots of excitement and romance.  Fingers crossed that my editor likes it!
Rapid Fire Random Questions
Cats or dogs:  That's a hard one since I love all animals.  But I'll have to go for cats since I have two of them, Stella and Cooper.
Book you recommend the most:  That changes frequently!  My current fave is "The Saxon Chronicles," a 13-book series by Bernard Cornwall, an exciting tale set in the time of King Alfred the Great.  Netflix has brought it to television in the hit series "The Last Kingdom."
Favorite smell:  peppermint, vanilla, rose – must I choose?
Ketchup or mustard:  mustard
You've been invited to a costume party – what do you dress up as?  A slightly naughty Regency lady, of course
What fictional city/location would you visit?  The standing stones in Diana Gabaldon's "Outlander" series
Favorite childhood movie:  The Parent Trap – the original one with Haley Mills
How do you practice self-care?  I like to binge-watch TV series of anything from true crime to animal programs to comedies like Community or Parks and Recreation
Breakfast or dinner?  Dinner since I'm a night owl and like to stay up late
You have a totally free afternoon – no deadlines, no obligations, no Twitter notification! What do you do?  Play word games like Words with Friends and Wordscapes.  Visit a museum.  Or just chill on the sofa and read a good book.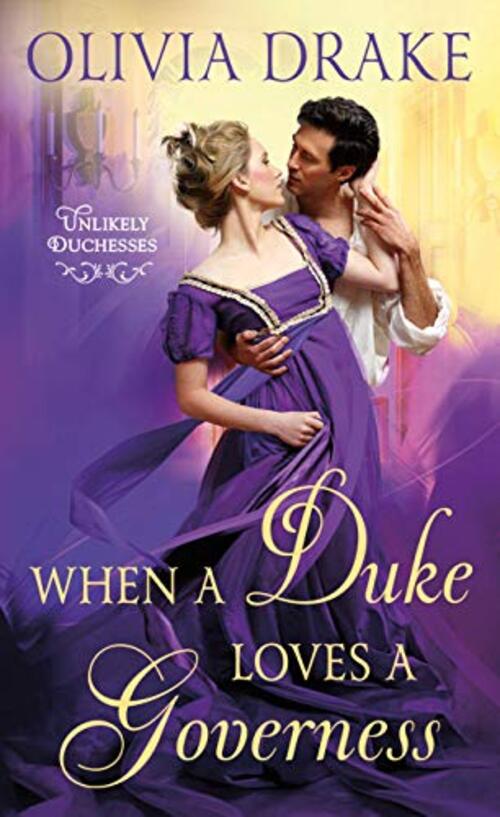 A stunning new Regency from beloved author Olivia Drake, When a Duke Loves a Governess…!
Tessa James has worked and planned tirelessly to open her own millinery shop. All she needs now is a loan from the lord who sired and abandoned her. The only problem is, she doesn't even know his name. What's a woman to do to find him but enter the aristocratic world by becoming a governess?
Guy Whitby, the new Duke of Carlin, has returned to London after years abroad to discover that his young daughter Sophy has become a wild-child known for scaring away every governess who's crossed his doorstep. When Tessa James applies for the job, he hires her in desperation despite his misgivings that she's too bold and beautiful–and that she might be fibbing about her qualifications.
Their blooming attraction leads them on a completely unexpected path to love that neither wants to deny. But when an old enemy threatens Guy's family, their forbidden romance goes up in flames. Can they still learn to love and trust each other as forces try to tear them apart?
Fiction | Romance Historical [St. Martin's Paperbacks, On Sale: July 27, 2021, Mass Market Paperback / e-Book, ISBN: 9781250174499 / eISBN: 9781250174505]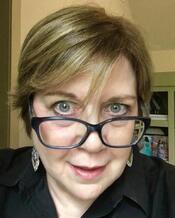 Shortly after graduating from Michigan State University with a degree in journalism, Olivia Drake sold her first novel two weeks after sending it to a publisher. She now lives in Texas in a cozy cottage with two feisty cats and a photographer husband. Her two daughters have flown the nest, but still come back whenever they want a home-cooked meal!
Olivia Drake is the author of 35 romance novels.
***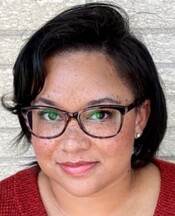 Danielle Jackson Dresser is a contemporary romance author (her debut novel with Berkley will be out in 2022!), avid reader, lackluster-yet-mighty crafter, and accomplished TV binge-watcher.
Once upon a time, she was a publisher publicist and continues to cultivate her love of books and reading by chatting with the best authors in the business as the Editorial Manager of Fresh Fiction and co-host of the Fresh Fiction podcast. Danielle is one of the Boozy Book Broads, a monthly author chat show streamed live on YouTube. She also moderates panels, interviews authors, and hosts a book club at Love's Sweet Arrow, the romance-focused independent bookstore.
Danielle lives in Chicagoland with her very own romance hero husband, darling daughter, and two tempestuous cats. Follow her on Twitter and Instagram, @DJacksonBooks.