Do I do all those things I describe in my books?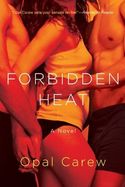 As an erotic romance author, I find that people seem to be fascinated with how I research my novels. It is the most frequent question people ask me — usually with a wink and a grin. At a recent signing at a show called Sexapalooza in my home city of Ottawa, Canada, many people asked if it's personal experience. I glanced around at the piles of books (6 different novels) and winked, telling them I've been a very busy lady. (My husband of over 25 years just chuckled! Um, yeah, I was about 2 when I got married!)
So how do I do my research? Well, I've found that there is an unexpected wealth of information all around us. At a family gathering, my niece, who has studied hypnotherapy, told me about an intriguing concept called erotic hypnosis. That inspired me to write a scene where one of my heroines (Hanna in BLUSH) enjoyed a very hot erotic fantasy with a plethora of sexy, leather-clad bikers. What I loved most was that I could really push the limits because it was a guided flight of imagination.
To read more and for chance to win today's blog contest click here.