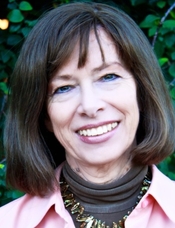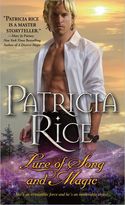 Since Sourcebooks will take care of sending a copy of THE LURE OF SONG AND MAGIC to two commenters on this blog, I think that's pretty magical, so if I'm asked if I believe in magic, it's obvious my definition of magic is pretty loose.
Hi, my name is Patricia Rice, and I write romance, any kind of romance from historical to contemporary to paranormal. I have about fifty print-published romances under my belt, and my current one is called paranormal because most people don't believe in the magic of psychic phenomena. Consider my definition above—I think Snow White with seven minions to take care of her comes under my definition of magic—I'm all in favor of invisible hands dealing with the packaging and mailing of prizes. Fantasy magic would be if I could wave a wand, and poof, the words wrote themselves. But we all know that's not happening. Maybe we need a word that means possible magic as opposed to improbable.
Given the title, it should come as no surprise that the heroine of LURE, Philippa Seraphina (Syrene) Malcolm James, has gifts that some might consider magical, but others think of as in the realm of possible. When I first started writing about the magical Malcolms and logical Ives, I was writing historicals set in the Georgian era, and they didn't have words for telekinesis or clairvoyance or even for science as we know it today. So magic, it had to be, even though I like to think the Malcolm abilities are grounded in reality—psychic gifts that any of us might possess, if we knew how to use them.
But LURE is set in contemporary California with a very modern hero and heroine who don't believe in magic. My logical Ives descendant is Dylan Oswin, called Oz because he's a wizard at making Hollywood productions happen. Pippa is a former teenage singing sensation now turned children's author after she spectacularly crashed and burned at the age of seventeen. But even if she's too modern to believe in magic, she is convinced her voice is cursed. She's spent the last ten years in near isolation, learning to control her passions and her brilliant soprano so she never harms anyone again.
And then along comes Oz, a man who never takes no for an answer, and insists Pippa needs to use her haunting voice to help him find his kidnapped son. Oz, naturally, does not believe in magic. Or seductive sirens. Or curses. He simply wants his son back.
But whether or not you or Oz believe in fairy tale magic, there is magic in this world: the magic of a baby's cry, of bird song at dawn, of moonlight over a tranquil sea. And Pippa's voice can perform miracles, if only in the beauty of her song, which she buried when she retired to the small town of El Padre. With Oz's brand of financial magic, the desperately poor town can be restored to life—if only Pippa will agree to sing again, and not kill anyone in the process.
How about you? Do you believe in magic? What kinds? Does psychic ability seem magical to you? Impossible? Have you ever met people who know more or can do more than the rest of us? Leave a comment and let the magic fairies draw names for two winners!
You can read an excerpt, sign up for my newsletter, follow me on Twitter and Facebook or connect with my blog (http://www.patriciarice.blogspot.com ) by stopping by my website at http://patriciarice.com/ . A list of all my books, including e-book reissues is available there. I love hearing from readers, so please feel free to stop by your favorite water cooler and say hi.
THE LURE OF SONG AND MAGIC BY PATRICIA RICE – IN STORES JANUARY 2012
Her voice was a curse…
When Dylan "Oz" Oswin's son is kidnapped, the high-powered producer will do anything to get him back. Desperately following an anonymous tip, he seeks help from a former child singing sensation called Syrene, only to find she's vowed never to sing again. Immune to her voice but not her charm, Oz is convinced she holds the key to his son's disappearance—and he'll stop at nothing to make her break her vow.
Only he can make her sing…
She knows the devastation her talent can bring. There's more than a child's life at stake, but Syrene cannot unleash her dangerous siren's voice upon the world, even for a man who is impossible to deny…
ABOUT THE AUTHOR
With five million books in print and New York Times and USA Today's bestseller lists under her belt, Patricia Rice's emotionally-charged contemporary and historical romances have won RT Book Reviews Reviewers Choice and Career Achievement Awards and have been honored as Romance Writers of America RITA finalists in the historical, regency and contemporary categories. A former CPA, Patricia Rice currently resides in St. Louis, Missouri. For more information, please visit http://www.patriciarice.com/ or follow her on Twitter, @Patricia_Rice.
To comment on Patricia Rice's blog please click here.