Cranberry Cove is a small fictional town in western Michigan located right on the shores of Lake Michigan where the influence of the Dutch settlers is still strong to this day. By 1900, one third of the Dutch in America had settled in West Michigan.
The Dutch were known for their frugality, industry and hospitality. Many were farmers and today many of the area's family farms still bear Dutch surnames. Others were skilled craftsman, carvers and furniture designers who came to work in the furniture industry that at the time was booming in West Michigan.
Many of the characters I've created for Cranberry Cove are of Dutch origin—the VanVelsen sisters who own Gumdrops, the candy store; Bart Dykema the butcher and Phyllis Bouma, the local librarian.
Gumdrops carries many Dutch treats including Droste pastilles, Van Melle fruit toffees and Katjes winegums and the Van Velsen sisters always have a pot of erwtensoep—Dutch pea soup—on the stove. Ollie bollen—fried doughnuts—are a huge treat and are the precursor of the doughnuts we eat today.
There are a small handful of cranberry farms in Michigan. Most of the nation's cranberries come from Wisconsin with Massachusetts and New Jersey not far behind, while the rest come from Oregon and Washington.
Cranberry harvesting is a fascinating process. I hope you will come visit Cranberry Cove and find out all about it!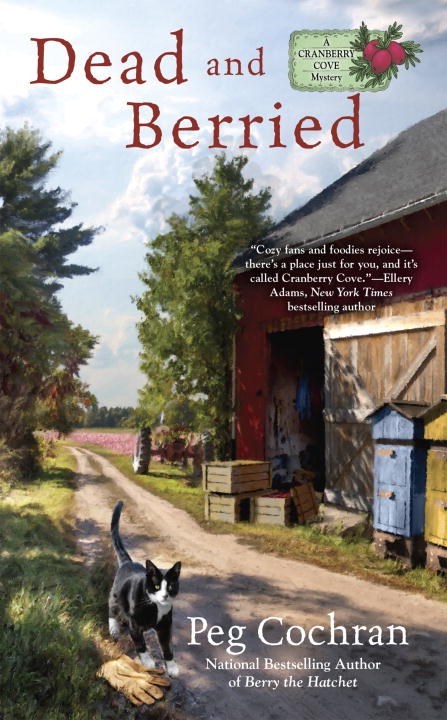 It's hive time for murder in the latest Cranberry Cove mystery from national bestselling author Peg Cochran.
It's June in Cranberry Cove and Monica Albertson's plan to sell cranberry relish to chain stores is taking off. The cranberry bogs are in bloom, and local beekeeper Rick Taylor and his assistant Lori Wenk are bringing in bees to pollinate the blossoms. When a fatal prick fells Lori, the buzz is that Rick is to blame.
In trying to clear her friend's name, Monica discovers that more than a few people in Cranberry Cove have felt the power of Lori's venom, and it looks as if this time she may have agitated the hive a bit too much. With the fate of the farm on the line, Monica must get to the bottom of the crime before another victim gets stung.
INCLUDES CRANBERRY RECIPES
Mystery Cozy [Berkley Prime Crime, On Sale: May 2, 2017, Mass Market Paperback / e-Book, ISBN: 9780425274552 / eISBN: 9780698166561]
Peg grew up in a New Jersey suburb about 25 miles outside of New York City. After college, she moved to the City where she managed an art gallery owned by the son of the artist Henri Matisse. When her first daughter, Francesca, arrived, the new family moved back to the New Jersey suburbs where her second daughter, Annabelle, was born.
After her husband died, Peg remarried and her new husband took a job in Grand Rapids, MI where they now live (on exile from NJ, she likes to joke). Peg managed to segue from the art world to marketing and is now the manager of marketing communications for a company that provides services to seniors.
Her greatest love though has always been writing-particularly mysteries! She has two cozy mystery series debuting from Berkley Prime Crime-the Gourmet De-Lite series set in Connecticut and featuring Gigi Fitzgerald who provides gourmet diet meals to a select group of clients, and the Sweet Nothings Vintage Lingerie series, written as Meg London, set in Paris, TN with Emma Taylor who finds murder and mayhem in this quiet country town.
As for pets – she has a schizophrenic cat (really) named Frazzle and a Westhighland White Terrier, Reggie, who is desperately in need of losing a few pounds. But you know what they say: If your dog is overweight, it means YOU aren't getting enough exercise!
When she's not writing, Peg can usually be found cooking, which she loves. When asked to bring a dish to a potluck she invariably opts to bring dessert – partly because she loves making sweet dishes and partly because she and her husband always manage to be late so there's no point in putting them in charge of the appetizer