Stay safe! Stay inside! Limit trips to the grocery store!
We're all hearing advice like this as we wonder how long the coronavirus is going to be with us. Food writers suggest inventorying our pantries for overlooked supplies and creating meals out of what we have on hand–though my trips to the grocery store have revealed that many people are limiting their trips by buying a few months' worth of food at once, including the woman I saw with two filled-to-capacity carts, pushing one and pulling the other.
But I like the idea of discovering and putting to use supplies I had forgotten I had. With this in mind, I explored the contents of my freezer yesterday and found . . . half a package of brownie mix! It was hidden way in the back, between the box of raisins and the bag of walnut halves (I freeze almost everything I don't use often).
The brownie mix dated from last year when I was experimenting with a way to make easy cookies for my Knit & Nibble mystery #6, Knit of the Living Dead, coming out this August. As you can guess from the title, it has a Halloween theme, and in the book, knitting club member Roland DeCamp hosts the group and serves Halloween-inspired cookies, chocolate and studded with candy corns.
As it turned out, the brownie mix wasn't a very satisfactory shortcut to making the cookies because the candy corns melted into shapeless lumps of sugar before the cookies baked. After much trial and error, I found a better way to get the result I wanted, and photos are up on the Knit of the Living Dead page at PeggyEhrhart.com.
But my husband and I ate a lot of failed attempts and enjoyed them very much. So when I found the half package of brownie mix I mixed it up, added some chocolate chips that I also found in the freezer, and baked a batch of what the mix was meant to be: brownies. Only one is left as I write this, but they've provided quite a bit of cheer as we make do with each other's company, Netflix, and occasional walks.
I'm also lucky to have my writing to take my mind off the alarming reports coming from the news media. I had a lovely email from a reader who told me she was rereading all five of the Knit & Nibbles for the third time to escape the current reality for the comforting world of Arborville, New Jersey. The cozy mystery is a curious form–set in pleasant towns among pleasant people where nothing bad ever happens except for a murder or two.
I enjoy escaping to that world when I sit down to write. I'm currently working on Knit & Nibble #7, which will involve a dead body discovered in the Arborville community gardens and will be called Knitty Gritty Murder.
Each of my books includes a knitting project and at least one recipe. Now that the brownies are nearly gobbled up, and so quickly, I'm turning my attention to recreating the chocolate cake that's featured in Death of a Christmas Card Crafter, a Knit & Nibble novella that will be part of Kensington's 2020 Christmas anthology, Christmas Card Murder. I baked the cake once–details below–in order to add the recipe in the manuscript for that project. But I want to bake a more photogenic version to post on the Christmas Card Murder page on my website.
The story takes place at Christmas, obviously, and features a scene in which my sleuth Pamela Paterson and her daughter Penny join their friends and neighbors, the Frasers, for Christmas dinner. Pamela, a devoted baker, offers to bring dessert: Chocolate Mousse Cake.
I hadn't intended to include the recipe for Chocolate Mousse Cake in the novella. Instead, I included a recipe for a fruit and nut quick bread made for a Knit and Nibble meeting by one of the other characters. But I wanted to describe the cake as it was served and eaten in the novella's Christmas dinner scene, and I based my description on an amazing creation I had recently seen in a magazine. It was an elegant, European-looking cake–not a tall multi-layer cake with icing, but a thin, dense chocolate layer like a big round brownie topped with a chocolaty fluff and finished off with a dusting of powdered cocoa.
When I submitted the novella to my wonderful editor at Kensington, he emailed back to say that the cake sounded so delicious he was disappointed not to find a recipe for it at the end of the novella. Could I please add it?
Of course! I searched out the magazine and set about actually making the recipe. The ingredient lists and basic techniques of recipes can't be copyrighted, and I always create my own versions of the recipes I include in my books anyway–partly because I want to make sure people following the recipes end up with exactly what they're expecting.
In this case, I really did have to create my own version of the recipe. The heavy cream with baking chocolate melted into it that was supposed to turn into the chocolaty fluff remained soupy even after hours of chilling. And blending in a portion of whipped cream, as the recipe advised, did little to transform it into something that would stay on top of the brownie-like layer without dripping into sad puddles at its base.
Deciding I had used the wrong brand of baking chocolate I tore back to the store for a fancier brand of chocolate and more cream and tried again, with no better result. The breakthrough came when I contemplated what resembled a bowl of chilled chocolate soup and asked myself why heavy cream with chocolate melted into it wouldn't whip just as nicely as heavy cream does.
So I tried, and it did. I scooped it onto the cake's brownie-like layer and used a table knife to spread it–and it stayed right where it was supposed to! I added a dusting of cocoa powder, and Pamela's Chocolate Mousse Cake was done–a genuinely original creation and way simpler than the magazine recipe that had inspired it.
—
COMMENT TO WIN: For a chance to win a copy of A FATAL YARN by Peggy Ehrhart, leave a comment below about your favorite thing to bake! US only – GOOD LUCK!
—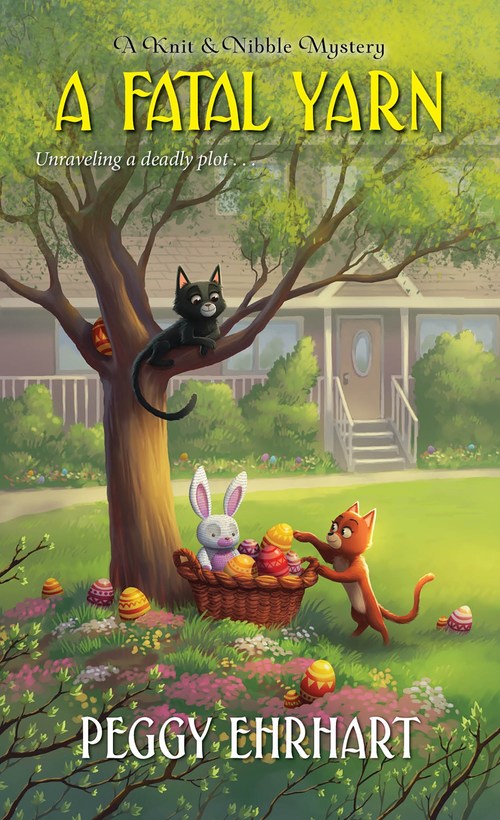 Pamela Paterson and her Knit and Nibble club must clear the name of one of their knitters when he's accused of murdering the mayor . . .
The trees in Arborville, New Jersey, have started sporting sweaters. Part of the trend of public knitting art? Not exactly. An anonymous activist has been wrapping trunks in yarn to cover red X's that mark certain trees for removal by the town so they don't interfere with power lines. When the town's mayor—who supports cutting down the trees—is murdered, Pamela wonders if the tree hugger committed homicide to prevent arborcide. A knitter is arrested, but it's one of Knit and Nibble's own—the harmless Roland DeCamp, who was seen arguing with the mayor. Pamela is sure the police are barking up the wrong tree. With the help of her reporter friend Bettina, she branches off on her own investigation to root out the real killer . . .
Knitting tips and delicious recipe included!
Mystery Cozy | Mystery Hobbies [Kensington, On Sale: March 31, 2020, Mass Market Paperback / e-Book, ISBN: 9781496723642 / eISBN: 9781496723673]

Is a knitter also a murderer?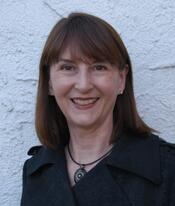 Peggy Ehrhart is a former English professor with a doctorate in Medieval Literature. Her earlier publications include a prize-winning nonfiction book dealing with medieval literature, short mystery fiction in print and online venues, and her Maxx Maxwell mysteries, inspired by her experiences playing guitar in blues bands and published by Five Star.
Peggy is currently writing the very cozy Knit & Nibble mysteries for Kensington. Her amateur sleuth, Pamela Paterson, is the founder of the Knit & Nibble knitting club in the charming town of Arborville, New Jersey. Peggy herself is a devoted crafter, dating from her membership in 4-H as a child in Southern California.