FUDGE BROWNIES & MURDER is the newest release in the Culinary Competition Mystery Series. It's winter in Kellerton, Michigan and there is a cold-blooded killer on the loose. Can Amy find the murderer while planning a baby shower along with baking endless pans of brownies to keep her best friend's pregnancy cravings satisfied?
Excerpt:
A couple men in business suits sitting at a table nearby looked up from their pulled pork sandwiches. One leaned toward the other and said something, maybe a warning to watch out because there could be a fight. Not that Amy wanted to get into a physical fight. That wasn't her thing, but it might be Candi's preferred way to settle disputes. She had to be ready for anything now that she had started the interaction. If the confrontation turned into a food fight, Amy would grab one of the sandwiches loaded with sticky-sauced meat. How would a devout vegan react to a literal meat bomb?

Candi's pecan-colored curls quivered as she clenched her fists at her side. Now both barbecue eating men were staring at them. She bared her teeth in an angry cat sort of smile and said, "Those women aren't technically your customers. They're students who should be educated on how not to clog their arteries with your cholesterol-filled recipes."

What had Carla's mom said about people getting radical about their beliefs? Oh yeah, basically they could get crazy fanatical and do ridiculous things. "Well, I think it's okay for people to indulge a bit during the holidays. I doubt anybody is going to eat such rich foods every day. Don't you believe in treating yourself with something naughty once in a while?"

"My body is a temple built on healthy food." Candi flicked her long hair over her shoulder. "I plan on living until I'm at least one hundred years old. Bacon and butter kill people."

Or maybe she would live forever because she had made a deal with the devil. In exchange for torturing people with her passive-aggressive personality, she would be immortal. And maybe, knocking off people who doled out unhealthy food to innocent diners was also part of her evil food crusader agenda.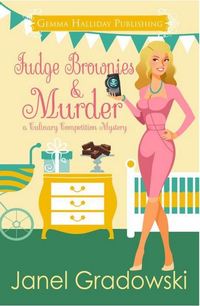 From bestselling mystery author Janel Gradowski comes another deliciously deadly mystery…
Culinary whiz and reluctant amateur sleuth, Amy Ridley, has a lot on her plate. Her very pregnant best friend, Carla, can barely move from her couch per doctor's orders. So Amy is tasked with preparing meals for the expanding family along with baking endless pans of brownies to quench Carla's pregnancy cravings. Not only is she playing chef, but she's also trying to convince the mommy-to-be that she needs to have a baby shower. But when a restaurant owner is murdered at a blogging conference, Amy finds herself in a race to catch the killer before the baby is born.
As Carla's baby bump gets bigger, so does the list of suspects. While Amy pares down the potential murderers and staves off disgruntled cooking competition rivals, the clock ticks down, the baby's arrival draws closer, and the danger grows stronger! If Amy doesn't watch her back, she may be the next member of the competition going down.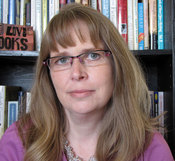 Janel Gradowski lives in a land that looks like a cold weather fashion accessory, the mitten-shaped state of Michigan. She is a wife and mom to two kids and one Golden Retriever. Her journey to becoming an author is littered with odd jobs like renting apartments to college students and programming commercials for an AM radio station. Along the way she also became a beadwork designer and teacher. She enjoys cooking recipes found in her formidable cookbook and culinary fiction collection. Searching for unique treasures at art fairs, flea markets and thrift stores is also a favorite pastime. Coffee is an essential part of her life.
Her work has appeared in many publications, both online and in print. She is the author of three series: The Culinary Competition Mystery Series, the Bartonville Series of women's fiction, and the 6:1 Series of themed short fiction stories.