CHAPTER 3
Mamba Kisiwa na Simu ya Dharura—Crocodile Island and an Emergency Call
The day's shooting went well, starting with a morning call at eight. Pero had hired a fishing boat with Honda outboards, and they embarked from the hotel dock and headed two hours up the lake to Crocodile Island. The water was calm in the early morning, crystal clear, birds dipping beaks on the wing to drink. As they approached Crocodile Island, looking down off to the side, Mary spotted a small herd of hippos. Heep filmed them, lowering the waterproof camera as the blue-black, corpulent giants danced along the shallow bottom near the shore of the island.
The morning's planned shoot was filming the crocodile sand nests, the enormous females waiting just offshore, slowly treading water with powerful tails. Mary donned her wet suit, powered up her video camera, and went snorkeling in four to ten feet of water. Heep and the crew remained in shallow water and used the main underwater camera, filming her filming the crocs. The crew soon found themselves standing in five feet of water, as close to fifteen-foot crocs as anyone sane would ever want to be.
While Susanna had adjusted her Silke Wire microphone on Mary's wet suit collar, she expressed fear for her friend in waters teeming with wildlife.
Mary placated fears, addressing the whole crew: "Don't worry about the mother. As long as you do not get between her and the mound on shore, she will not be interested in you. The ones to watch out for are the juveniles from last year, about four-footers. They will be looking for an easy meal, preferably their cousins about to hatch. That is why she is here, to protect her young. It is the pirates that will be dangerous. But they are afraid of the waiting mother, so you can stay closer to her, and they should stay away."
Mbuno was listening, nodding, but his eyes were focused, looking offshore, keeping a wary watch. Mbuno did not care for mamba. (Crocodiles.)
All up and down the beach, Pero could see mounds; some already burst open, others quiet. The ones nearest the water were twinned by visible slowly stirring currents just offshore, revealing a waiting mother.
At the mound that Mbuno and Mary had previously selected together, with their ears pressed to the sand, the emerging baby crocs were filmed suddenly bursting out of the sand nest, slithering, squirming toward the shore ten yards down the beach. Egyptian storks had spotted the hatching and swooped down, taking easy meals. Yet the remaining babies continued to squirm to the water and safety. Once in, they unhesitatingly swam straight toward their mother's mouth, already gaping, an opening of about six inches. The beefy mother hung there motionless, protecting her babies in her gaping jaws. Mary was close by, filming with a small camera. Heep was twenty feet away filming Mary near the croc, catching on video the hatchlings scooting past Mary on either side, finding their mother and safety. Mary's microphone picked up the sounds of rippling water and the soothing noises she was making from behind her snorkel. She seemed to be humming a tune. It sounded like a child's nursery rhyme. Pero knew the voice-over script would add words like protective and motherly instinct when they would edit the film. Mary's incredible oneness with the scene was palpable. Perfect video, thought Pero.
As they were considering a new mound to film, Pero glanced at his watch and warned the crew he wanted to be on shore or on board the boat before noon, which was fast approaching. Mbuno agreed. Heep wanted to stay in the water longer to get more shots, but Mary trusted Pero and Mbuno and convinced Heep to pack up and get out of the water. It was just in time.
The steady twenty-mile-per-hour wind had been blowing from the west across Crocodile Island, which protected their shoot and equipment. As Pero felt the wind slacken, he called out, "Five minutes, no more! Hurry!" The crew sprang to work, packed up, and jogged to the boat. Once in, Pero could feel the wind picking up, but coming squarely from the east. From the east it would bring the desert dust, strong lake waves, and searing heat. Within seconds of noon, exactly, the temperature rose to over 110 degrees; the lake waves, previously calm, peaked at three feet; and the air was thick with dust.
The course back down Lake Rudolf was otherwise uneventful, except for Susanna complaining of seasickness as the boat pitched and rolled. She had been stowing gear, bending down instead of facing the freshening alkaline Rudolf spray. Pero hugged his wife of only nine months and encouraged her to stand for air. "Nein, nein," she exclaimed, "My sound equipment must be properly . . ." With that she leaned over the side and fed the fish her breakfast. For the rest of the journey, Pero wetted a handkerchief and wiped her brow. She looked better by the time they got back to the jetty.
As the assistants, Tom and Nancy, unloaded the boat and started packing the Land Rover for the mile-long drive back to the lodge, Pero, Mbuno, Heep, Susanna, and Mary sat on the dock, in the lee of the boat, out of the wind. When you are filming in the bush, it pays to take time to review where you have been and what you have left to do. Pero felt this was such a time. The sun was hot, the lake was cool, the breeze was at their backs.
Pero was surprised at how much they had already filmed in just two days, "I think we got plenty of croc footage today. Mary, you were great as always. Along with yesterday's gift of the fishing scene and the croc pack we filmed near Sibiloi Park—"
Heep interjected, "We counted them last night, over one hundred and sixty on that sand bar."
Mary added, "The hippos were really weird in Sibiloi Park marshland. I've never seen hippos on land like that during the day." The crew all knew that hippos killed more people in Africa than any other species, and on land they were especially dangerous. Farther north, up the lake near the beginning of the river that fed the Nile, there were croc and hippo attacks every year. Hippo attacks outnumbered croc attacks by a wide margin.
Pero was thoughtful. "Yeah, well, the footage of the hippos chasing you and Mbuno was pretty surreal, but I don't think we can really use it except for promos."
Heep chimed in, teasing his wife, "Of course, as your shirt was wet at the time, it may be somewhat useful."
Mbuno did not get the joke. "But we had been in the water . . ."
Mary had understood and dug her husband in the ribs with her elbow. Everyone, even Mbuno, laughed.
In a more serious vein, Heep got back to business. "Remember, I was filming that herd underwater today—that'll be good footage, and with a few cuts to shots of them going in or out of the lake yesterday, we can tie it together."
Pero nodded. "Okay, but maybe we'll try some extra hippo shots tomorrow morning. But what I wanted to say is that our great croc luck today just about covers what we absolutely had to get. What is left is an evening with the El Molo in their encampment, maybe a firelight dance with them and Mary . . ." Pero paused, a thought emerging. "And, yeah, maybe we could get to that northern village near the hippo pools and interview the locals there . . . Wolfie said that ten children have been taken over the last few years. That could be important footage. So, let's say hippo interviews in the morning, and maybe the village in the afternoon if Mbuno can arrange it?"
Mbuno said he would try and negotiate with the local chief warden's office and the Nairobi "assistant" they had had to hire. In Kenya, everyone knew there were politics and government involved in anything foreigners wanted to do. Their Nairobi-appointed coordinator from the Ministry was an affable fellow, currently enjoying the hotel hospitality and free food and his hundred-dollar-a-day cash fees from the crew. They liked David because he did not oversee every moment of their day or plans, unlike some previous nosy "minders" they had experienced.
Pero summed it all up. "So, I'd say we stay here another two days comfortably, and then we can move on. Agreed?" Everyone nodded.
Mary and Susanna wanted to know if a decision had been made on where exactly they'd be going next. Pero explained he was waiting on permits to decide a schedule, but most likely it would first be into Tanzania, back to the oceanside croc farm they had filmed with Mary once before, as those visas had already been granted and the ones they had applied for to Uganda and Burundi were yet to come through. Mary whispered to Susanna that she loved the beaches there, saying, "Last time I met the biggest female croc I've ever seen . . . we're pals."
As it was past two in the afternoon, Pero told everyone to take the rest of the day off. No doubt the pool would be full, and he would see everyone at dinner, at six.
And so as the day wound down, everyone relaxed. Susanna felt better, no longer seasick. In the hottest part of the afternoon, everyone jumped into the pools, which were indeed full and refreshing. When dinner came, even Wolfie was in a good mood and joined them for Tusker beers around the campfire in the chill desert night air. Nancy, the new crewmember, had a harmonica and played a foot-stomping Old West tune she said she had learned as a kid in Utah, when riding the range. Her tune was joined by everyone beating on the nearest log or rock to punctuate the horse-trot rhythm before people melted away into the darkness toward their rooms. Soon the Oasis was dark and silent, even the generator turned down.
Excerpted from Kidnapped on Safari by Peter Riva. Copyright © 2020 by Peter Riva. All rights reserved. Published by Skyhorse Publishing.
***
Mbuno & Pero #3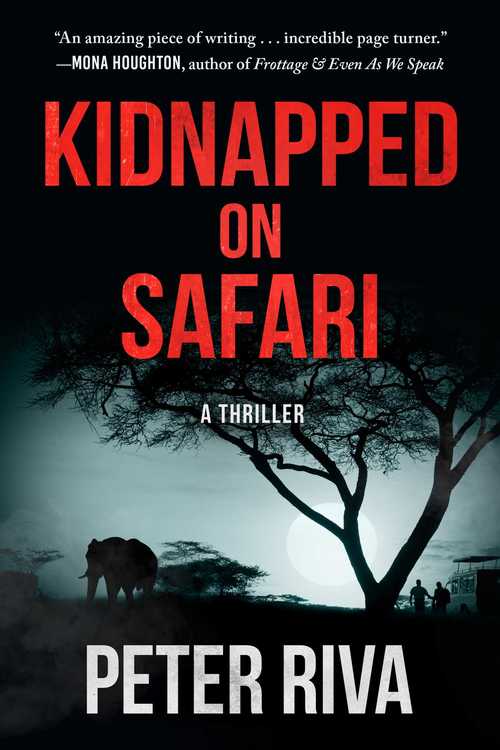 The third book in the Mbuno & Pero series pulls terror from headlines to create a gripping international thriller for readers of John le Carré, Daniel Silva, and Iris Johansen.
Expert safari guide Mbuno and wildlife television producer Pero Baltazar are filming on Lake Rudolf in Northern Kenya, East Africa, when they receive news that Mbuno's son, himself an expert guide, has been kidnapped while on a safari five hundred miles away in Tanzania. After gathering the clues and resources needed to trek through the wilderness, they trace the kidnappers back to an illegal logging operation clear-cutting national park forests, manned by sinister Boko Haram mercenaries. There, they find not only Mbuno's son but also a shocking revelation that has terrifying and far-reaching consequences.
Relying on Mbuno's legendary bush skills, the pair must overcome the danger both from inside and outside the camp to bring Mbuno's son out alive. In doing so, Mbuno and Pero discover that kidnapping and deforestation are only the beginning of the terrorist group's aspirations, and they realize a threat that would herald an even more dangerous outcome for Tanzania—a coup. A rescue might just risk the entire stability of the region.
Exciting and expertly plotted using facts ripped from news' headlines, Kidnapped on Safari is a gripping, edge-of-your-seat thriller set in deepest, darkest, Machiavellian, East Africa.
Thriller | Thriller Terrorism [Skyhorse, On Sale: January 21, 2020, Hardcover / e-Book, ISBN: 9781510749009 / eISBN: 9781510749009]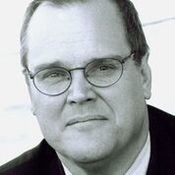 Peter Riva is the author of Kidnapped on Safari. He has spent many months over thirty years traveling throughout Africa and Europe. Much of this time was spent with the legendary guides for East African hunters and adventurers. He created a TV series in 1995 called Wild Things for Paramount. Passing on the fables, true tales, and insider knowledge of these last reserves of true wildlife is his passion. Nonetheless, his job for over forty years has been working as a literary agent. In his spare time, Riva writes science fiction and African adventure books, including the previous two titles in the Mbuno and Pero Adventures series, Murder on Safari and The Berlin Package. He lives in New Mexico.M