Meet Thomas Locke, author of MERCHANT OF ALYSS the second book in the Legends of the Realm series. Set in a world where magic has been outlawed for centuries, Hyam learns there is more than he knew or suspected.
Q: How did you get interested in writing epic fantasy and techno-thrillers?
Thomas Locke: My first passion as a childhood reader was science fiction and fantasy. So many of these stories imparted a sense of the heroic. The challenges were massive, the vistas beyond the scope of normal life. The characters rose up to become what was required in order to vanquish the threat.
When I started writing at age twenty-eight, my first mentor was Arthur C. Clarke, author of 2001: A Space Odyssey. I want to take readers back to the type of story that meant so much to me as I was growing up.
Q: Many fantasy and sci-fi stories are dark and hopeless. What do you hope readers glean from Merchant of Alyss that they won't find in most mainstream fiction?
Thomas Locke: I suspect there are a lot of readers out there like me, who buy and love mainstream fiction but are dismayed by how dark it is becoming.
Over the past few years I've become increasingly frustrated by the negative directions that fantasy and science fiction are taking. Dystopian worlds, hopelessness, the undead—do they all have to be tainted by this all-pervading darkness? Is there no place for the heroic adventures that thrilled me as a youngster?
I decided it was time to stop complaining and do something different. The mainstream books I write under my pen name, Thomas Locke, are for readers like me. Passionate about story . . . yearning for the thrill of a great tale . . . hoping for something that uplifts as well as ignites.
Q: Have you discovered anything unexpected as these new novels have been published?
Thomas Locke: I'm hearing from an increasing number of readers in their teens and twenties who tell me they're thrilled by the stories yet also uplifted. I feel as if my stories are answering an unspoken need.
Q: How do you define epic fantasy?
Thomas Locke: J. R. R. Tolkien was a survivor of the trenches in World War I. When war returned with World War II, the darkness he saw was difficult for him personally. He felt as if the world had not healed.
In THE HOBBIT and the Lord of the Rings trilogy, Tolkien offered a new concept of lore that acknowledged the grip of war, the darkness people faced that had to be combatted, and the courage that was required.
Tolkien adhered to the original Greek concept of epic in telling a tale where the principal character sought to achieve a quest. The hero's journey externally and the hero's need to conquer inner demons formed vital life lessons for the audience.
Q: How did you adapt the epic fantasy story structure for modern readers?
Thomas Locke: I threw out what has become the standard format for fantasy novels, with their long-winded descriptions and elaborate settings. Instead, I used the sentence structure and pacing of a mystery. It is tight, with what I hope will be seen as a smooth and seamless action flow that leads to a satisfying crescendo.
Q: Why did you choose to write epic fantasy and technological thrillers for the mainstream market, when many of your recent books have been contemporary suspense for the inspirational market?
Thomas Locke: I wanted to create a new kind of story for the mainstream reader, one that includes the positive aspects that come from our life walk: Courage in the face of hardship. Growth. Change.
I continue to write stories that include a Christian message under my Davis Bunn name. I use the Thomas Locke pen name for my mainstream fiction, to help readers easily differentiate between the two brands.
Q: What are the differences and similarities about your approach to the fantasy and techno-thriller genres?
Thomas Locke: The major differences in my approach relate to tempo and writing style. With the Legends of the Realm series, I wanted to create the classical, smooth-flowing style of The Hobbit. To me, this has the feel of a Dickens story but reads like today's thriller. Joining lyrical prose with the speed of a modern read was my primary goal.
In MERCHANT OF ALYSS, key themes include courage in the face of fear, travel to unknown destinations, and new personal avenues of growth and development. I've tried to bring each of these into a story structure that's applicable to today's culture.
With the Fault Lines techno-thriller series, I was after something entirely different. TRIAL RUN is all about speed and tension. The quick shifts are intended to create a vacuum—one that draws the reader forward. The chapters each carry an emotive and action punch, quick and precise and intended to rock the reader's world.
Q: Is there any lesson or encouragement you hope to instill in readers of Merchant of Alyss?
Thomas Locke: During our formative years—up until around age thirty—we are reinforcing our worldview when we read for entertainment. But much of the fantasy that's being published today doesn't offer that sense of courage and inspiration that used to be prevalent in fantasy and science fiction novels.
Of course, not all of the "classic" authors wrote uplifting works. Ray Bradbury is one example. But even Bradbury's writing gave me a sense of mind-bending escape and the opportunity to dream of and envision more than what was available in the world around me.
The books I loved most offered hope for a better tomorrow. Hope for growing into someone who could have these sorts of adventures. I don't want to give in to the temptation of creating characters who are only bitter and cynical. Instead, I want to infuse hopefulness into my characters.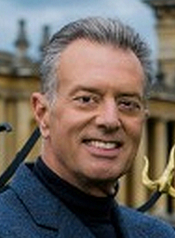 Thomas Locke is a pseudonym for Davis Bunn, the award-winning novelist with total worldwide sales of seven million copies. With a lifelong passion for speculative stories, he is also the author of Emissary and Trial Run. A screenplay adaptation of Emissary is currently under development as a feature film with a British production company.
Davis's work has been published in twenty languages, and critical acclaim includes four Christy Awards for excellence in fiction. He divides his time between Oxford and Florida.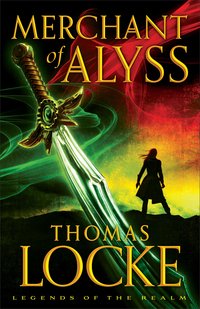 Life for Hyam is bittersweet. Admired by the citizens of Falmouth for his heroic rescue mission, he cherishes these peaceful days with Joelle by his side. Yet grief over the loss of his magical skills during the great Battle of Emporis threatens to engulf him. Sometimes he even wishes he had never known magic at all.
When Hyam comes into possession of an ancient Milantian scroll, he is thrilled to feel the surge of power that courses through him whenever he touches it. But what he discerns in the text could mean war. He embarks upon another journey to determine its true meaning and forestall any attack. But as Hyam is seeking answers, he is unaware that the merchant of Alyss is seeking him .