Miranda Owen: What had you doing a series about demons, angels, and other biblical
themes?
Jeaniene Frost : I've loved all things paranormal since I was a child. Seriously, a story long told by my parents was that on my first day of Sunday school, I told the pastor that I thought the cross on the wall was to keep the vampires away. Not surprisingly, the first books I wrote featured vampires, but even then, I soon branched out to include other creatures like ghosts, ghouls, witches, revenants, wraiths, sorcerers, necromancers, and even a few demons.
However, I first got the idea for the Broken Destiny series the same way I first got the idea for my Night Huntress series: from a dream. I have very vivid dreams, and they've ended up being plot fodder for more than a few books. In this particular dream, a young woman woke up trapped in a demon realm after spending the night in a bed and breakfast. Over the next few years, while I was writing my other novels, that story kept growing in my mind. Ironically, the young woman didn't turn out to be my novel's heroine. Instead, she was my heroine's sister, and the first Broken Destiny novel starts out with my heroine trying to find her. So, demons and demon realms came with the initial idea. In that way, I didn't pick them—they kinda picked me.
For the Biblical theme, I can credit two things: King David's fascinating backstory, and the movie DRACULA 2000. *grins* Not something you'd normally lump together in the same sentence, right? But the story of a shepherd boy who brings down a giant armed with only courage and a sling shot is one of my favorites. Dracula 2000 gave me the idea for a great opposing lineage because in that movie, Dracula was really Judas Iscariot. You don't need to know the Bible to know that if you're called a Judas, it is NOT a compliment. I didn't make my Broken Destiny hero the actual Judas like the movie did, but I made him one of Judas's descendants. My heroine is also a descendent of King David, and of course, David was the ancestor of the person that Judas so infamously betrayed.
Miranda Owen: Two characters in THE SWEETEST BURN that I found most fascinating were Zach and Demetrius. With Zach's enigmatic ways and super secret orders from "the powers that be", I think that a lot of characters directed their frustration at him. Demetrius and his demon shenanigans made him a villain who is very easy to love to hate. Did you enjoy writing these characters? Who was the most difficult to write and who was the most fun?
Jeaniene Frost : Demetrius was easier to write, which probably doesn't reflect well on me as a person, hehe. He does truly terrible things, but he does them with great joy, like when he slit someone's throat with his shadows and then used that same shadow to wave at my heroine, Ivy. Demetrius has no conscience, so I had to hit a "pause" button on my own conscience while writing him.
Zach, on the other hand, is all business. His personality was inspired by a line in the Bible where someone (can't remember who) asked an angel if he was on their side, or the opposing army's side. The angel replied, "Neither." That's Zach in a nutshell. Later, you find out why he seems so ambivalent about Ivy and Adrian's struggles, or even humanity's fate in general. But Zach isn't in a hurry to reveal that, or to reveal which side he's actually rooting for.
Miranda Owen: I love how Adrian is a sexy hero who is flawed without being a jerk. Antiheroes and "alpha-holes" are a frequent topic of discussing in some of my reader groups. What are some of your thoughts on heroes, antiheroes, and alpha-holes (guys who equate strength with taking their bad attitude out on women in benign but extremely annoying ways, pushing the heroine away "for her own good", and is all kinds of condescending)? What makes a great romantic hero? Who are some of your favorites?
Jeaniene Frost : I'm a fan of the noble hero, the beta hero, the antihero, and even the alpha-hole hero—up to a point. If the hero treats the heroine badly throughout the book/series and (1) never regrets it enough to stop on his own, or (2) never gets his ass handed to him by the heroine and thus stops for fear of losing his relationship and/or life, that's a bridge too far for me. A hero can start out as a jerk, but he'd better have a good reason for it, and he'd also better eventually change. Otherwise, I'm done. Besides that, give me a compelling, complex hero with strengths, flaws, intelligence, a sense of humor, and above all, devotion to the heroine—even if he denies it at first!—and I'm there. As for favorites, wow, so many! To narrow it down, Curran from the Kate Daniels series, Jamie from the Outlander series, Charles from the Alpha and Omega series, Lothaire from the Immortals After Dark series, Eric from the Southern Vampire series, and Keenan from the Wicked Lovely series.
Miranda Owen: The snippets of humor in THE SWEETEST BURN blissfully relieve the tension amid all the battle sequences. Is the dialogue in your books something that you enjoy writing the most?
Jeaniene Frost : This will probably be the only short answer you get in this interview: YES. I love dialogue the most. Some days, I wish that dialogue was all I ever had to write.
Miranda Owen: In a 2006 speech, BUFFY THE VAMPIRE SLAYER creator Joss Whedon said that whenever he's asked why he creates such strong female characters, he responds with, "Because you're still asking me that question."
Whenever anybody asks who some of my favorite female characters are, I always name Cat Crawfield from your Night Huntress series and Dr. Alexandra Keller from Lynn Viehl's Darkyn series. I found both characters a teensy bit annoying in their first books, but now I find myself comparing other heroines to them. As an author who has written some complex and incredibly strong female characters, do you have any set criteria you adhere to when writing those characters, or qualities that you avoid giving them? Who are some of your favorite female characters?
Jeaniene Frost : I approach writing my heroines the same way I approach writing my heroes: by trying to make them as realistic as possible. That means giving them strengths and weaknesses, flaws and fears, hopes and dreams, bad habits and bravery, the whole package. One of the most irritating things I've seen said by some about writing a romance is "it's all about the hero." BULLSH!t. I don't care how fabulously a hero is written, if he's paired with a two-dimensional Mary Sue that has little purpose beyond looking pretty and/or needing rescued, I'm tossing the book. That doesn't mean I only like "kick ass" heroines, by the way. A strong heroine is so much more than her ability to throw or take a punch. Take Sansa and Arya from GAME OF THRONES. Only Arya physically fights, yet Sansa is still strong as steel, too. It's just that Sansa's considerable strength is displayed in different ways.
As for favorite heroines, once again, it's hard to narrow this down, but some top favorites are Nevada from the Hidden Legacy series, Mercy from the Mercedes Thompson series, Claire from the Outlander series, Elena from the Women of the Otherworld series, Anita from the (early books of) the Anita Blake series, and Elena from the Guild Hunter series.
Miranda Owen: Do you see yourself ever writing in any other romance sub-genre – historical, contemporary, and paranormal historical? Are there any types of characters – either ones you've already written about or ones you haven't – that you'd think would be fun to build a series around? Fae, ghosts, etc.?
Jeaniene Frost : I don't see myself ever writing a regular historical or a paranormal historical. That would take too much research. I already do tons of research between setting details and using real historical characters frequently in my novels. As for writing a contemporary novel, I've had ideas, so I wouldn't rule that out entirely. Still, knowing me, I probably couldn't write one without something supernatural turning up.
As for new supernatural creatures, I've toyed with shifters a few times in my books, but I haven't written a real werewolf aside from a short story that's unrelated to any of my series. I would like to delve into werewolves again, perhaps with a full length novel or even a series one day. We'll see.
Miranda Owen: What are you currently working on? What do you have planned for the future?
Jeaniene Frost : I just finished writing THE BRIGHTEST EMBERS, which releases in November 2017 and is the third and final book in the Broken Destiny series. After that, Ian and Veritas from the Night Huntress series will be getting their own books, which will be called the Night Rebel series. I'm really excited to write the first Night Rebel book because Ian and Veritas—on the surface—are about as opposite as two people could be since Veritas is a Law Guardian and Ian hasn't met a rule he hasn't wanted to break. I foresee a lot of fun, fighting, and fire between the two of them, so I can't wait to dive into their story.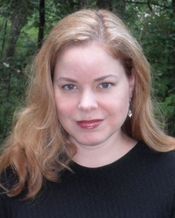 Jeaniene Frost is the New York Times, USA Today, and international
bestselling author of the Night Huntress series and the Night Huntress World novels. To date, foreign rights for her novels have sold to nineteen different countries. Jeaniene lives in North Carolina with her husband Matthew, who long ago accepted that she rarely cooks and always sleeps in on the weekends. Aside from writing, Jeaniene enjoys reading, poetry, watching movies with her husband, exploring old cemeteries, spelunking and traveling – by car. Airplanes, children, and cook books frighten her.