Welcome to Fresh Fiction, Rachel! Please introduce yourself and tell us about your latest novel, TOUGH GUY.
Thanks for having me! TOUGH GUY is the third book in my GAME CHANGERS m/m hockey romance series for Carina Press. It's sort of a second-chance romance story, but the first-chance never really happened so I don't know what exactly you would call it. Second chance at a chance? Ryan was billeted by the Salah family when Ryan was a 17-year-old hockey player in Halifax, and he developed a crush on their son, Fabian. They reunite many years later as adults in Toronto.
Ryan Price is a professional hockey player and has worked hard for the success in his life, but he still feels like something is missing. You've even described him as a "giant sad teddy bear." Tell us more about Ryan!
Ryan is a reluctant enforcer in the NHL, which means his role on the team is mostly to be physical and to fight other players. He's good at it, but he hates doing it. He has also been traded a lot, so he's never really felt settled anywhere. Adding to that, he suffers from an anxiety condition that makes him prone to panic attacks and makes it difficult for him to socialize. He's also afraid of flying, which is obviously a huge burden, given his occupation. He has decided, at the beginning of the book, to really make a go at finding happiness with his new team in Toronto. He's soft-spoken and sweet and definitely needs a hug.
Fabian Salah is an aspiring musician who loves makeup and everything glamorous. He lives loudly and to the fullest and is intrigued by Ryan's serious demeanor. What are your favorite things about Fabian? On the flip side, what's his most annoying trait?
I love Fabian's confidence, and his warmth. He cares about his friends and about Ryan, and he's a popular, social guy. His most annoying trait is probably that he hates hockey and is pretty stubborn about it. I think he has good reasons for feeling that way, but he kind of carries his bratty teenage energy into adulthood when it comes to hating hockey.
What's the best piece of writing advice you've ever received?
I can't really credit one person with this, because so many authors have said it, but don't sweat too much over your first draft. Just keep writing and fix it later. Skip ahead and write the scenes you feel like writing if you're struggling with a scene. I insert a lot of placeholder text like "WRITE A REALLY TOUCHING CONVERSATION HERE" or "INSERT SEX SCENE HERE" while I'm writing. Also, save those deleted scenes! Don't actually delete! Cut and paste into a deleted scenes document! I use so much of that deleted material when I am editing!
This book is set squarely in the world of professional hockey – do you have a favorite hockey team? What do you love about writing this sport?
I have been a Montreal Canadiens fan since I was a kid, so they are my favourite team. I also really like the Carolina Hurricanes. I've always been fascinated by professional hockey players because they give so little of their personalities away. They've been heavily conditioned to be tough and serious and stoic, and I love creating hockey player characters that I can dig into and show their depth. Also, hockey players are sexy.
Fabian is trying to make it as a musician. Did you listen to any music while writing this book to get you in the mood of these characters?
Yes! I always make a Spotify playlist for each book I'm writing, and I listen to it a lot. It gets me thinking about the characters and the story. I make the playlists public once the book is finished, and I post links to them on my website. The lists are kind of all over the place, music-wise, but all of the songs fit the theme and characters of the book.
What can readers expect from you next?
I am writing the next two books in the GAME CHANGERS series now. I expect the first of those to be out sometime late in 2020. People have been asking when they'll see a sequel to Shane and Ilya's story and all I can say is that it will happen one way or another. I know in my head how their story ends and I really want to write it.
Rapid Fire Random Questions
Favorite animal: Beavers (this is not a double entendre. I just really love those big ol' rodents).
Coffee or tea: Coffee is an addiction for me, but I love tea as well.
Favorite book to re-read: I don't re-read a whole lot because there are so many books to read! But I do tend to re-read Cat Sebastian's books.
Beach or mountains: Mountains, but craggy ocean coast is my absolute favourite (the best of both worlds!)
When you were younger, what did you want to be when you grew up?: a hockey writer, so mission accomplished, I guess?
Dream vacation: I would really love to see, like, all of Europe. I've only been to England (once) and I would love to see the rest of the continent!
Aside from reading and writing, what are your hobbies?: I like cooking and baking, watching hockey, and I used to co-host a podcast about comic books but we are (probably) permanent hiatus.
Five people you'd invite to your book club (dead, alive, fictional, etc.!): Fictional is an option? That's easy then; I would invite five of my characters because I think it would be easier to write them if I could get to know them better. Also, I would be like their god so they would be in awe of me and I think I would like that.
Favorite movie: Probably Clueless.
You have a totally free afternoon – no deadlines, no obligations, no Twitter notifications!  What do you do?: Haha. Are my kids around in this scenario? Usually on a day like that I just like to read, or maybe visit one of the many scenic little villages in Nova Scotia and spend a day exploring.
Game Changers #3
They have nothing in common–so why does Ryan feel most like himself whenever he's with Fabian?
Pro hockey star Ryan Price may be an enforcer, but off the ice he struggles with anxiety. Recently traded to the Toronto Guardians, he's determined to make a fresh start in the city's dynamic LGBTQ Village. The last thing he expects to stumble upon in his new neighborhood is a blast from his past in the fabulous form of Fabian Salah.
Aspiring musician Fabian loathes hockey. But that doesn't stop him from being attracted to a certain burly, ginger-bearded defenseman. He hasn't forgotten the kiss they almost shared back in high school, and it's clear the chemistry between them has only intensified.
Fabian is more than happy to be Ryan's guide to the gay scene in Toronto. Between dance clubs and art exhibits–and the most amazing sex–Ryan's starting to feel something he hasn't experienced in a long time: joy. But playing the role of the heavy on the ice has taken its toll on his body and mind, and a future with Fabian may mean hanging up his skates for good.
Romance Contemporary | Romance LGBTQ [Carina Press, On Sale: January 13, 2020, e-Book, ISBN: 9781488068911 / eISBN: 9781488068911]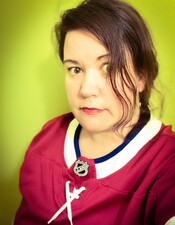 Rachel Reid is the pen name of Rachelle Goguen. She chose it because it is much easier to say, spell and remember than Rachelle Goguen!
Rachel writes cute, romantic smut, mostly about hockey players.
Rachelle co-hosts a comic book podcast called Living Between Wednesdays.
Rachel/Rachelle lives in Nova Scotia, Canada. She has always lived there, and it's looking like she probably always will. She has two boring degrees and two interesting kids.