Instead of trying to find your perfect match in a dating app, we bring you the "Author-Reader Match" where we introduce you to authors as a reader you may fall in love with. It's our great pleasure to present Rebekah L. Purdy!
Writes:
Rebekah writes Young Adult books—everything from contemporary to fantasy and everything in between. Where There Be Humans is about Ivy Archer, a half goblin, who more than anything wants to figure out who or what her mother is/was. She lives in a world where humans are fairytales and sometimes the real monsters aren't what you'd expect. But she'll soon realize some questions are best left unanswered, and not all adventures are like what she reads in her black-market books.
About:
Rebekah is a video game playing, Star Wars and Lord of the Rings memorabilia collecting, nerd, who writes Young Adult books. She is a mother, and also the proud owner of lots furbabies. She seeks readers who want to unite against the forces of evil and let goodness reign. You must bring your own swords and lightsabers to the battle (armor optional but strongly encouraged).
What I'm looking for in my ideal reader match:
Must love B.A. heroines who can wield swords
Must love loyal superstitious heroes who give you butterflies and drive you crazy
Must be okay with breaking and entering the royal archives (punishment of imprisonment or death if caught)
Expect a little bit of fun and a whole lot of danger
Must adore war dogs who like to steal food
What to expect if we're compatible:
Heartwarming adventures that will steal you away for a few hours
Lots of laugh out loud moments (caution please do not drink anything while reading, author not responsible for any spewed or snorted liquids)
Loyal heroes who love unconditionally
Sporadic social media updates—but plenty of giveaways
Lifelong bonds shared for the written word
Sixteen-year-old Ivy Archer is arguably the best warrior-in-training Gob Hollow has ever seen. Yet everyone—except her best friend she suddenly has other feelings for—looks down on her because she's only half-goblin, with no idea what the other half is. She's always suspected it might be human.
But humans, she's been told, aren't real. They're only creatures of myth.
When the prince of their kingdom is taken for ransom, it's Ivy's big chance to prove her worth. And when she learns his captors are human, the rescue mission becomes personal. The stories were clearly wrong, and now she has a chance to find the truth about her lineage, as well. If she survives…
With a small band of warriors at her command, including her best friend turned crush that's getting harder to hide, Ivy sets out to find the prince and her human family. But the answers lie within secrets and conspiracies that run far deeper than she ever imagined.
Young Adult Adventure | Young Adult Fantasy [Entangled Teen, On Sale: June 1, 2020, e-Book, ISBN: 9781682816073 / eISBN: 9781682816073]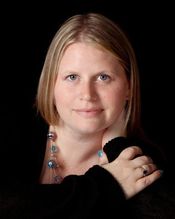 Rebekah Purdy grew up in Michigan, where she spent many nights up late with armed with a good book and a flashlight. When not hiding at her computer and getting lost in her stories, she enjoys reading, singing, soccer, swimming, football, camping, playing video games, and hanging out with her kids. She loves the unexplainable like Bigfoot, the Dogman, and the Loch Ness Monster (lots of good story material)! She admits to still having all the books she bought throughout her childhood and teen years! And she may or may not have an obsession with anything chocolate… Rebekah currently resides in Michigan with her husband, kids, and gazillion pets.