1–What's the name of your latest release? 
My latest release is called Live Like Legends.
2–What is it about? 
Princess Kalista finds herself married to a man she's never met. She has nothing in common with Prince Carson, including language. They must find a way to communicate if they can overcome the threats facing their nation.
3–What word best describes your heroine? 
Intellectual
4–What makes your hero irresistible? 
He has infinite patience and a passionate love for the people he rules.
5–Who are the people your main characters turn to when they need help? 
Kalista relies on her mentor, a monk named Emmett. But, he's hiding secrets of his own.
6–What do you love about the setting of your book? 
Kalista is new to the nation and isn't used to the weather or the people. She gets to explore it. She's set to become the queen of the country and she learns to appreciate and love its unique attributes.
7–Are you a plotter (follow an outline) or a pantster (write by the seat of your pants)?
I'm a little bit country, a little bit rock and roll. I tend to pants for a bit, the first several chapters, and outline the bigger points of the story. I typically follow the "Save the Cat" beats when I outline. That being said, everything's subject to change if something comes up in the process of writing.
8–What is an ideal writing day for you? 
I have a routine where I write for an hour every day. If I have a day that I can write longer, I usually still break it up so that I write for an hour and take a break to do something that distracts me.
9–Do you listen to music while you write, need total silence, or do you have the TV on?
I listen to music on Pandora. It makes it easy to choose a musical tone by picking a song that I feel like represents something about the book. Pandora curates the radio station based on that tone, so I don't have to spend a bunch of time trying to find a perfect playlist.
10– How do you approach research? 
I'm always reading. Often times, I'll get an idea from something non-fiction article, so I will delve into other things written about that topic. For my current book, I have a coworker for whom English is a second language. He was going through classes to make his English better and would sometimes come to me for things, like sounds where he couldn't hear the difference. One of the things he struggled with was the difference between "ch" and "sh." I really started to pay attention to the things he was good at, the words and grammar he learned first. At the same time, I started going through some language courses to see where the education starts and what I was picking up the quickest.
11–What is your publishing journey story? 
I wrote my first novel quietly while I was in middle school. When it was finished, I let my dad read it. It wasn't great, but it was complete. When I told people I wrote a novel, I kept told that I wasn't able to do that. It didn't make much sense to me; I had already done it. I've written a book a year since college. All I got was rejections when I submitted. I joined a writer's group which really emphasized completing and submitting. I had a friend over at Entangled who kept asking to see something from me. I finally had a project that seemed right for them and sent it over. The rest is history.
12–Do you have critique partners/writing groups you want to give a shout-out to? 
I joined the DFW Writer's Workshop that was very encouraging. Writers are weird. We need to find each other so we can all be weird together.
13–What're the most frustrating things about being an author? 
Rejection is always the most frustrating. You're going to get rejected. It's inevitable. But, each time you get a rejection, the punch still lands. It hurts every time. You have to keep taking the punches until something breaks through.
14–What's your favorite scent?
Snow.
15–What movie will you watch no matter what if it's on TV? 
I cut the cord so long ago, I don't scroll through TV anymore. If I didn't know what to watch, I would probably put on Jurassic Park or one of the Underworld movies.
16–Do you like breakfast, lunch, or dinner best? 
I like breakfast food the best, but I'm the least consistent at eating breakfast. So, breakfast for dinner.
17–What's one thing you wish you knew more about? 
Nuclear physics.
18–What's the silliest thing you've recently done?
I started a YouTube channel where I write good reviews for bad movies. Every movie has something good about it.
19–What can readers expect from you next? 
There will probably be a shift to something more familiar, more contemporary. I have some ideas for different worlds, but those take some time to marinate as you build the world.
20–How can readers reach you?
Website: https://katecornellonline.com
YouTube: https://www.youtube.com/channel/UCeaDW59mQjSWtZ2DXO9RQtA
Twitter: @KateCornell https://twitter.com/KateCornell
Facebook: Kate Cornell https://www.facebook.com/k8cornell/
Instagram: K8Cornell https://www.instagram.com/k8cornell/
Patreon: https://www.patreon.com/katecornell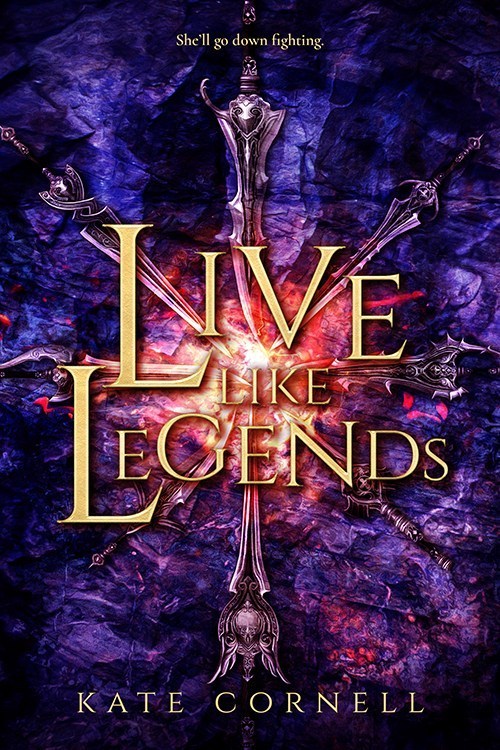 Princess Kalista has known her role from birth. She's spent her entire life preparing to be the socialite wife of a prince from a peaceful kingdom. But on her big day, she is shocked when she is instead forced to marry the warrior prince of a cursed land, who is as cold as the wintry kingdom he'll one day rule.
Carson has a throne no princess wants to share with him. An immortal beast ravages their land, and he'll do anything to stop it, even marry a complete stranger on the day she was supposed to wed her betrothed. Let her hate him for it, but Kalista is his only hope for peace.
Kalista knows she's just a pawn on the chessboard of politics, but now she's expected to kill an unstoppable creature because of some legend about her bloodline that Carson believes as truth. He trains her how to fight, and when lessons in swordplay lead to lessons in love, her destiny puts more than just her life at risk.
How far is she willing to go to save the prince she never wanted…but can't imagine living without?
Young Adult Fantasy [Entangled Teen, On Sale: June 1, 2020, e-Book, ISBN: 9781682816080 / eISBN: 9781682816080]