Welcome back to Fresh Fiction, Rhenna! Can you tell us about your new series, NOLA Knights, and the first book, HIS TO DEFEND?
Absolutely!
Sergei Petrovyh first appeared in the fourth book of my Men of Haven series, TEMPTED & TAKEN. I loved everything about him. His broodiness. The unmistakable danger and unapologetic approach he took to life. I was also fascinated with articles and stories I'd read of Russian culture and the highly Alpha aspect to dating. So, when my publisher asked me what I wanted to do after the last of the original Men of Haven got their stories, I knew I wanted to delve deeper into Sergei's world.
The result was a planned trio of three extremely Alpha males conquering not just one of my favorite cities in the world (New Orleans), but three bold and brave women who give their driven men a run for their money.
Evette Labadie is a hardworking woman who will do anything for her son, Emerson. Although she was recently (wrongfully) fired from her job, she needs to find a way to send her son to an expensive private school so he can have the best future possible. Desperate and unsure what to do next, Evie turns to Sergei to help her find a job. What went into creating Evie?
Every character sparks differently for me. Sometimes I see them in my head well in advance. Sometimes they develop slowly via character sketches I build from the very beginning. Sometimes I see a picture and I think, "That's her/him!"
For Evie, it was the last scenario. I was looking at pixie cuts with my daughter on Pinterest when we came across a picture of Kiera Knightly. In that second, I had a perfect vision of a spunky woman doing her best to make ends meet and dealing with a child who seemed to struggle with the idea of simply being a kid.
Sergei Petrovyh is, quite frankly, a very dangerous man. He's in charge of the Russian Mafia based in New Orleans and takes his job seriously. He actually showed up in your Men of Haven series! Was it worth the wait to bring his story to life? What do you think readers will love most about him?
Oh, Sergei was definitely worth the wait. (Not that he was patient about it.) And frankly, I was a little intimidated setting down to write him. In my mind, he was incredibly powerful, dangerous, dark and brooding–and facing the task of trying to do him justice was a little daunting.
What I hope readers find in getting to know him is that, beneath that dark and dangerous surface, he is a man of deep loyalty and passion. For me, the best heroes are the ones strong enough to bare their hearts to their heroines.
I always love when kid characters sound and act like actual children! Emerson was a joy to have as a side character in this book. What does his character reveal about Evie and Sergei throughout the novel?
I so loved Emerson. I've seen first-hand how life events can rob our children of the chance to simply be kids. When the story starts, Emerson is essentially a self-imposed adult who's painfully aware of the sacrifices his mother has made to provide for him. Who feels there's no one watching out for her. But when Sergei arrives, Emerson slowly begins to trust that there's not just one strong person willing and able to watch out for his mother, but a whole family willing to support and see to her needs. The catharsis as Emerson grows to trust them all and allows himself to be the kid he was supposed to be was a genuine pleasure.
You've been sharing your journey into keto cooking lately on social media! What have been some of your favorite recipes so far? Feel free to link to a recipe or two that you loved!
Rhenna: OMG! This keto thing is amazing! It not only works, but has really knocked out those nasty food cravings I used to have and changed the way I approach food.
I have done a ton of exploring with recipes and it's shocking the things you can make! If you love casseroles, my fav has been the Loaded Cauliflower Broccoli Casserole. It's higher in calories, but wow, is it yummy. Like all those yummy potato casserole dishes you eat over the holidays, but without the potatoes.
If you're craving burgers, this Burger Bowl recipe is incredibly yummy. Though, I've learned to cut the recipe in half because they're seriously big bowls.
Finally, my most shocking and satisfying discovery – Noatmeal. I love oatmeal. It was the second most disappointing thing to leave behind (besides potatoes). But now that I've found this recipe, I'm golden. The only thing I do different is I use unsweetened coconut milk instead of almond milk.
If you want to see more, I've got a Board set up on Pinterest, too!
Fall is FINALLY here – do you have any fun fall family traditions?
Fall is absolutely my favorite time of the year! While we don't go super over the top with decorations, my girls love getting involved in Halloween and taking turns answering the door for little trick-or-treaters. We also just took advantage of the state fair the past weekend which is a favorite fall activity. The biggest fall activity is the kickoff for the holiday season–the Thanksgiving feast. (There will be no keto for that day!)
What can readers expect from you next?
That's an excellent question and one I'm still working on with my publisher. Many readers are hoping for the third book in my contemporary paranormal series–Ancient Ink, but I've also got what I refer to as "generation 2" for the Men of Haven. Namely, Danny, Ivan, and Rex. And let's not forget the mothers! They need a story, too!
One way or another, we're going to get to them all. We just need to figure out in which order to best line them up!
Rapid Fire Random Questions
Favorite Romance Trope: Possessive Alphas!
Go to mani/pedi nail polish color: Oh, Lord. I'm moody. Probably black/dark purple/dark blue for fall.
Do you dog-ear or use a bookmark in your books?: I'm mostly an electronic girl so I can horde my books and keep them all with me all the time. . . but when I'm paperback, I'll probably bookmark.
Pancakes or waffles?: Both–keto style of course. 🙂 
Favorite book from childhood: Are You There God? It's Me, Margaret.
Morning person or night owl: Morning person–within reason.
First thing you'd splurge on if you won the lottery: Paying off my house and covering college for the girls. A song that will always cheer you up: Anything on this Playlist.
Favorite season: Fall (and spring)
You have a totally free afternoon – no deadlines, no obligations, no Twitter notifications! What do you do?: Wake up without an alarm, eat whatever food I want when I want to eat it, and spend the day goofing off with my guy. (Who, for the record, is the best hero out there.)
NOLA Knights #1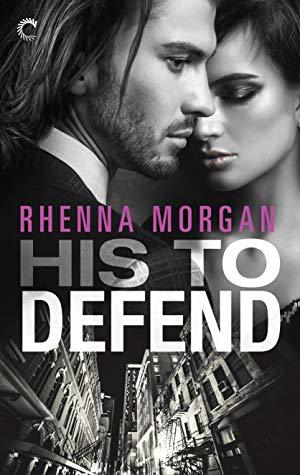 Book one of NOLA Knights, the heart-stoppingly sexy spinoff series by Men of Haven author Rhenna Morgan
His world. His rules. Her love.
Though his methods may be rough, when it comes to protecting what's his, Russian vor Sergei Petrovyh's heart is always in the right place. That's never been more true than when the gorgeous Evette Labadie asks him for a job. He knows enough to keep his hands off someone as beloved by the locals as Evie, but there's something about her that calls to him–no matter how badly he burns to make her his.
Don't think Evie hasn't noticed the powerful Russian mafia boss who makes her favorite diner a regular stop. How can she not? He's as hot as his reputation is dangerous. But everyone in her struggling New Orleans neighborhood knows he's the man to turn to. And right now she needs money to get her son out of trouble.
Her other needs–needs she knows damn well Sergei can more than satisfy–will have to wait.
Evie soon finds herself playing Cinderella to a man who, despite what people believe, is definitely more prince than villain. She can't help falling deeper in love with each passing day. But when a turf war between Sergei and a rival brings violence to her doorstep, Evie must come to grips with loving a man who will do anything to defend her. . . or walk away from her best chance at a happily-ever-after of her very own.
Romance Contemporary [Carina Press, On Sale: October 14, 2019, e-Book, ISBN: 9781488054150 / eISBN: 9781488054150]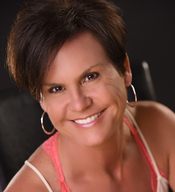 Rhenna Morgan writes for the same reason she reads—to escape reality.
A native Oklahoman with two beautiful girls and a fantastic husband, her resume reflects her passion for new experiences. Since graduating with a Bachelors in Radio, Television, and Film at Oklahoma State, she's racked up positions ranging from on-air radio talent, skip tracer, and promotions director, to real estate agent, project manager, and business analyst.
Like most women, she's got obligations stacked tight from dusk to dawn. That's where the romance comes in. Reading, or writing, romance has been her happy place since she cracked the spine on her first Christine Feehan book years ago. Nothing thrills her more than the fantasy of new, exciting worlds, and strong, intuitive men who'll fight to keep the women they want.
Whether it's contemporary, paranormal, or fantasy you're after, Rhenna's stories pack romantic escape for the women who need it.
***
Fresh Fiction Editorial Manager Danielle Dresser is an avid reader, lackluster-yet-mighty crafter, and accomplished TV binge-watcher. Once upon a time, she was a publisher publicist and continues to cultivate her love of books and reading by chatting with the best authors in the business. She lives in Chicagoland with her very own romance hero husband, darling daughter, and two tempestuous cats. Follow her on Twitter and Instagram, @dj_dresser.