Lady Georgie has certainly come a long way since I met her in that first book called HER ROYAL SPYNESS, ten years ago. Then she was a naïve, unsophisticated person, unsure of herself and her future. She was brave enough to make the decision to flee from the family castle and come alone to London where she had to learn the most basic of skills: from making tea to lighting a fire. For the first few books, she tried various ways of earning money, from cleaning houses, to running an escort service, to modeling clothes–all disastrous. But the one good thing that happened to her was that she met Darcy. And in spite of the fact that she was not the sort of sophisticated girl-about-town he normally associated with, he fell for her.  She certainly played hard to get, didn't she?  It took twelve books before he got her into bed and then it was after they married.
Now we come to the thirteenth book in the series, called LOVE AND DEATH AMONG THE CHEETAHS. You'll guess from the title that it might take place in Africa. The book starts exactly where the last one left off, with Georgie and Darcy going to a barge on the Thames for a honeymoon getaway. Well, now the novelty of being alone with Darcy has worn off and it looks as if it's back to real life. Until Darcy announces that they are heading to Kenya for the next part of their honeymoon.
I asked my Facebook fans where they thought I should send Georgie on honeymoon. I had so many suggestions ranging from Minneapolis to India. But quite a few said Africa. I thought this was a splendid idea. At the time Kenya was a British colony. Many of the settlers there were aristocrats, maybe younger sons who hadn't inherited property at home. They ran, among other things, coffee plantations and dairy farms. Of course, they didn't actually any work on those farms. They had native laborers and the aristocrats spent their time in a very naughty lifestyle. Talk about sex, drugs and rock and roll! There was abundant wife-swapping, cocaine, and booze.
I had read a lot about this time and place, with the diaries of Beryl Markham, Elspeth Huxley, and others. I thought it was the perfect place to send Georgie, who is still so naïve and who would be shocked to the core at their goings-on! Another enticing aspect of Kenya was a place called the Happy Valley where there was a real unsolved murder around this time. A man called Lord Errol was found shot at close range in his car, a few miles from his home. There were suspects aplenty: almost every woman in the colony had been his mistress. The current mistress's husband was arrested but released for lack of evidence. A former mistress, still in love with him and mentally unstable, was a good candidate. But everybody had an alibi. It had to have been someone he knew because the shot presumably came from the back seat of his car. This was too enticing. I had to write about it.
Of course in my book, I have created fictitious characters but a similar situation, and I've included some of the real players for authenticity. Idina Sackville, the original Bolter, was the leading lady of the society in the valley and she plays a big part in the book. At the time I write about she had been through several husbands, many lovers and was currently living with a bush pilot.
Then there are the animals. Elephants wandering through the back garden. Leopards coming in through an open window to steal a pet dog. And lions on safari. Not to mention the cheetahs of two and four-legged variety. There is excitement on every page of this story and it is never quite sure that Georgie will get out of it alive!
It was published on Tuesday, August 6. Snap up your copy today. And do check out my website for the places I'll be visiting on my book tour.
Your friend,
Rhys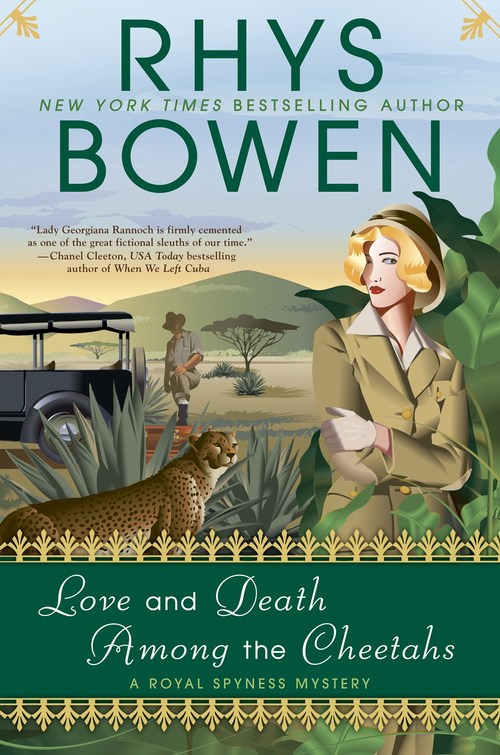 Georgie and Darcy are finally on their honeymoon in Kenya's Happy Valley, but murder crashes the party in this all-new installment in the New York Times bestselling series.
I was so excited when Darcy announced out of the blue that we were flying to Kenya for our extended honeymoon. Now that we are here, I suspect he has actually been sent to fulfill another secret mission. I am trying very hard not to pick a fight about it, because after all, we are in paradise! Darcy finally confides that there have been robberies in London and Paris. It seems the thief was a member of the aristocracy and may have fled to Kenya. Since we are staying in the Happy Valley–the center of upper-class English life–we are well positioned to hunt for clues and ferret out possible suspects.
Now that I am a sophisticated married woman, I am doing my best to sound like one. But crikey! These aristocrats are a thoroughly loathsome sort enjoying a completely decadent lifestyle filled with wild parties and rampant infidelity. And one of the leading lights in the community, Lord Cheriton, has the nerve to make a play for me. While I am on my honeymoon! Of course, I put an end to that right off.
When he is found bloodied and lifeless along a lonely stretch of road, it appears he fell victim to a lion. But it seems that the Happy Valley community wants to close the case a bit too quickly. Darcy and I soon discover that there is much more than a simple robbery and an animal attack to contend with here in Kenya. Nearly everyone has a motive to want Lord Cheriton dead and some will go to great lengths to silence anyone who asks too many questions. The hunt is on! I just hope I can survive my honeymoon long enough to catch a killer. . .
Mystery Historical [Berkley Prime Crime, On Sale: August 6, 2019, Hardcover / e-Book, ISBN: 9780451492845 / eISBN: 9780451492869]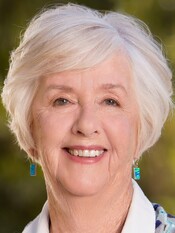 Rhys Bowen is the New York Times, Wall Street Journal and USA Today bestselling author of two historical mystery series as well as three internationally bestselling stand-alone novels. Her books have won multiple awards and been translated into over twenty languages. A transplanted Brit, Rhys now divides her time between California and Arizona, where she escapes from those harsh California winters.