Hi, Roan! Welcome to Fresh Fiction. Thanks for visiting with us today. Will you tell us about yourself and a little bit about your new book, BETTER THAN PEOPLE?
Hi! Thanks so much for having me :-). I am extremely into cooking and baking, plants and gardening, Halloween, horror movies, DIY projects out of random stuff I find, and exploring abandoned buildings. I live in West Philadelphia with my magical cat, Dorian Gray, where I bake a lot and write queer love stories about people who feel like home to one another.
BETTER THAN PEOPLE is the first in my cozy new series, Garnet Run, and the whole series is my love letter to animals. BETTER THAN PEOPLE is about Jack, a grouchy children's book illustrator, who eschews other people in favor of a pack of stray animals he's collected. Jack's favorite thing is walking his pack of dogs (and Pirate the cat, who leads the way). But one evening, chasing after Puddles, a jittery dog, he breaks his leg and needs someone to walk the animals for him. Enter Simon, an animal lover with no animals and intense anxiety around people. The more Jack and Simon know about each other, the deeper their feelings become. But Jack has to get over old betrayals and Simon needs to reckon with what it would mean to let someone into his life. I won't spoil anything, but I'll just say that the animals play a big part in Jack and Simon's love story and happily ever after!
I love a love story with a menagerie of pets! What inspired this series and did you have any real-life inspiration for these furry friends?
I love animals. The way that they are completely emotionally genuine is an inspiration. In BETTER THAN PEOPLE, the animals—especially the dogs—demonstrate what it looks like to be your emotional self, and that's a lesson that Simon really needs to learn. The animals in BETTER THAN PEOPLE are definitely inspired by the many cats and dogs I've known. A few years ago I lived on St. Bernard Street and there was a woman who would walk her huge St. Bernard down the street outside my window. I always wondered if she did it on purpose for ironic purposes, but anyway, I just fell in love with St. Bernards. They're so big and fluffy and kind of can't interact with other dogs except by standing or lying still, otherwise, they push them off their feet. And this dog would just kind of stand there and let other dogs come up to it. One summer I saw it at the cemetery during a craft fair and it was so hot that the dog was just lying on its side on the ground in the middle of the path, and any dogs could come up to it and sit with it and it let them. I just thought it was adorable. I love a gentle giant ;).
Both Simon and Jack have a lot going on when they meet. . . Simon has long suffered from anxiety and Jack is recovering from a broken leg and a betrayal from his former collaborator. But they seem to be exactly what the other needs at the right time! How do you think readers will relate to Simon and Jack?
I really wanted to have the animals in the book play a role in the lives of their humans–not just that these characters liked animals, but that they needed them. For Jack, the unconditional love he gets from his pets has been something of a balm for the betrayal he suffered. They've helped him learn to trust in love again. For Simon, it's an even more intense need. Simon's anxiety and shyness have made it deeply difficult for him to have relationships with people in person, and animals have been the place where he can receive love and touch and care. He talks to them the way he can't talk to people. So Jack is really an unexpected bonus for Simon, who was in it for the animals.
But once they are in one another's space, the shared care of the animals really brings them close to one another, and addresses the issues each of them have. So I'm hoping that readers–even readers who aren't total animal lovers–can identify with what it feels like to be brought close to someone through a shared love of something and end up realizing they are just what you needed.
I loved the side characters/pets in this book! They really added so much to the story. Who are some of your favorites?
Well, I love Jean, Simon's grandmother, who is his best friend. She's someone who loves Simon but also doesn't coddle him because of his anxiety. She holds him accountable, and I think we all need someone like that in our lives. But probably my favorite secondary character is Puddles, a very frightened and neurotic dog that Jack has spent years warming up to him. In a way, Jack's ability to love Puddles the way he deserves to be loved is an analogue to what will happen with Simon, and proof for Simon that Jack is capable of loving him.
I saw on social media that this is the first book in a "cozy new series." Can you tell us anything about the next book?
Yes! My favorite non-animal secondary character in BETTER THAN PEOPLE is Charlie, Jack's older brother. And the second book in the Garnet Run series is Charlie's romance! Speaking of gentle giants, Charlie definitely is one. He took care of Jack from the time their parents died, when Jack was 15 and Charlie had just turned 18, so he's a bit of a father figure as well as a brother to Jack. Charlie took over their father's hardware store and has kept it going all these years; he helped pay for Jack to go to college; he's built his own house. . . just generally done all the things! But he's done them all alone.
When Rye Janssen, a moody, too-honest Seattle-transplant, with a demon cat in tow, shows up in Garnet Run, having inherited a house from a grandfather he never knew, he needs all the help Charlie can give fixing up the crumbling property. When Charlie realizes he's squatting in the house, which is in danger of falling down around him, he insists that Rye come stay with him until construction is done. First, their cats fall in love, which means love for Rye and Charlie can't be too far behind!
I love this story because it explores what happens when someone has their development arrested at eighteen–old enough to seem like an adult in many ways that matter–and has to wait until they crawl out of their own darkness before they can recognize the need to live for themselves. I hope you'll love Charlie and Rye as much as I do!
We get some of our best book recommendations from authors! What are a few recent reads you really loved?
It's not romance, but I've just read Riley Sager's whole oeuvre and very much enjoyed it. He writes thrillers that I find very cinematic and atmospheric. (I've been in a very horror-y mood lately–possibly because the world is a horror.) In the romance/fantasy genre, I've loved May Peterson's The Immortal City. And one of my most anticipated reads is Alyssa Cole's When No One Is Watching, out next month. 
Rapid Fire Random Questions
Dragons or unicorns: Dragons!
Five people you'd invite to your book club (dead, alive, fictional, etc.!): See this is hard because there are a lot of people I like a lot and deeply admire whom I'd never want to hear talk about books, hmmm. Okay, I'll make it a book-themed supper club and invite: Silvia Rivera, Julia Child, Josephine Tey, Blyden Jackson, and China Miéville.
Some of your auto-buy authors: Donna Tartt, Garrett Leigh, Alyssa Cole, Josh Lanyon, N.K. Jemisin, Tana French, Jordan Castillo Price, Carmen Maria Machado, L. Penelope. . . I could go on forever.
Favorite flower: Thistle–those big, bright purple, spiny ones.
Earliest celebrity crush: Ponyboy in The Outsiders–does he count as a celebrity?
Random interesting fact you like to tell people:  The process by which we would be pulled apart into long strands by tidal forces if we were sucked into a black hole is called spaghettification!
Hobbies you have (aside from reading and writing): Everything related to food: any time I see or hear about something delicious I want to try and figure out how to make my own version and improve upon it. I am deeply committed to houseplants, and my house looks like a jungle. I really enjoy propagating plants from cuttings (or, in the pre-pandemic times, going to nurseries and picking up bits of fallen plants from the ground to re-grow) and giving them to friends. I love projects, so any kind of DIY or thing I can make will occupy me for hours. I love estate sales/thrift stores and I find searching through a lot of junk to find bits of treasure really satisfying. I love hiking and long walks and any kind of exploring. And I love just sitting on the couch with my cat in my lap and watching tv that makes me cry 🙂
Dream vacation: Okay. A long train ride in one of those private compartments like in an Agatha Christie novel. When I reach the town in a foreign country I've never been to before, I'm staying in a room at the top of a castle and can wander the city all day and night, poking around in cemeteries, train tracks, tiny curiosity shops, and dusty antique stores. There is live music on all the street corners and food carts where I can get every kind of food imaginable. I take day trips to crumbling castles and the ruins of forts. Then, I rent a motorcycle and take off into the country, where I park by the side of dirt roads and take rambling walks through mossy, overgrown trees and rivers, and then stop in shaded meadows to eat picnics of cheese and bread. Finally, I get to the tiny stone house that I've rented for a week, with a kitchen garden and no one around for miles. I sleep a lot and cook delicious meals and read all day next to the lake behind the house. I go home at exactly the moment when I'm still enjoying being away but just starting to wish for my own bed with my cat in it.
Sweet or salty snacks: I love a sweet-salty combo!
You have a totally free afternoon – no deadlines, no obligations, no Twitter notifications!  What do you do?: Well, I'm pleased to say that I have arranged my life such that I often find myself with free afternoons, so I know exactly what I do. Depending on my mood, I sack out on the couch and read for hours, attempting to seduce my cat to lie on top of me any time she comes near. Or if I'm feeling a little more energized, I put a show on my computer and take it into the kitchen where I watch while I make elaborate baked goods. Or, if I'm feeling very energized, I do things like rearrange entire rooms in my house while listening to podcasts about hauntings. I love a totally free afternoon, no matter my mood 🙂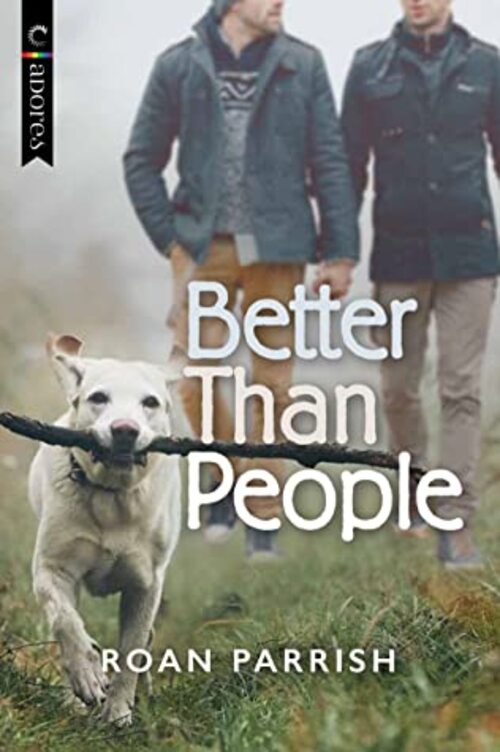 It's not long before their pet-centric arrangement sparks a person-centric desire. . . 
Simon Burke has always preferred animals to people. When the countdown to adopting his own dog is unexpectedly put on hold, Simon turns to the PetShare app to find the fluffy TLC he's been missing. Meeting a grumpy children's book illustrator who needs a dog walker isn't easy for the man whose persistent anxiety has colored his whole life, but Jack Matheson's menagerie is just what Simon needs.
Four dogs, three cats and counting. Jack's pack of rescue pets is the only company he needs. But when a bad fall leaves him with a broken leg, Jack is forced to admit he needs help. That the help comes in the form of the most beautiful man he's ever seen is a complicated, glorious surprise.
Being with Jack–talking, walking, making out–is a game changer for Simon. And Simon's company certainly. . . eases the pain of recovery for Jack. But making a real relationship work once Jack's cast comes off will mean compromise, understanding and lots of love.
Carina Adores is home to highly romantic contemporary love stories where LGBTQ+ characters find their happily-ever-afters.
Romance Contemporary | LGBTQ Romance [Carina Press, On Sale: August 25, 2020, Hardcover / e-Book, ISBN: 9781335542823 / eISBN: 9781488076848]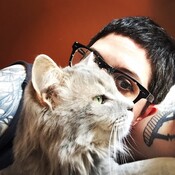 Roan Parrish lives in Philadelphia, where she is gradually attempting to write love stories in every genre.
When not writing, she can usually be found cutting her friends' hair, meandering through whatever city she's in while listening to torch songs and melodic death metal, or cooking overly elaborate meals. She loves bonfires, winter beaches, minor chord harmonies, and self-tattooing. One time she may or may not have baked a six-layer chocolate cake and then thrown it out the window in a fit of pique.