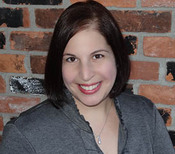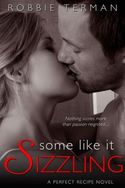 Thanks for having me at Fresh Fiction! In my latest release, SOME LIKE IT SIZZLING, the heroine Jenna has been hit by a string of bad luck. Really bad luck! She's been left nearly penniless and will do almost anything to get back on her feet – including selling all her designer clothes and working as a process server (just to name a few).
It got me thinking, what are other ways to save a few bucks? And here is what I came up with:
1) Turn down the heat – Instead, just get a picture of Sam Heughan, who plays Jamie Fraser on the TV series Outlander. Seriously, even in the polar vortex you'll be taking a cold shower.
2) Eat more chocolate – Small chocolate bars are around one dollar. A head of lettuce is nearly two. Really, it's just economical.
3) Put a dollar in a jar every time Thomas on Downton Abbey does something horrible but ends up weaseling his way out of the situation – Okay, so not really cutting costs, but it is forced savings. And as anyone who watches the show knows, that money will add up fast!
4) Become a Fan Girl – Replace online shopping with cyber-stalking a celebrity. A new pair of shoes doesn't give me even half the pleasure of following Walking Dead's Norman Reedus's every move on social media. But beware – even the Downtown Abbey Thomas Jar won't cover legal expenses, so keep it cool!
4) Buy more books – The last time I went to the movies, I spent nearly $50 between dinner, the ticket, and popcorn. The last book I read cost under $5 and it was a far more enjoyable evening.
Hmm…maybe if Jenna had used some of these tricks, she wouldn't have had to move back to her childhood home. Oh, well, at least that put her in far closer proximity to her high-school sweetheart, Luke. And as Jenna learns, the best things in life are free anyways.
About SOME LIKE IT SIZZLING
Nothing sizzles more than passion reignited…
Former model Jenna Rawley has spent her entire life craving the security and stability she never had growing up. Her wedding day was supposed to be the day all of her dreams came true. Instead, the groom disappears and Jenna runs from the church…and right into the arms of her high school sweetheart.
Firefighter Luke Kearney never forgotten Jenna, or that she left him behind with a broken heart all those years ago. Yet in that single, dramatic moment, their chemistry comes roaring back to life, hotter and more fierce than ever. Only now there are complications—including secrets from the past that have been buried, but not forgotten. But a man who plays with fire is bound to get burned…
About Robbie Terman
Robbie Terman is a contemporary romance author, amateur foodie, and handbag aficionado. She finds it way more fun to live in a fictional world, where the little black dress always fits perfectly, designer shoes don't come with price tags, and a handsome man is always there to lift you up when you fall. When you read her books, if you cry a little and laugh a lot, that was just the reaction she was hoping for.