Jade Lee and Sasha Lord were having a great time at the RT Booklovers Conference in Houston. It's only Friday afternoon and Jade's quiet — no voice! But she was able to stop by and chat with the Fresh Fiction crew for a time on Friday afternoon. She was joined by Sasha Lord who told us all about the book she's finishing to be published in 2008! And it sounds terrific since she confessed to keeping it under her pillow at night! Sounds like a keeper to me if the author doesn't want to let go of it!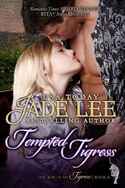 Jade's next book will be on the shelves in June, TEMPTED TIGRESS, the sixth in the Tigress series of very sensual historicals set in China. Another winner guaranteed!
We also ran across an old friend from DFW area — debut author Tracy Garrett. She was excited to show us the promo postcard for her book TOUCH OF TEXAS, on shelves October 2nd at a very special price! The cover is DE*lic*ious! Gotta love the cowboy, especially a Texan cowboy!
It is tiring to be go-go-go at the RT gathering.
We spotted a grouping of authors lurking, ah, resting, under the escalators. JC Wilder, Stacie Klemstein, Isabo Kelly and Linnea Sinclair took advantage of a quiet corner, semi smoke free, to rest and view the crowds around the bar! We caught them in "action."
Cowboys and vampires were the theme for Friday night's activities and the hallways and bar were crowded with stetsoned cowpokes and dance hall beauties at the Hyatt in downtown Houston. Our view from the window of the 28th floor belied the frentic activity in the lobby below. It was not your usual Friday night in Houston — the vamps and cowboys came out to play!