Hi! Thanks so much to Fresh Fiction for inviting me to share a scene from my upcoming release, UNDERCOVER ENGAGEMENT. In terms of setting this up, Eden and Swain are law enforcement officers who detest each other but are forced to partner as an engaged couple for an undercover sting operation. They're at a local bar trying to make contact with the targets of the sting. She's mad at him. He deserves it. Here's his version of an apology…
***
"Aw, c'mon, choux," Swain called to her over the music. "Don't be like that. Dance with me. They're playin' our song."
She sat there facing him, arms and legs crossed, one booted foot bouncing like she was ready to kick him to the curb. "I wouldn't dance with you if you were the last person in this place."
"I'll dance with you, Eden," Dobie offered.
"Hey, man." Swain sent him an exasperated look. "I'm workin' an apology here."
Eden smiled at Dobie and then turned her stern look on him. "After what you said, it's going to take way more than an apology." Nose in the air, she added, "I don't really think you're up to the task."
Perfect. Did she have any idea how perfect she looked, shimmering with quiet fury? Somewhere in the back of his mind he registered Lou Ann's quick laugh and Junior's "Hoooo buddy. You done goofed." Applause erupted behind him as the singer finished her set.
Sliding what he knew to be a sly smile on his lips, he let his legs go lax and dropped to his knees. "You want me to grovel, baby?"
She examined her fingernails. "I want you to go away."
He crawled toward her on hands and knees. "You know you like it." With the featured show over, their show started to attract attention. A few women whistled and catcalled. A few men groaned. He crawled closer, so he knelt directly in front of her, never taking his eyes off her face. "You like it when I grovel at your feet." He ran his jaw suggestively over her bare leg. Her knee. The skirt left a lot of unprotected territory. The crowd howled. Somebody put Cardi B on the jukebox.
She uncrossed her legs and placed the sole of her boot against his shoulder. A warning. "That's not my foot, Swain."
"I know, choux." He took her hand and guided it to his head, sinking her fingers in his hair before letting go. "As much as you like when I grovel at your feet, I know you like it even better when I grovel…" He scooted closer, taking advantage of her un-parted legs. "…here." He looked up at her as he ran his jaw along her inner thigh and took unreasonable satisfaction from the flutter of her eyelids and the flush of her cheeks. The fingers in his hair tightened. Around them, the bar chanted, "Gro-vel! Gro-vel! Gro-vel!"
He put his neck into it, rubbing on her like a cat. Her boot heel dug into his shoulder, but she didn't kick him away. He hitched a hand beneath her knee and eased her leg down until she had both feet on the floor. Her knees splayed open a bit, so he positioned himself between them—so they didn't put on more of a show than he'd planned—and laid his head in her lap, nuzzled there a long moment. A new scent reached his nose. Something earthy and seductive and not from a bottle. Something all Eden. His mouth watered. The fingers in his hair squeezed tight and then went lax.
"Make 'im work for it, sister!" a woman called over the music and the chant.
He lifted his head and yelled over his shoulder, "Good God, y'all. Give a guy a chance."
That caused more laughter. He turned back to Eden, winked, and then nuzzled her abdomen through the tank top. Her stomach fluttered under his lips. Working his way up the shirt, he accidentally grazed his jaw against one tight nipple standing high and proud beneath the flimsy confines of cotton and lace, and he heard her soft whimper. He kissed between her breasts, buried his face there just long enough to draw encouragement from the crowd and have her holding his head with both hands—another warning, perhaps—but her heart pounded against his cheek like a caged animal, the rapid cadence practically synchronized to his own.
Tipping his head to the side, he kissed her neck, then her chin, and then, at last, he reached her mouth. He heard her quick inhale just before he pressed his lips to hers. Hoots, hollers, whistles, and applause all faded away. For several long seconds, the world narrowed to just this. Just them. His mouth under hers. Her fingers in his hair. Her knees clamped tight to his hips. Pushing up higher on his knees, he sank his hands into her hair, tipped her head back, and took control of the kiss—if control equaled diving in to find and taste every flavor, from her cherry-glossed lips to her pink-champagne tongue, to the hot, sweet haven at the back of her throat.
When he drew away to change the angle and take her mouth again, the music and noise flooded back, providing him with a brutal reminder that this was, indeed, strictly for show. He gave himself a minute to catch his breath, then hitched his mouth into a smile and stared into wide, dazed eyes. "Forgive me yet?"
She blinked slowly, and awareness crept into the foggy depths. An awareness that if she said "no," God only knew what he'd do next. Same deal if she said "yes." He solved it for her. "Dance with me, choux."
"Like a Wrecking Ball" poured from the jukebox, but the Eric Church song this time. He stood, held out a hand to her, and tipped his head toward the dance floor.
When she reluctantly took it, the onlookers burst into applause. He accepted backslaps and fist bumps as he tugged her onto the dance floor. Couples joined them, packing the small area. This time, when he drew her into his arms, he wrapped one around her waist and cupped the back of her head with the other. Wanting to put a smile on her lips, he murmured, "Given how easy it is to piss you off, I'll have to remember how much you appreciate a good grovel."
Copyright © 2021 by Samanthe Beck. All rights reserved, including the right to reproduce, distribute, or transmit in any form or by any means.
Private Pleasures Book 5
Buttoned-down Eden Brixton is less than thrilled when she's partnered with smooth-talking wild card Marcus Swain in an undercover op. Both their careers hinge on convincing folks in tight-knit Bluelick, KY that he's the love of her life. She'd sooner tase him than prance around in practically nothing, hanging all over his chiseled body like she can't get enough.
For Swain, being partnered with the too-gorgeous-for-his-sanity Eden promises to test his well-honed control. She's smart, she's skilled, she's not just by-the-book—she knows the damn book backward and forward. And she hates his guts.
When Eden absolutely nails her role as his sexy fiancée—where the hell did she learn to seduce with a single glance?—Swain is knocked right on his ass. Living with a temptation like Eden makes it hard to remember their chemistry is strictly for show. And when the heat gets too real, doing the undercover op might prove to be their undoing.
Romance Erotica Sensual [Entangled Brazen, On Sale: July 26, 2021, e-Book, ISBN: 9781649371782 / eISBN: 9781649371782]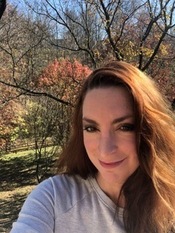 Wine lover, sleep fanatic, and USA Today Bestselling Author of sexy contemporary romance novels, Samanthe Beck lives in Cincinnati, Ohio with her long-suffering husband, Charles, and their turbo-son, Hud. Throw in a furry ninja assassin named Gander, a few hundred Nerf blasters, one electric guitar, (with amp!), and…well…you get the picture.
When not dreaming up fun, fan-your-cheeks ways to get her characters to happy-ever-after, she searches for the perfect cabernet to pair with ASMR podcasts.