Hello! I'm so excited to be back with you on the Fresh Fiction Blog!
If we haven't met before, I'm Lisa Kessler and I passionate, page-turning paranormal romances filled with plenty of twists and turns, danger and adventure, and sexy romance that will curl your toes.
I love writing paranormals, and I don't stop with vampires and shifters. In the Sentinels of Savannah series, I've got a sexy crew of immortal pirates, but they're not vampires.
Their final plunder as mortals turned out not to be gold, but the Holy Grail. They've been immortal ever since, living and working at their favorite port city, Savannah Georgia! My new release, Pirate's Promise, is book 5 in my Sentinels of Savannah Series but it can be read as a standalone.
Why pirates in Savannah?
My grandmother was born and raised just outside of Savannah in Darien, so I'd visited America's Most Haunted City before and pirates are a big part of their history. I've wanted to write a pirate series since the first Pirates of the Caribbean movie came out, but I didn't want to write a historical soooo…
One day it hit me! What if the pirates were still here, today? Immortal.
They all have jobs and try to stay current in a world that is constantly changing around them, but recently they've been approached by a government agent in charge of protecting Americans from paranormal threats. The crew is working together again, stealing powerful relics that most of the world believes are only fiction.
In Pirate's Promise, the crew is searching for the cursed Tyrfing sword, but in order to find it, two enemies will have to go undercover as a couple…
Hope you'll give the Sentinels of Savannah a try! The books are a romantic adventure through one of America's oldest cities, and an exciting escape from the real world!
Here's a little taste:
Greyson followed the scent of hushpuppies and jambalaya into the mess hall and grinned. "Smells like heaven."
"Yer just in time to help me serve!" One-eyed Bob looked up with a grin, flashing his pearly white veneers. No more gold-capped teeth for the old pirate.
Because Bob was in his sixties when he'd first sipped from the holy grail, he usually had to disappear sooner than the rest of them. Once people started noticing they weren't visibly aging, they'd fake their deaths and leave their assets to their next of kin, who happened to bear a striking resemblance.
Each new "lifetime", Bob tried something new with his missing eye. He'd been sporting a custom glass eye this time, but for this trip, he'd swapped it out for the nostalgia of his weathered leather eye patch.
Greyson was less creative. Sometimes he cut off his long hair, or grew a beard, but he always ended up gravitating back toward his long braids and kept his facial hair short. He struggled with reinventing himself. He'd been a survivor, and he was proud of it. He didn't want to hide his identity or try on a new one.
He picked up the large pot of jambalaya and followed Bob to the long wooden table. The paper plates, napkins, and plastic utensils were already at one end.
Bob pointed to the center of the table. "We'll put the grub in the middle, and everyone can help themselves."
Greyson set the jambalaya down beside the heaping platter of hushpuppies, stealing one and popping it into his mouth before One-eyed Bob noticed it was missing.
"I can get the rest. Will you let the crew know the food is ready?" He paused and glanced over his shoulder. "You might have to find the lass from Department 13 and bring her to the mess hall. I don't believe she's had a tour of the whole ship yet."
"She'll chew yer arse if she heard you call her a lass." The corner of Greyson's mouth twitched at the memory of the fire in her eyes. "Agent Henderson is all business."
"Don't see her becoming future crew?" Bob grinned.
"No." Greyson paused and raised a brow. "What are you cookin' up in yer head there, ye old salt?"
Bob shrugged looking like an angel who'd traded in his halo for devil horns. "Yer going to be working closely with her. Ye both fancy weapons…" His voice trailed off as he focused on placing serving utensils in the platters and bowls.
"Yeah, well, we'll be lucky if we don't kill each other." Greyson walked to the door and paused. "I want to hold the Tyrfing, to feel the weight of it in my hands. I'll suffer through her company if that's what it takes. Don't be filling yer head with romantic ideas." He lifted his arm, staring at the tattoo on his forearm. "My heart belongs to the sword."
"A sword has no heart to give in return." Bob said as he disappeared into the kitchen.
Greyson chuckled to himself. "Neither does Agent Henderson." He walked out to the center of the deck and shouted, "Food's in the mess hall!"
Colton helped Keegan, the ship's pilot and resident rock star, tie off the wheel, then clasped Greyson's shoulder as he passed. "Thanks, mate."
Greyson nodded, making his way down the deck toward the stern.
When he reached the back of the ship, it was deserted, save one lone government agent dressed in black from head to toe. Her black hair was tied back in a ponytail. The wind whipped it around her face as she stared out at the sea. For a moment, he didn't make a sound, just took in the way she studied the ocean.
There was something about this woman. She was strong, and from what he'd seen, fearless. She infiltrated a witch's coven, and now Agent Bale had sent her alone on a mission to Scotland to retrieve a mythical weapon capable of mass destruction.
Her clothes clung to her slender figure, and his gaze wandered down her toned body. A warrior's body. He caught himself wondering what had led her to work for a top-secret government agency.
It was none of his business, but after more than two centuries walking this earth, it was rare for him to discover a person he couldn't figure out within a few minutes.
In one fluid movement, she spun around, her gun drawn and aimed right between his eyes. He raised his hands with a smirk. "Just came to show you to the mess hall."
She cursed under her breath. "Sneak up on me again, and you might find a bullet in your head."
He lowered his hands. "Guns won't do you much good on this ship. Bullets hurt like hell, but they won't kill us."
"Most of you." She holstered her gun. "According to our records, Colton decided not to take another drink from the Holy Grail, and I heard you telling Drake you're looking out for him. Is he mortal now, too?"
Damn. Nothing escaped this woman. "Depends on who wants to know. You? Or all of Department 13?"
"My loyalty is to my department." She met his gaze.
"And mine is to my crew, so if you want to know about Drake, you'll have to ask him yourself." He crossed his arms. "I don't trust your 'department'. We're convenient when you need us, but it's never been a two-way street."
"Please." She rolled her eyes as she walked past him. "You're a pirate. Loyalty isn't what you're known for."
He caught her arm as she passed by, tugging her a little closer. "What exactly do you think we're known for?"
Her dark brown eyes searched his, unfazed by his glare. "You take things that don't belong to you. You lie and cheat and steal."
There was some truth to her words, but hearing her spit them out to his face pissed him off. It shouldn't have gotten under his skin. But it did. He tightened his grip on her elbow as the wind gusted, intoxicating him with her scent, like leather, cloves, and cinnamon.
He ground his teeth. "You came here for my help to steal something. You're going to sit beside me, hold my hand, and lie that you're my wife. You're no different than I am. We'll both do whatever it takes to get that sword, so you can shove that judgmental attitude up your arse. We're more alike than you think."
He released her and stormed toward the mess hall without looking back.
What was it about her that lit the short fuse on his rage? He didn't give a fuck what anyone thought of him. But hearing the disgust in her voice…pissed him off. Because it hurt coming from her, or because it was true?
Maybe both.
He rubbed his forehead, wishing he could push the thoughts aside. It probably had nothing to do with her. He was heading back to Glasgow Harbor, back to the past.
Back to the gallows.
Funny thing about eternity. It meant he was never free of the past. He never died, so he never forgot.
He reached up to his neck, his fingers searching for the raw places where the rope had cut into his tender flesh.
He dropped his hand to his side and walked into the mess hall, grateful for the boisterous crew inside. This was his family. He wasn't judged, he was accepted.
They were enough. They were all that mattered.
He sat at the table next to Caleb, their navigator. "Aye, mate."
Caleb closed his book and lifted his head. "Hey, Greyson. Where's…"
Before he could finish his question, Agent Henderson filled the doorway.
Her eyes locked on Greyson, and his ancient heart hammered. She was deadly and beautiful. He waited for her to approach him, but she took a spot at the other end of the table, beside Harmony and John.
He shouldn't be disappointed. Maybe he was just itching for a fight.
Or.
He glanced over at One-Eyed Bob. The old salt might have planted some unwanted thoughts into his head. Drake had once accused their cook of playing matchmaker, but now Greyson wondered if Drake might be on to something.
(C) Lisa Kessler, Entangled Amara, 2021. Reprinted with permission from the author and publisher. 
Sentinels of Savannah #5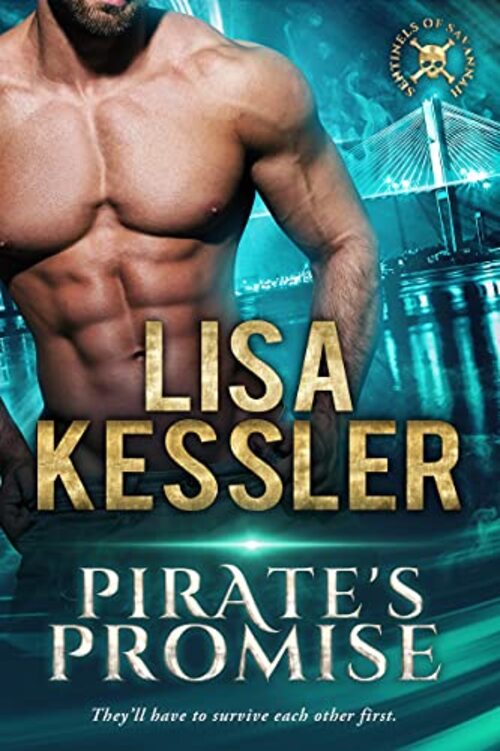 Greyson Till never found a weapon he didn't like. As the immortal Master Gunner of a pirate ship, he's grown his collection for over two hundred years. So when a legendary cursed blade that can cut through any material goes missing from the government's paranormal artifact vault, he's eager to retrieve it. Working with the secret division Department 13 has always come with its set of challenges, but this one is the worst yet.
Along with the mission comes fiery, no-nonsense paranormal weapons expert Aura Henderson, who couldn't be less thrilled about this pairing. The last time they saw each other, Greyson accidentally blew her cover, almost killing them both. Worst of all, to get the sword, she has to pose as Greyson's wife. The last thing she needs is to get involved with a sexy grumbly pirate, whether in reality or just pretend.
When they locate the relic, the gilded blade thirsts for blood and things aren't what they seem. Greyson isn't sure who to trust anymore, and he's not about to let death come between them…
Each book in the Sentinels of Savannah series is STANDALONE:
* Magnolia Mystic
* Pirate's Passion
* Pirate's Pleasure
* Pirate's Persuasion
* Pirate's Promise
Romance Paranormal [Entangled: Amara, On Sale: July 26, 2021, e-Book, ISBN: 9781640638709 / eISBN: 9781640638709]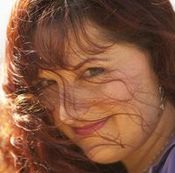 Lisa Kessler is a Best Selling author of dark paranormal fiction. She's a two-time San Diego Book Award winner for Best Published Fantasy-Sci-fi-Horror and Best Published Romance. Her books have also won the PRISM award, the Award of Excellence, the National Excellence in Romantic Fiction Award, the Award of Merit from the Holt Medallion, and an International Digital Award for Best Paranormal.
Her short stories have been published in print anthologies and magazines, and her vampire story, Immortal Beloved, was a finalist for a Bram Stoker award.
When she's not writing, Lisa is a professional vocalist, and has performed with San Diego Opera as well as other musical theater companies in San Diego.