Operation K-9 Brothers is a three-book romantic suspense series about Navy SEAL heroes returning to civilian life. That's not such an easy transition for these men, but the service dogs they work with calm their demons. These men are not looking for love, but when they find the one, they fall hard. They are hardwired to protect, and when danger threatens, they will protect the woman they love with their life.
M is for MOUNTAIN RESCUE of course.
O is for Operator. Dallas is a SEAL and SEALs are operators.
U is for Universal because romance is universal.
N is for Numb. How Dallas feels inside.
T is for Tender. How Dallas feels toward Bella, the dog that has never known the kind touch of a human.
A is for Asheville, the location of the story.
I is for Incredible. What Dallas thinks of Rachel.
N is for Nickname. Dallas's nickname for Rachel is wildcat.
*
R is for Residence. The mountain cabin two strangers accidentally end up in together.
E is for Extraordinary. What Dallas thinks of stunt double woman Rachel.
S is for SEAL, and who doesn't love a SEAL hero?
C is for Cowboy. Yes, Dallas is a SEAL cowboy!
U is for Untouchable. After surviving captivity and the things done to him, Dallas can't stand to be touched by anyone but Rachel.
E is for Equestrian. Well, Dallas is a cowboy, and horses are his thing.
Operation K-9 Brothers #3
A woman on the run. A wounded SEAL who wants to become invisible.
Two strangers, one mountain cabin.
The sole witness to a murder, stuntwoman Rachel Denning thought she'd found the perfect hideout in a remote cabin just outside Asheville, North Carolina. Until a strange man appears in her bedroom. After a few terrifying moments, she realizes it's a mix-up—he's not there to kill her—and Rachel finds herself with an unexpected protector in the form of a navy SEAL.
Dallas Manning is just trying to recover. After being rescued from the Taliban, he's on extended leave. Finding his mountain retreat occupied by a gorgeous knife-wielding stranger isn't part of his recovery plan, and neither is training dogs. But an old friend enlists him to help train service dogs for veterans, and Dallas recognizes himself in Bella, a dog rescued from a bad situation.
All Dallas wants is to be left alone so he can get his head straight, but Rachel stirs his protective instincts. Being trapped together makes it impossible to ignore their growing attraction, but neither of them can outrun their pasts. They'll have to find a way forward together or risk losing it all.
Romance Contemporary | Romance Military [Carina Press, On Sale: December 28, 2021, Paperback / e-Book, ISBN: 9781335401854 / eISBN: 9780369702012]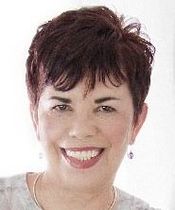 A best selling, award winning author, Sandra Owens lives in the beautiful Blue Ridge Mountains of North Carolina. Her family and friends often question her sanity, but have ceased being surprised by what she might get up to next. She's jumped out of a plane, flown in an aerobatic plane while the pilot performed death-defying stunts, has flown Air Combat (two fighter planes dogfighting, pretending to shoot at each other with laser guns), and rode a Harley motorcycle for years. She regrets nothing.
A member of Romance Writers of America's Honor Roll, Sandra is a 2013 Golden Heart® Finalist for her contemporary romance, CRAZY FOR HER. In addition to her contemporary romantic suspense novels, she writes Regency stories.