Anyone who knows me, knows I'm a HUGE Star Wars geek. Several of my favorite heroines come from this series of movies and the old Expanded Universe books and comics: Rey (from the new movie), Princess Leia, Mara Jade Skywalker (who first appeared in the Timothy Zahn books in the 1990s), Jaina Solo (who also is a Timothy Zahn contribution to the series), and many others. I even think the heroine from the prequel series, Padme Amidala (until her character is murdered by her creator) is a strong woman. See, I'm a geek, but I digress.
The universal thing these women have in common is their ability to overcome hardship and not just survive, but become even stronger. They are leaders, even if they don't know it. Some of my favorite heroines from books are Claire Fraser from Diana Gabaldon's Outlander series, Scarlett O'Hara from GONE WITH THE WIND by Margaret Mitchell, Cat Crawford who is the half-vampire spitfire from Jeaniene Frost's Night Huntress series. I could go on, but these heroines will do.
None of these woman wanted to do anything heroic. They were all living their lives when life turned inside out and upside down. When Claire is sent back in time and she finds herself 200 years in the past and being essentially held captive, she never gives up. She fights for herself and eventually for her hero as well. Scarlett's life changer is the destruction of her way of life. Despite being a spoiled brat woman of Southern luxury, she has to take charge in order to keep her family alive. Cat Crawford is raised to hate vampires. She even hunts and kills them, despite being half-vampire herself, then she is forced to trust one. Over the course of the series, the kick-ass heroine Cat is tested and has to learn to trust, love, fight, and lead.
In my upcoming contemporary western romance, HEARTSONG, the heroine Micki has to be strong for her mother and nephew. She has to fight for custody of him and when she loses, she is faced with a horrible decision—which not only causes her pain, but puts her in a position she despises. But from these challenges, she doesn't just survive, she draws strength.
What is it about strong heroines that you like most? What do you like least?
"Okay." Michaela breathed the word.
"You'll marry me?" Gabe didn't bother hiding his surprise.
She drained her glass with a wince. "Damn, I've never liked champagne." Michaela headed for the fridge. "Do you have any beer in here?"
He was more uncertain now than he'd been before he started thinking about this crazy idea. "Yeah. Lone Star. Get me one, too." When she turned with the longneck bottles in hand, he chuckled. "A two hundred dollar bottle of fine French bubbly, but we'd rather drink Texas beer."
"I'm a country girl, Gabe. You've always known that." She handed him one of the
bottles. "I've actually been thinking the same thing–that if I were married the judge would've given me Jesse. But the only man I can think of is Cash Nelson." She twisted the top off the beer and took a long draw. "But he would read too much into the agreement. I never considered you. Hell, the whole town knows I can't even stand you. How is this gonna work?"
Gabe didn't like the way his heart pinched at her words. He tossed the cap from his beer beside hers on the island top and took a drink. "We'll have to convince them otherwise. We have a history and we've been working together"–he grinned as he remembered the custody hearing– "or against each other for weeks now. Everyone knows there's a fine line between love and hate."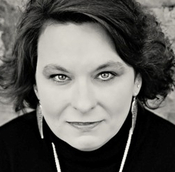 Although Sara Walter Ellwood has long ago left the farm for the glamour of the big town, she draws on her experiences growing up on a small hobby farm in West Central Pennsylvania to write her contemporary westerns. She's been married to her college sweetheart for over 20 years, and they have two teenagers and one very spoiled rescue cat named Penny. She longs to visit the places she writes about and jokes she's a cowgirl at heart stuck in Pennsylvania suburbia. Sara Walter Ellwood is a multi-published and international Amazon bestselling author of the anthology set Cowboy Up. She also publishes paranormal romantic suspense under the pen name Cera duBois.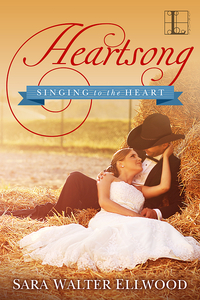 Gabriel McKenna is living the dream. A rising country music star he's no stranger to fame, money, or beautiful women. Despite his bad boy image, he's also got a heart of gold, and when his ten-year-old brother is orphaned, he wants to take him under his wing. But the judge on the case is less than impressed by Gabe's reputation and awards custody to the grandfather Gabe knows firsthand is abusive.
Michaela Finn is no stranger to heartache. Years ago she was engaged to Gabe McKenna, but two days before their wedding he ran off to Nashville with a female talent scout. Now Gabe is back in her life with an insane plan. Marry him, so he can get custody of his younger brother. Michaela can't bear to think of any child being hurt, but she's just not sure her heart can carry a happy tune when Gabe is playing lead…