Instead of trying to find your perfect match in a dating app, we bring you the "Author-ReaderMatch" where we introduce you to authors as a reader you may fall in love with. It's our great pleasure to present Sarah Ballance!
Writes:
Finding Mr. Right Next Door, a smoldering friends-to-lovers firefighter romance filled with banter, swoon-worthy moments, kitchen fails, dating disasters, and hilariously inappropriate comments from a grandma who tells it like it is.
About:
Sarah Ballance is a USA Today bestselling author of contemporary, historical, and supernatural romance and romantic suspense. She's been married to her own romantic hero for what he calls a "long, long time" (and no, he'll never hear the end of saying that). Together they have six children. . . and clearly too much time on their hands. She currently writes for Entangled Publishing and enjoys long quarantine-inspired walks from one end of the house to the other, dodging the dog's overzealous morning zoomies, and removing the used coffee pods her husband leaves in the machine.
What I'm looking for in my ideal reader match:
Must be able to laugh at yourself, even (okay, especially) in the bedroom
Must tolerate relentless banter from adoring friends
Must love takeout (real food stands no chance in this world)
Must be down with sofa-sized dogs
Bonus points if you'll buy condoms for grandma
What to expect if we're compatible:
Banter, humor, and witty crossfire
Feels—all the feels
Adorable, often incorrigible creature companions
Sexy bedroom moments often interrupted by laughter
Characters who linger long after the last page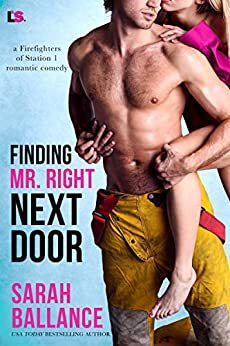 For Lexi Dean, burning down her kitchen was disaster enough. Agreeing to move in next door with her totally off-limits best friend, Matt Freeman, until her house is livable again?
Utter madness.
They've always been close, but this is ridiculous. If she's not bumping into him at the refrigerator, he's at the front door giving her date the third degree. And slipping between his borrowed sheets? That's about as distracting as listening to his shower run, because suddenly all she can think about is rivulets of water cascading down is spectacular body–the one he seems to be going out of his way to make sure she notices.
Not that it matters. He can flaunt his firefighter abs around her all he wants. They already share everything–their jobs, their friends, their backyard, even their dog–and that means only one thing: Lexi is not going to risk losing any of it by dipping a single toe in the temptation that is Matt Freeman.
Lexi may not know how to handle a fire extinguisher, but this is one fire that just might burn them both if they're not careful. . .
Romance Contemporary [Entangled Lovestruck, On Sale: May 11, 2020, e-Book, ISBN: 9781682815526 / eISBN: 9781682815526]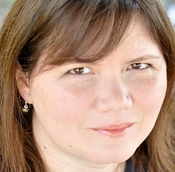 USA Today bestselling author Sarah Ballance and her husband of what he calls "many long, long years" live on the mid-Atlantic coast with their six young children, all of whom are perfectly adorable when they're asleep. She never dreamed of becoming an author, but as a homeschooling mom, she often jokes she writes fiction because if she wants anyone to listen to her, she has to make them up. (As it turns out, her characters aren't much better than the kids). When not buried under piles of laundry, she may be found adrift in the Atlantic (preferably on a boat) or seeking that ever-elusive perfect writing spot where not even the kids can find her.
She loves creating unforgettable stories while putting her characters through an unkind amount of torture–a hobby that has nothing to do with living with six children. (Really.) Though she adores sexy contemporary romance, Sarah writes in many genres including historical and ghostly supernatural romance and romantic suspense.