Is he shirtless? A manipulative jerk? Or even an alpha-hole? Alphas come in all shapes and sizes and I enjoy pretty much all of them. For me, a successful alpha needs to have two qualities: direction in life, and confidence.
I don't find someone sexy if they're sleeping on Mom's couch with no plans to move out. Now, if he's sleeping on Mom's couch because he has no money because he's starting his own business…that is definitely more interesting and could be sexy for sure. His direction could change (hopefully based on the heroine's influence *wink*) but he needs to have an idea of where he is going in life.
In my debut novel, ENFORCER'S PRICE, Colt knows exactly what he wants in life – redemption. He's screwed up, been to jail, and is trying to make everything right for his motorcycle club. What he doesn't count on, is falling in love. Krista makes him redefine his life and his goals – just like love should, am I right?
Confidence is the other quality on my very short list of requirements for an alpha hero. Maybe it's the confidence to step out of his comfort zone in order to connect with the heroine, or talk dirty during sexy times (yum!). Whatever the alpha-hero is doing, he does it with confidence. Don't get me wrong, there are times when he confidence is waning and we all see it – those can be the best times. Those moments when the hero loses his confidence and shows his vulnerability makes him the most endearing, but he's got to have that confidence to start out.
My favorite moment in ENFORCER'S PRICE when Colt loses his confidence is when he is asked, publicly, to declare his feelings for Krista and he just can't do it. You want to smack him and love him all at the same time. When he uses that confidence for some serious sexy talk, all is forgiven. True confidence paired with some down and dirty words are my favorite combination.
The trick to writing a great alpha character is to give him a heroine who is strong enough to stand up to him and be an equal partner. If the heroine isn't equal to her alpha, then he just becomes a jerk. To make a good story with an alpha-hero, your heroine is just as important.
When I started writing a novel about a hooker, I realized that she needs to be her own hero first, and then he can help her accomplish her dreams. The most important thing for a heroine who is in love with an alpha hero is that she needs to solve her own problems in life. She might need some rescuing from time to time, but she has her own confidence and dreams and needs to accomplish them with or without her hero.
I hope you spend your Valentine's Day with an alpha-hero on a page or in real life. If you need a suggestion, I recommend Colt from ENFORCER'S PRICE. He's deliciously flawed with the best sexy talk around. But no matter who you choose, remember that every alpha hero needs an alpha heroine to make those sparks happen!
If you want to read more about Colt, my alpha-biker-hero who falls in love with a hooker (and he doesn't know she's a hooker!) take a look at ENFORCER'S PRICE.
Also, I have a contest on Fresh Fiction for a Kindle Fire HD 8 – with no ads. Enter to win and I'll send it to you at the end of the month! (or tell me below about your favorite alpha hero and we'll throw an extra entry into the pot!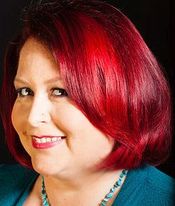 Sarah Hawthorne lives in the Pacific Northwest where she drinks too much coffee, plans a lot of vacations and writes romance novels. Her native habitats include her garden and writing at the local library.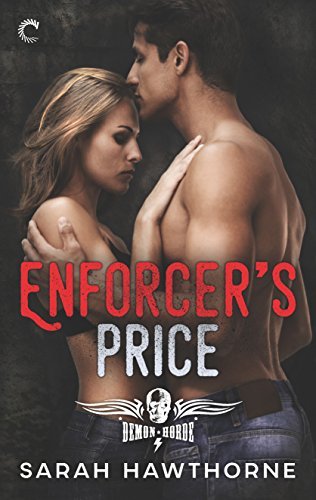 A man looking for redemption
Colt spent eight months in prison for trusting the wrong woman, nearly bringing down his entire motorcycle club in the process. Now he needs to fix the MC's cash flow problems or watch the only family he's ever known fall apart.
Meeting Krista wasn't part of his mission.
Falling for her could mean his destruction.
A single mom trying to get by
Krista was ready to leave hooking behind when her ex cleaned out her bank account. Stuck working to provide for her daughter, she protects herself with one rule: never get involved with someone at the club.
Not that she wants to. Sex has become a job, a means to an end.
One night together as an escape
Krista's body wakes at Colt's touch, allowing her to imagine a life after the MC. A future. A happily-ever-after, if only briefly. Krista brings out feelings in Colt he forgot could exist. But just as he begins to trust again, Krista's truth is revealed—testing the very boundaries of Colt's jealousy and faith.
Romance Suspense [Carina Press, On Sale: February 6, 2017, e-Book, ISBN: 9781488024412 / eISBN: 9781488024412]