I love the holidays so much. Christmas romance movies. Christmas romance novels. And the food. So much food and, for my family, a lot of food that we only have during the holidays because most of the dishes we eat to celebrate would pack on the pounds if they were a part of our regular diet. The sausage balls and crack potatoes I make for Christmas breakfast every year, for example.
In One Christmas Eve, Zoe (the bookstore owning heroine who's got the hots for the slightly uptight business owner next door) shows up for Thanksgiving dinner with a dish of baked macaroni and cheese, which is one of those special occasion dishes the Stacey family only gets for the holidays. I took the original core recipe from Julie James (though I can't find it on her site and I think it was a Facebook post several years ago), and she said it came from Walt Disney World's Food & Wine Festival. (Wine being another great holiday tradition!) The second time I made it, I tried adding some dried mustard to give it a little zing. Then I tried adding buffalo chicken and now that's the only way we eat it.
My youngest sister's birthday happens to fall on Christmas Eve, so we have a family get-together the night before Christmas that's strictly for her birthday party, and my stepmom makes lasagna. I make the buffalo chicken macaroni and cheese, and then carb-crashing is how we all go to sleep so Santa can visit. (Unless Santa is a procrastinator who leaves everything to the last minute and then has to handle Christmas wrapping at midnight while carb-crashing, in which case there's always more wine.)
Okay, on to the recipe!
Shannon Stacey's Buffalo Chicken Baked Macaroni & Cheese Which She Mostly Stole from Julie James Who Got it From Disney
Ingredients:
1 pound of cooked macaroni (don't forget to salt the water)
2 cups heavy cream
1 pound (4 cups) shredded cheddar cheese
¼ pound (1 cup) shredded Monterey Jack cheese (Julie noted she uses a Jack/Colby blend, and I do the same)
¼ pound sliced American cheese
2 ounces (1/2 cup) Gruyere cheese
I don't know the measurements for the chicken or the buffalo sauce because I like short cuts and I use one bag of Perdue Short Cuts chicken in Original flavor, which is the pre-cooked stuff. But they're 9 ounce bags, so I guess that much?
A small bottle of Frank's RedHot Buffalo sauce
I shred the chicken into bite-size pieces and put it in a gallon Ziplock bag. Then I add a very little bit of buffalo sauce and smoosh it around, adding the sauce just a bit at a time until the chicken's completely coated, but doesn't have excess sauce. Put that aside.
Heat the cream in a large saucepan over medium heat. When it starts simmering, start slowly stirring in all the cheeses until it's creamy and melted.
(It's easiest to do this part in a large mixing bowl.) Mix the chicken coated with buffalo sauce in with the cooked macaroni. Then mix in the cheese sauce. And mix. And mix. Pour it into a 13×9 baking dish and bake at 350 degrees for 15 minutes. (If you make it in advance and refrigerate it, you'll have to bake it a lot longer. I don't know how much longer, though. Until it's hot. Could be an hour?)
The most important part of this recipe: clean up immediately! That cheese sauce is something else when it sets up, let me tell you. If you leave the dishes to wash later, good luck. And if you have a kitchen sponge with the green scrubby side, you'll be throwing that away after. (I've never owned a dishwasher, so I don't know if they'd even handle the dishes.)
And then, when you've carbo-loaded until you can't eat another bite, curl up with your digital reader and read One Christmas Eve!
Cedar Street #2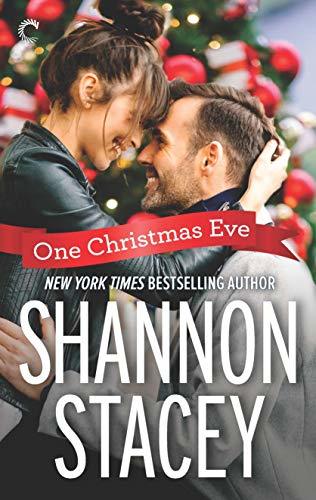 New York Times bestselling author Shannon Stacey returns with a warm and cozy opposites-attract Christmas story.
Zoe Randall is busy living her life as she damn well pleases. She's back in her favorite town, her divorce in her rearview mirror, and living out her childhood dream of running a bookstore with her cousin. She has no interest in the uptight nerd who opened his boring-ass business next to her shop…until he complains about one of her sexy window displays.
Then it's game on.
Preston Wheeler knows he takes life a little too seriously. But when the saucy bookseller next door starts pushing his buttons, he can feel that changing. Beautiful, vivacious Zoe challenges him in all the best ways, and soon he's pushing her buttons right back: teasing and flirting all the way through the holiday season.
As Preston loosens up and Zoe is treated to the man behind the suit (particularly his forearms), she realizes she's more interested than she cares to admit. And Preston comes to see the beauty—the absolute delight—in adding Zoe's bright splashes of color to his once very black-and-white existence.
Romance Contemporary | Romance Holiday | Romance Erotica Sensual [Carina Press, On Sale: October 10, 2019, e-Book, ISBN: 9781488059766 / eISBN: 9781488059766]

A must-read for contemporary romance fans!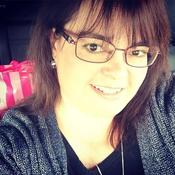 New York Times and USA TODAY bestselling author Shannon Stacey lives with her husband and two sons in New England, where her two favorite activities are writing stories of happily ever after and riding her four-wheeler. From May to November, the Stacey family spends their weekends on their ATVs, making loads of muddy laundry to keep Shannon busy when she's not at her computer. She prefers writing to laundry, however, and considers herself lucky she got to be an author when she grew up.