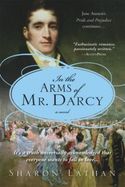 In January I was a guest on Fresh Fiction for the release of my third novel, My Dearest Mr. Darcy, and I wrote about birthing babies. That blog can be read here and I chose the topic because in that novel Mr. Darcy and his wife Elizabeth welcome their first child, a son named Alexander. For me this was an easy subject to write since my professional expertise is in the maternal child health field. I have witnessed many, many deliveries!
Since my vision of the Darcys is a continuing saga my next book, In The Arms of Mr. Darcy, began shortly after Alexander's arrival and covered the first year of his life. One might think that since he is a baby his interactions would be rare and not very exciting. Oh contraire! I can assure as a mother of two and an RN with 25-years working with babies, infants have distinct personalities from the get-go! Even premature infants who are very early and very small will subtly show their character, holding true to those traits as they mature. It is quite phenomenal.
My approach in writing Alexander was to establish his unique personality as well as convey how Darcy and Lizzy are as parents. He is an integral part of their lives, as a child should be. Here are three brief samplings of what I mean:
One
"Alexander, in contrast, had accidentally wrapped his fingers around the ties to his bonnet and was happily ignoring all the drama about him in the delightful contemplation of flapping lace.
In fact, he was noticeably more disturbed by the sudden interruption to his play when passed from the familiar location next to the strongly beating heart of his father into the strange arms of another man than by anything that had transpired thus far. The surprising motion caused his arms to flail and partially lose their clasp on the entertaining ribbons, and then to make matters worse, his mother leaned over and removed the bonnet entirely! The indignity and annoyance of it all was almost too much to bear and his face screwed up in preparation to vocalize his opinion on the subject.
Fortunately, Darcy could read his son's thoughts quite well and placed a firm hand onto his chest, leaning slightly to hush placatingly and capture Alexander's gaze before it was too late. His timing was impeccable, Alexander calmed and distracted by the beloved face and voice.
Reverend Bertram chuckled, beaming upon the assembly. 'Father to the rescue! Thank you Mr. Darcy for saving me from the arduous task of raising my age-crusted voice above the din!'"
Two
"'Here, sweet, your rattle.' Darcy repositioned the baby so that he was sitting on his lap and reached into the basket of toys kept by the sofa. He handed Alexander a colorfully painted dried gourd with a slim wooden handle, one of a half dozen rattles in the basket. Alexander instantly grabbed onto the toy and swung the round bulb toward his widely opened mouth. His aim was not the best, the hard object knocking into his nose and causing him to emit a high squeal. He was not to be deterred, however, the rattle again repositioned and the attempt to gnaw on the too-large toy upsetting him far more than the crash into his nose.
'You are supposed to shake it, thusly, Son,' Darcy instructed, clasping the fat rattle-wielding wrist and moving it to demonstrate. Alexander watched, fascinated, joyfully bouncing his limbs and laughing, but as soon as Darcy released his wrist the rattle was again drawn toward the yawning mouth.
"'Everything into the mouth with you. Crazy boy,' he said affectionately.
"'He likes to eat,' Lizzy said. 'I have no idea where he gets that desire from.' She winked at her spouse, Darcy merely grinning."
Three
"Alexander suddenly voiced a flood of gibberish, seriously gazing into Darcy's eyes. Darcy laughed, hugging the soft body tightly. 'You agree, do you, Alexander? They were enamored by you more than any of the lavish decorations.'"
He lifted the baby, holding him upright and facing toward him, and commenced an intent, articulate verbal exchange. Lizzy tended to engage in infantile speech when chatting with her son, but Darcy refused to do so.
Lizzy forever teased her husband about using five syllable words and complex sentences to a newly born child, but Alexander responded to the erudite commentary with rapt attention.
'Your Aunt Mary's wedding was understated but equally beautiful, wasn't it? Remember the yellow wild flowers that captured your gaze? And your aunt's purple ribbons that so fascinated you? Yes, you do remember, my intelligent boy. Perhaps you shall be musically inclined, unlike your incompetent father, since you hearkened to the organ music and singing. Which reminds me,' he said, turning to Lizzy, 'Mr. Daniels said the newlyweds are expected home in two days. Did Mrs. Daniels send word?'"
All Excerpts © Sharon Lathan, Sourcebooks Landmark, 2010
Isn't Alexander adorable? I think so! I love writing children into my stories and was thrilled to have the chance to watch Alexander mature. In my novella that is part of A Darcy Christmas (now on sale) I was given the opportunity to write several children for the Darcys. Cool!
Now share with us some of your favorite literary children.
IN THE ARMS OF MR. DARCY BY SHARON LATHAN—IN STORES OCTOBER 2010
If only everyone could be as happy as they are…
Darcy and Elizabeth are as much in love as ever—even more so as their relationship matures. Their passion inspires everyone around them, and as winter turns to spring, romance blossoms around them.
Confirmed bachelor Richard Fitzwilliam sets his sights on a seemingly unattainable, beautiful widow; Georgiana Darcy learns to flirt outrageously; the very flighty Kitty Bennet develops her first crush, and Caroline Bingley meets her match.
But the path of true love never does run smooth, and Elizabeth and Darcy are kept busy navigating their friends and loved ones through the inevitable separations, misunderstandings, misgivings, and lovers' quarrels to reach their own happily ever afters…
About the Author
Sharon Lathan is the author of the bestselling Mr. and Mrs. Fitzwilliam Darcy: Two Shall Become One,, and My Dearest Mr. Darcy. In addition to her writing, she works as a Registered Nurse in a Neonatal ICU. She resides with her family in Hanford, California in the sunny San Joaquin Valley. For more information, please visit www.sharonlathan.net, as well as the two group blogs Sharon contributes to: www.austenauthors.com and www.casablancaauthors.blogspot.com.
To comment for a chance to win please click here.