As a Canadian, I love snow. I grew up with the white stuff and remember fondly going out for Halloween with my costume on over my snowsuit, carrying my goodie bag through the show. So, when I was imagining a place forWarrior Nights, my thoughts went to a small town that would be snowed in at least once a year. Just imagine—the perfect little town in the mountains, a lovely place that happened to get snowed in for a few days. Nothing big to worry about, right? You snuggle in, stay warm and read those books on your TBR pile, maybe binge on holiday movies until the plows come in from the Big City to re-establish communication…
There's a certain beauty about small towns. I grew up in Toronto, so I was a classic city girl—mass transit right outside the front door, a corner store within a few minutes walking and shopping… well, let's just say that my credit card never had a chance to catch his breath. Add in an amazing number of food choices, most of them within walking range and you can't beat a large city for making it easy to spend money!
But there's something to be said for small towns. When I moved to the US in 2000 I ended up in a rural area, not quite farmland but enough that the only store was at least ten minutes' drive away, nothing within walking distance. It took me quite some time to adjust my habits—running out of milk could mean it'd take hours for my husband to get home and drive me to the nearest store—there was no other option. Needless to say, I learned how to stock groceries on hand for every possible weather situation.
And yet… I enjoy having wild animals traipse through my backyard, from deer to wild turkeys to the occasional bear. When the sun goes down it gets dark, and I mean REAL dark—not like in the city, where no matter how you draw the curtains the odds are that a streetlight will sneak in or a bright fluorescent light from a billboard or the other apartments around you as people stay up all night. Quiet in a small town is VERY QUIET, where you'll hear a car approaching you from a goodly distance and know what music they're playing as they speed by. There's nothing like it in the city, where streetcars run all night and cars cruise the streets; people chatting to each other and yelling at each other as they get dropped off or picked up for various events. Horns blowing from delivery trucks and loud music bouncing off the walls.
When I started writing Warrior Nights, I thought about where someone would go for privacy, for isolation in this age where we're all connected electronically, if not physically. Where could you go and not be part of the wider world? And if you did seek out such a place, what would it take to cut you off from everyone and everything?
And what would YOU do?
Odin's Bastards #2
Liam Wolfson, the professional assassin, is dead. His new persona, Jack Hammerson, lives in a small town in Colorado, happy helping out as many of the townsfolk as he can. It's his way of working toward some kind of redemption for his sins. Until one night when an amnesiac woman falls into his arms, calling out his old name…
Kara remembers nothing about her previous life, only brief glimpses of an old lover and their time together… but she knows her fate is entwined with Liam's. Then there's the familiarity with all things Valkyrie and Valhalla. She worries she might be going crazy.
Liam has worked hard to hide all traces of his old life, but Kara rips old wounds open as their old feelings for each other come rushing back. But it's not just Kara who's come to town looking for answers. When mercenaries arrive looking for Liam, he'll need Kara to remember what she's capable of if either of them is going to survive…
Each book in the Odin's Bastards series is STANDALONE:
* Her Alpha Viking
* Warrior Nights
Romance Paranormal | Romance Science Fiction [Entangled Amara, On Sale: January 28, 2019, e-Book, ISBN: 9781640637511 / ]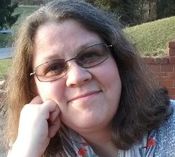 Sheryl Nantus was born in Montreal, Canada and grew up in Toronto, Canada. A rabid reader almost from birth, she attended Sheridan College in Oakville, graduating in 1984 in Media Arts Writing.
She met Martin Nantus through the online fanfiction community in 1993 and moved to the United States in 2000 in order to marry. A firm believer in the healing properties of peppermint tea and chai she continues to write short stories and novels while searching for the perfect cuppa.
She has published multiple books with Swerve, Entangled Publishing, Samhain Publishing and Carina Press. In 2011 she won two second-place Prism Awards from the Fantasy, Futuristic and Paranormal chapter of RWA for her steampunk romance, "Wild Cards and Iron Horses" and the first volume of her superhero romance trilogy, "Blaze of Glory". In 2013 she won a third-place Prism Award for her paranormal romance, ""Blood of the Pride"".