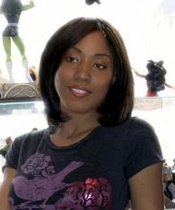 Every time I tell this story jaws drop. I've been accused of making it up but my imagination runs closer to hot guys with swords, life sucking nightmares or fairytales in the modern world. I'm not good with covert perverts.
I met him in Whole Foods—I now realize I'd confused organic food with wholesome men. He seemed lovely, though, a little pudgier than I like but with mocha skin and dark curly hair. Newly single and thinking of my safety I– Okay, the truth is since I was newly single and thinking of the television show Criminal Minds we chatted on the phone several times before I felt comfortable enough to meet him for a date.
The first half of our outing went swimmingly. Although, I should have known I was in trouble when I told him I write urban fantasy/paranormal romance and he said, "Really? Mm, tell me your fantasies."
"Huh? Oh, no, no. Urban fantasy like Buffy the Vampire Slayer not Emmanuelle."
Um…not everyone is as well versed in literary genres as you or I, right? (If this were an audio post you'd hear me sigh.)
The real turning point came at an Italian-style sorbet shop I enjoy. The lady behind the counter scooped out two sample spoons of fresh fruit deliciousness and handed them to him. He tasted both, rolled his eyes and told her flat out. "I've had better." I gasped. Her lip curled. His posture and the tone of his voice were so rude and dismissive she walked away, refusing to serve us.
Yikes. Perhaps he hadn't meant to be nasty or maybe he was showing off. Either way I'd reached the art-of-being-polite section of the evening and wouldn't be seeing him again. As if to confirm my decision, while he drank coffee and I ate sorbet he let loose the following stream of WTFery.
1. "Come back to my place. Lay in my bed"
2. "Let's share our sexual fantasies"
3. "I want to eat your breasts." <—an instant classic.
Me, deadpan, "Eat? I think the words you want are lick, bite or suck. Either way. No."
I should've left. I know it. But the woman in me had long since left the building and the writer was giggling like a historian who'd found an undiscovered Shakespeare comedy. He persisted.
4. "I just want to hold you in my arms."
5. "I'm lonely, you're lonely."
This dude was author gold but count me out. I actually know the word for "no" in his country of origin and that didn't work either. Then it happened: I had my hands folded together on the table, thumbs crossed. The man stuck his index finger into the little hole between my clasped hands and pumped it in and out. Oh, my great golly wally. This was a whole new brand of "finger f~©k".
As I stared at him in incredulity, with a colossally dumb grin threatening to tickle my earlobes, he leaned closer—eyes shining—and whispered, "You like it."
"No," I said. "But this is going into a book."
Up Next: A Giveaway
Share your favorite or most loathed moments from your own Very Bad Dates and three commenters will win copies of my latest release CHAOS TRYST. It's the tale of a modern Goldilocks and her favorite bear-shifter on a madcap romp of a first date.
To comment on Shirin Dubbin's blog please click here.