Welcome to The House of Comarré
"Prophecy, curses, and devilish machination combine for a spellbinding debut of dark romance and pulse-pounding adventure." – Library Journal, starred review

"Passion and murder, vampires and courtesans – original and un-put-downable." – Patricia Briggs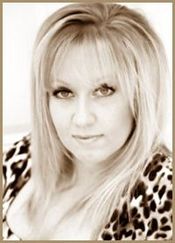 Visit Kristen Painter
Service Is Her Life
Chrysabelle is a comarré, a unique human hybrid raised under a strict code and chosen to provide exceptionally pure and powerful blood to the vampire nobility, if they can afford the cost of a comarré's blood rights. On the verge of earning her freedom, Chrysabelle's vampire patron has just been found dead and all evidence points to her.
Fearing for her life, she runs to New Florida, home of the only person she knows outside her sheltered world, the woman who raised her, the woman she calls aunt since no comarré know their true parents. Through one of her aunt's connections, Chrysabelle is introduced to a reclusive vampire who might be able to help her. If she doesn't kill him first.
Death Is All He Knows
Malkolm is anathema, an outcast vampire living under a curse that causes him to drink to death any victim he sinks his teeth into. Plagued by the voices of his victims, he keeps to himself for the safety of those around him, but he's barely getting by on a diet of animal blood. When the mesmerizing glow and intoxicating scent of a comarré catches his attention, he must fight the beast within to keep from making her his next meal.
But he soon finds out just how much he underestimated the power of the comarré. She's not the delicate servant his kind have been led to believe and helping her could mean pushing himself to the brink of control, something he already has very little of, but she offers him the one thing he needs most. The one thing he's done without for too long. Blood.
Power Is Within Her Grasp
Tatiana is vampire nobility but ambition drives her to rise above her station. She wants power and she wants to use it to rule the vampire families. To implement her plan to take over the nobility, she needs to break the covenant keeping the mortal and othernatural worlds apart. Then she'll use the ring of sorrows to wield power unlike any has seen before. Getting her hands on the ring is the tricky part, especially since it was stolen by a rogue comarré who's disappeared into the wilds of New Florida.
With no scruples, few morals and a touch of mental instability, Tatiana begins tracking the comarré, releasing her vicious hellhounds into the city streets. With Tatiana, it's not a question of if she'll kill to get what she wants, but rather, when.
Check Out This Excerpt from BLOOD RIGHTS
Don't miss the next two books in The House of Comarré Series!
FLESH AND BLOOD (Available Nov 1st) – With the ring of sorrows still missing, and the covenant between othernaturals and mortals broken, Chrysabelle and Malkolm's problems are deepening Chrysabelle still owes Malkolm for his help, but fulfilling that debt means returning to Corvinestri, the hidden vampire city neither of them is welcome in.
The discovery that Chrysabelle has a brother could mean reneging on her promise to Malkolm, something that might make him angry enough to loose the beast living inside him. And fulfilling her vow could prove devastating for Chrysabelle — especially when you throw in power hungry witches, dead fringe vampires, and the Kubai Mata.
BAD BLOOD (Available Dec 1st) – Samhain approaches, bringing with it the final melding of the mortal and othernatural worlds, but no one knows just how much power the night holds or how much evil might be released.
Violent murders occur in Paradise City as counterfeit comarré are systematically hunted. The police and the Kubai Mata have more than enough trouble to keep themselves occupied. As war erupts at home, Malkolm and Chrysabelle head to New Orleans to recover the Ring of Sorrows. Chrysabelle is forced to make a life and death decision and will realize that her relationship to Malkolm may have fatal consequences.
The clock is ticking.
OUT FOR BLOOD and LAST BLOOD to follow in 2012!