Hey ya'll, welcome to Sharon's Cozy Corner, where cozy mysteries and their authors are the focus of reviews, interviews and news. I am thrilled to be writing this first of hopefully many columns for Fresh Fiction, and I sincerely hope you, the reader, will enjoy it.
Let's start off looking at what exactly constitutes a "cozy mystery." According to Wikipedia.org, a cozy mystery is "a subgenre of crime fiction in which sex and violence are downplayed or treated humorously."
The main characters of these types of mysteries are usually female and are amateur detectives who use their life experiences as a tool for solving crimes. They usually work in an area of interest to women, such as bakeries, tea rooms, scrapbook shops, etc. Often they have a husband, boyfriend, friend or family member working for the police force who can provide them with important information about a case to which they might not otherwise have access.
I see cozy mysteries becoming one of the rising genres in women's fiction today with more and more titles coming out each month, and more publishers adding cozy mysteries to their lineup. It's an exciting time to explore this fascinating genre.
So with no further ado, here is a look at a few of the new releases coming up in November. Grab a cup of tea, pull up a chair and let's see what goodies we can find!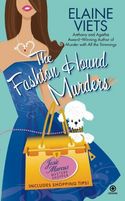 Shopping and mystery go hand in hand in Elaine Viets's popular "Josie Marcus, Mystery Shopper" series. In her fifth installment, "THE FASHION HOUND MURDERS" (Obsidian Mystery, Nov. 3rd), Josie is going to the dogs as she investigates the world of designer doggies and the boutiques that cater to their owner's whims and wishes.
After Josie, a mystery shopper extraordinare, gets a tip from a disgrunted pet shop employee, she discovers that behind the cashmere sweaters and bejeweled collars, cruel means of breeding designer dogs are being used. When the employee snitch is found dead, it's up to Josie to use all her expertise and disguises to put the killer in the doghouse. Cute shopping tips for buying just the right gift for pets are included in this charming story.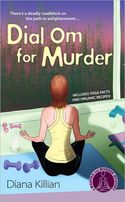 Readers can twist themselves into shape as they read Diana Killian's latest yoga-inspired mystery "DIAL OM FOR MURDER: A Mantra For Murder Mystery" (Berkley Prime Crime, Nov. 3rd.)
As the owner of Sacred Balance yoga studio, A.J. Alexander has learned to embrace her newfound happiness, until some diva drama shocks her chakra! Two of A.J.'s A-list students are not only starlet divas but vicious rivals. When A.J. finds one of the actresses in a permanent corpse pose and the other one being investigated as the primary suspect in the murder, it's up to A.J. to channel her inner peace and find out who the real killer is.
This second installment of this lively series, featuring a feisty Jersey girl with attitude, is fun and fast paced. Killian includes instructions for yoga poses as well as a delicious recipe for organic Salmon Salad.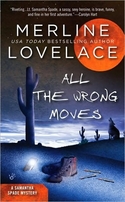 Bestselling romance author Merline Lovelace dips her toes into the cozy mystery market with her debut novel, "ALL THE WRONG MOVES: A Samantha Space Mystery." (Berkley Prime Crime, Nov 3rd) Drawing on her own experience as a long time Air Force officer, Lovelace has created a captivating heroine in Lt. Samantha Spade.
USAF Lieutenant Samantha "Sam" Spade and her technicians are in charge of trying out the latest gizmos for the military. On a test run with the Ergonomic Exoskeletal Extension (EEEK), Sam stumbles over two dead bodies in the desert. With the help of handsome Border Patrol Agent Jeff Mitchell, Sam must unravel a cover-up involving an illegal arms deal.
While a little more somber and technical than most cozy mysteries, Lovelace still delivers a thrilling who-dunit that readers will find intriguing.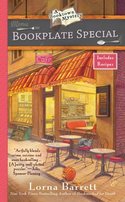 Good books and good food just naturally seem to go together, and this is evident in Lorna Barrett's "BOOKPLATE SPECIAL: A Booktown Mystery." (Berkley Prime Crime, Nov. 3rd)
Tricia Miles, owner of the "Haven't Got A Clue" mystery bookstore, has put up—and put up with—her uninvited college roommate for weeks. In return, Pammy has stolen $100 among other things. But when on the day Tricia kicks her out, Pammy's found dead in a Dumpster, there are a lot of questions unanswered. It's up to Tricia to literally dive in to find out what Pammy was looking for in the trash, and if her killer was looking for it too.
"BOOKPLATE SPECIAL" is the third book of this charming series set in Stoneham, New Hampshire, otherwise known as "Booktown" for all the book stores located there. Barrett includes several delicious recipes for dishes mentioned in the story.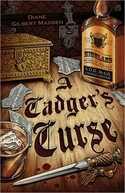 With her Literati Mystery series, author Diane Gilbert Madsen combines a thrilling mystery with a history lesson on famous authors. In her debut novel, A CADGER'S CURSE: A DD McGil Literati Mystery (Midnight Ink Books) author Diane Gilbert Madsen treats her readers to a mystery surrounding Scottish poet Robert Burns.
Who'd have guessed that running employee background checks at the HI-Data Corporation would make DD McGil the target of a ruthless killer? For DD, a thirty-something English professor turned investigator, the routine job should have been a welcome distraction from her fiancé's death and her eccentric Aunt Elizabeth's quest to authenticate an unlikely literary treasure—a Robert Burns text worth millions if proven genuine. Relying on her own moxie, her sexy lover, and the fact-finding acumen of her antiquarian bookseller friend, DD races to find out who's behind the high-tech treachery at HI-Data before it's too late.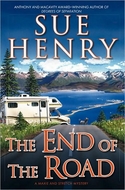 Setting her series in the chilly climes of Alaska, author Sue Henry delivers the fourth installment of her Maxie and Stretch series, "THE END OF THE ROAD: A Maxie and Stretch Mystery" (Obsidian Mystery, Nov 3rd.)
Lively and active senior citizen Maxie McNabb and her miniature dachshund, Stretch, are just back from their latest adventure when the death of John Walker, a quiet but strange drifter, shatters the quiet in their hometown of Homer, Alaska. Maxie had befriended John, and when his death is ruled a suicide, she knows that doesn't sound exactly right. Now it's up to Maxie to find the truth about her friend's death, a search that leads her to a place called "the end of the road," which might turn out to be the end of the road for Maxie as well.
This fascinating novel reminded me so much of the TV series "Northern Exposure." Henry, who teaches writing at the University of Alaska, has been a resident of Alaska for many years, and brings the history and beauty of the frozen land to her stories.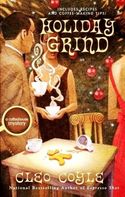 And finally, just in time to get everyone in the holiday spirit, author Cleo Coyle serves up the eighth installment of her Coffeehouse Mystery series, "HOLIDAY GRIND: A Coffeehouse Mystery." (Berkley Prime Crime, Nov. 3rd)
The holidays are coming and that means more than just eggnog lattes and gingerbread biscotti to Clare Cosi, owner of the Village Blend coffeehouse. When she finds her friend Alfred Glockner, the part-time comic and genuinely jolly charity Santa, brutally gunned down in a nearby alley, a few subtle clues convince her that Alfred's death was something more than the tragic result of a random mugging. Much to Clare's boyfriend Detective Mike Quinn's chagrin, Clare decides to find out who made the naughty list when they knocked off ol' St. Nick.
The mouthwatering recipes included in "HOLIDAY GRIND" makes this novel worth reading alone, but Coyle also delivers a delicious thriller with a side order of romance that will warm reader's hearts while it tickles their minds.
So, there you go!  A list of great cozy mysteries to please nearly any taste. And you know what the great thing is? There will be a whole new batch next month to check out!
If you have a favorite author or series you'd like me to consider, please feel free to leave a comment. I hope that you come back by on November 15th, when I'll be interviewing one of my favorite cozy mystery authors, Laura Childs.  Her series include the "Tea Shop Mysteries," "Scrapbooking Mysteries" and her latest, "The Cackleberry Club Mysteries."
Until then, cozy reading everyone!
---
Sharon Chance has been a freelance entertainment journalist for the past fourteen years. As a regular contributor to the Wichita Falls Times Record News, she has written well over 1,600 articles covering everything from concert and movie reviews to museum openings to interviewing some of the top musicians performing today, including members of Bon Jovi and Guns and Roses.
But her true love lies in the world of books. A voracious reader from a young age, Sharon began reviewing books at the urging of her sister-in-law, who was a big fan of the Oprah Winfrey Book Club. What began as a simple fun attempt at sharing her views of books she enjoyed has developed into a work of passion for Sharon. In addition to being a senior book reviewer for the Times Record News, Sharon is also a regular guest contributor for the Las Vegas Review Journal's Book Nook, as well as having written for several other publications.
A distant relative of the great Edgar Allan Poe, Sharon has a fondness for mysteries, especially those of the cozy kind. In her new column, Sharon's Cozy Corner, Sharon hopes to bring news of the latest in the cozy mystery genre, as well as insightful interviews with the authors who write them.