1–What's the name of your latest release? 
Marriage by Arrangement, the first in the Nights at the Mahal series from Harlequin Desire.
 2–What is it about? 
This is a second chance romance that explores the conflicting demands of cultural values, individual fears, and family obligations against falling in love.  The heroine Rani is an Indian American who struggles with her traditional Indian upbringing and her feminist beliefs. She's still reeling from the community stigma of being divorced, the last thing she wants to do is fall in love with another Indian man with a traditional family. Arjun is the eldest son of a dynastic family and is arranged to be married to a business partner and family friend. Falling for Rani will rip his family apart.
Both Arjun and Rani must find the courage to love, and to make the sacrifices necessary to see their love to fruition.
3–What word best describes your heroine? 
Conflicted.
4–What makes your hero irresistible? 
"He owns the room, even when it doesn't belong to him." The line is straight out of the book and perfectly described Arjun Singh.  
5–Who are the people your main characters turn to when they need help? 
For Rani it's her best friend Em, a pediatric oncologist who lets her patients choose the color of her hair and regularly sports lime green and hot pink ponytails. Arjun feels the need to take on the family burdens and not share any of his own, but his sister Divya is good at reading him and providing support when she can. Divya gets her own story in Running Away with the Bride, coming January 2021.
6–What do you love about the setting of your book? 
Las Vegas baby! Who doesn't love room service and breakfast and a chance to pretend you can be anywhere you want.
7–Are you a plotter (follow an outline) or a pantster (write by the seat of your pants)?
I try to plot and it usually goes out the window the minute I start writing and the characters decide not to behave themselves and take the story where they want it to go.
8–What is an ideal writing day for you? 
Cup of coffee, quiet, and in my fantasy world the sounds of the ocean outside my window. One day I will make enough money to buy that beach house where I can go write.
9–Do you listen to music while you write, need total silence, or do you have the TV on?
All of the above! It depends on what I'm writing and the mood. Emotional scenes require music and my preference is Bollywood love songs because they're full of angst and emotion. Sex scenes require quiet (and that's all I'm going to say about that). The TV is on when I'm writing conflict, I particularly like watching action/adventure/thriller shows so that tension flows through to my words.
10– How do you approach research? 
I am a scientist by training so this question could take up a lot of space. For locations, I need to see and feel and experience them. I love to travel and my books only feature locations I've been. Whether is Las Vegas for Marriage by Arrangement, or Stillwater, MN for Running Away with the Bride, I've been there. I've even been to Guam which is featured in Mending the Doctor's Heart. I need to immerse myself in the culture and the emotion of the place to really write about it. Wherever I go, I don't do the tourist thing. For example, on a trip to El Salvador, I walked around San Salvador by myself (much to the horror of the US Embassy) and hired a local taxi driver to drive me around places rather than take the armed guard escort that the tour operators recommend. When you don't act like a tourist, you get to learn so much more about the place than you otherwise would and interact with the local culture more meaningfully.
For other things like what type of private jets the stunningly wealthy own, I have to rely on the internet, manufacture websites and old-fashioned talking to people.
 11–What is your publishing journey story? 
I've been dreaming and writing romance ever since I was 10 years old and thought that Carolyn Keene did not do justice to Nancy Drew and Ned Nickerson's love life. I used to sneak read my mom's old Mills and Boons and dream up new stories of my own. I was born in a traditional Indian family where I was told that I could become a doctor or an engineer. I never did become a physician but I did get my doctorate degree in public health. As much as I love my career, writing is my soul and so when I was settled in my career I began taking writing classes and participating in online groups. I entered a Harlequin contest and won mentoring from an editor. That turned into my first book; First Comes Marriage and I've been writing for Harlequin ever since.
12–Do you have critique partners/writing groups you want to give a shout-out to? 
Yes, I met my critique partner Jayne Evans when I was just starting out. She never hesitates to tell me when I need to hit the delete button and start over and for that I'm so grateful. I also want to shout out to my first editor and mentor Claire Caldwell. She gave me my start and made me believe that I could do this for real.
13–What're the most frustrating things about being an author? 
Deleting your favorite sentences or changing things you love. I absolutely trust my publisher and editor but it's hard when something you pour your heart into ends up on the chopping block.
14–What's your favorite scent?
Right now it's neroli. A sweet orange scent that not a lot of people know about. It invigorates and de-stresses much better than lavender. I'm a bit of an essential oils and aromatherapy amateur.
15–What movie will you watch no matter what if it's on TV? 
Andaz Apna Apna. It's a Bollywood cult favorite. A total slapstick humor romantic comedy that makes me laugh every time. I speak Hindi fluently and it's one of those movies that reminds me of the slang from my childhood in Mumbai.
16–Do you like breakfast, lunch, or dinner best? 
Dinner! I know it's terrible for your health, but I love falling into bed after a good meal. Food coma!
 17–What's one thing you wish you knew more about? 
Medicinal herbs. I've bene studying essential oils and realized just how powerful they can be which makes me want to study Ayurvedic medicine. One day when I have time…
18–What's the silliest thing you've recently done?
Fallen into a closed pool holding 2 laptops. I am a total klutz and my husband and I were staying at this Eastern shore B&B. It was Fall and the pool was closed and covered. We were sitting on the lawn enjoying the bay view and decided we would do some work. I went back to our room to get both our laptops. On the way back, I was walking past the pool, already talking to the characters in my head and I mis-stepped and fell into the pool. For those who don't know, even when a pool is closed and has a cover on it, there's water in it. Ice cold water.
Luckily my husband chose to save me before the laptops 🙂
 19–What can readers expect from you next? 
 The Nights at the Mahal series is going to continue. Book 2, Running Away with the Bride, is coming from Harlequin Desire in January 2021. There are so many wonderful characters in both these books that I'll be writing most of their stories in the future.
20–How can readers reach you? 
Any way they want! The best way to keep up with me is to sign up for my newsletter on www.sophiasasson.com but you can also reach me on all the social media platforms or email me directly at [email protected]. I love hearing from readers.
Twitter: @SophiaSasson
Facebook: /AuthorSophiaSasson
IG: @Sophia_Singh_Sasson
Pinterest: @SophiaSasson
Book Bub: @SophiaSinghSasson
Thank you so much for this opportunity to talk with Fresh Fiction. It's truly an honor.
Nights at the Mahal #1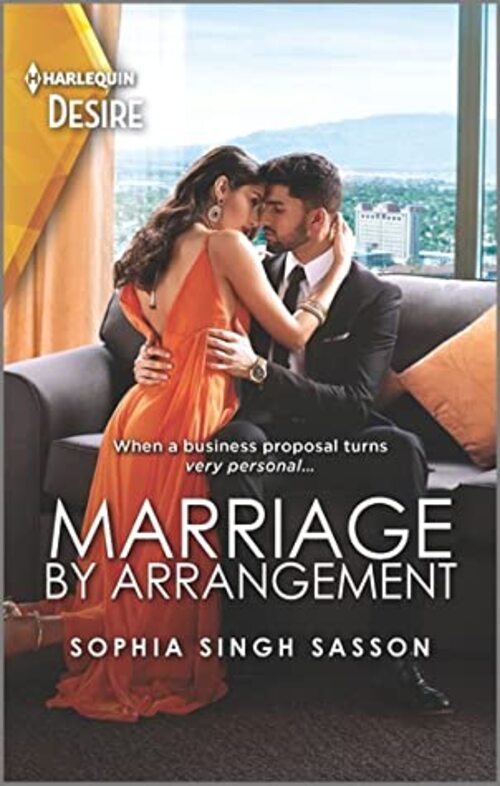 When a business proposal turns
very personal. . . 
Rule #1: Don't fall for the client.
Because he'll rock your world. . .
Architect Rani Gupta will never let a man compromise her career or freedom again. Which is a problem now that her newest client is irresistible hotelier Arjun Singh–aka the sexiest bachelor in India. A little fling with this gorgeous man would be scandal enough. But a fake engagement might just be more trouble than they bargained for–especially if Arjun has a prior arrangement!
Romance Contemporary | Romance Billionaire | Romance Series [Harlequin Desire, On Sale: August 1, 2020, Paperback / e-Book, ISBN: 9781335209290 / eISBN: 9781488063084]
An enjoyable romance from an author to watch.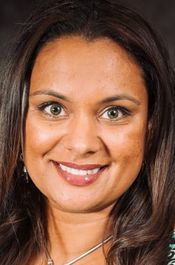 Sophia puts her childhood habit of daydreaming to good use by writing stories she hopes will give you hope, make you laugh, cry, and possibly snort tea from your nose. She was born in Bombay, India, has lived in the Canary Islands, Spain, Toronto, Canada, and currently resides in Washington DC. She loves to read, travel, bake, scuba dive, watch foreign movies.