Hello Fresh Fiction readers!
I'm so excited to be bringing you more dangerously sexy bachelors. If you love a dash of suspense mixed in with your steamy romance, then this series is perfect for you. The best thing is, the books in this series can be read in any order. So if you're new, don't worry! You're fine to jump in here.
Set in New York City, each book follows a member of the Cobalt & Dane private security company. In this book we see the heads of the company, Logan Dane and Addison Cobalt, go head to head. They have a tangled past, a deep friendship and a whole lot of messy, sexy feelings.
"MR. DANGEROUSLY SEXY by Stefanie London is the fourth and final instalment of The Dangerous Bachelors Club series and in my opinion, the best of the bunch…a sassy, exciting, passionate story about two people who are headstrong, determined, and independent, but also afraid of opening themselves up to love and all that it entails. A thoroughly enjoyable read." – Books Of All Kinds
Excerpt
Logan Dane leaned against the door frame to his partner's office, a smirk tugging at his lips. Any chance to throw Addison off guard was not to be missed. Although truth be told, a chance to torture himself with the vision of her amazing legs was not to be missed, either.

"I've got good aim, Logan. Don't make me throw something at you."

Instead of coming down, she leaned farther forward, causing her fitted pencil skirt to ride higher up the backs of her legs. His breath caught in his throat when a sliver of lace revealed that her stockings stopped mid-thigh. Sweet mother of all things holy.

Between the tight skirt, the black lace and the candy-red soles on her shoes, it was a picture fit for a dirty dream.

Yeah, `cause the thing you need right now is another image of Addison to avoid fantasizing over. Don't you have enough guilt on your shoulders already?

"I'd like to see you try," he said.

She retrieved a binder and climbed down, making a show of smoothing out the wrinkles on her skirt.

"Did you want something, Logan? Or are you just here to ogle my legs?"

He cleared his throat. "I wasn't—"

"Sure you weren't."

Busted. "I can't help it. You've got some damn fine pins."

Shaking her head, she bent down and picked up her bag from the floor. This time he kept his eyes away from her ass. Willpower, when he had it, was a wonderful thing.

"You all ready for the retreat on Monday?" she asked, ignoring his comment. "We've got an early start."

"Don't worry, I'll be on time."

"No, be early." She gathered up her organizer and slid it into her bag. "I'll need help setting up for the first session."

"Yes, ma'am. Anything else you want me to do, Miss Bossy Boots?" He walked into her office and placed his palms on her desk. "As if it isn't bad enough you'll be talking numbers at me all through the retreat."

"Just arrive in one piece." Her eyes flickered over him, sending a trail of heat straight from his chest to his groin. "I'm not sure what your weekend plans are, but I don't want you rolling up hungover and with lipstick on your collar."

He'd done that once, and she'd never let him live it down, though he absolutely deserved the censure. He hadn't been subtle when he'd started dating his ex. But he'd put a stop to that soon after—no more women, no more fooling around. Still, Addison had kept her distance ever since.

"I wouldn't let the staff see me in that state." He pressed his hand to his chest. "You know that."

"Oh right, to them you've got to be the Big Bad Wolf." She continued packing her bag without looking up, her long golden hair slipping over her shoulder to conceal her expression. "Lucky me, getting to see the real you."

He detected the slightest waver in her voice, undercutting the otherwise frosty tone. The show with his ex had been partly for Addison's benefit, though it was hard to keep reminding himself he'd done the right thing by them both. Knowing that he'd hurt her so badly made him feel like a bastard.

"You're one of the lucky few, Addi."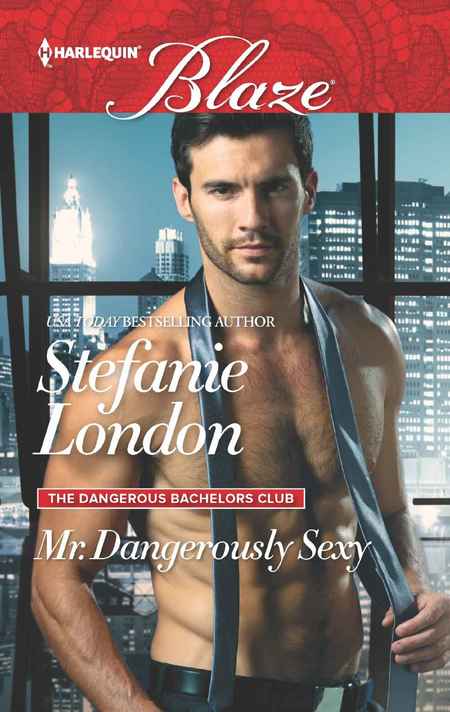 He'll keep her safe…but can he keep his distance?
When Addison Cobalt learns she has a potentially volatile stalker, she tries to hide it from her business partner, Logan Dane. The hyperprotective, supersexy cohead of their security company will only try to take control of the situation—and her.
Which is exactly what Logan does when he finds out about the stalker. Addison craves the safety of Logan's body, but that doesn't mean she's willing to give up her independence, or all of her secrets, for him. She has a few ways to shake Logan's iron control, but it's a wicked and risky game. Because the only thing more dangerous than her stalker is Mr. Dangerously Sexy himself!
Romance Contemporary | Romance Suspense [Harlequin Blaze, On Sale: February 1, 2017, Paperback / e-Book, ISBN: 9780373799541 / eISBN: 9781488010903]