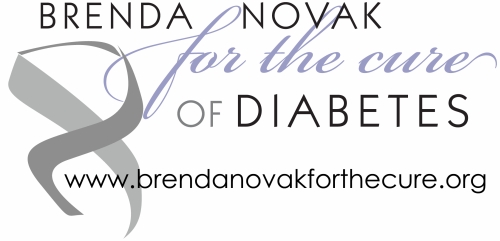 ---
When I launched my first online auction for diabetes research in 2005, I had no idea I would still be running the fundraiser ten years later. I started it because I wanted to make a difference to my son, who was diagnosed at five years old, and everyone else suffering from this terrible disease (over 350 million people have diabetes worldwide). So far, we've raised over $2 million, but I honestly thought we'd have a cure by now. Ever since we first learned that Thad faced this challenge, I've been hearing that a cure is right around the corner. And when you slug away at something for a long time, and it doesn't feel as if you're making enough of an impact, it can be tempting to give up.
In those moments of discouragement, however, something always happens to keep me going. Many times it's an episode of insulin shock and another jolt of that terrible fear that grips every parent of a child with diabetes. But it can also be something positive, like having my son put his arms around my neck and tell me how much he appreciates what I'm doing. Or another author, friend or supporter emailing me to say they will contribute yet again. There have been so many generous people dig in to help, including my volunteers, who have offered hours and hours of selfless service. The bottom line is that I believe this is a disease we can beat with enough determination and focus, so I keep marching forward, and I'm thrilled with the latest news—that the DRI (the research facility that gets the money I raise) is entering human trials with their new Biohub. The Biohub has made the possibility of a cure feel real for me again.
So how does Brenda Novak's Online Auction for Diabetes Research work? Just like E-Bay—only it's more fun. This year, those who register before the auction closes on May 31st(register) will receive a FREE digital copy of THROUGH THE SMOKE, my new historical romantic suspense title. And there will be other freebies we will be giving away throughout. Shoppers will be entered to win simply by participating on any particular day. When the auction is over, payment for any items won can be made via Paypal or credit card (with special arrangements, even personal check/money order). In most instances, the donor picks up the tab for shipping.
There will be nearly 2,000 items up for grabs, all of them starting at just $3. But that's not all! This year is our big 10-year anniversary, and we are doing everything we can to make it special, including offering a boxed set of digital books by fourteen bestselling authors (foreword by #1 New York Times Bestselling Author Debbie Macomber), for only $2.99 (initial sale price). If you are a fan of contemporary romance, A Sweet Life is a "must have." Besides my own novel, A BABY OF HER OWN, it includes stories from such reader favorites as Bella Andre, Barbara Freethy, Heather Graham, Julia Kent, Susan Mallery, Carly Phillips, Jennifer Probst, RaeAnne Thayne, Rachel Van Dyken, Susan Wiggs, Lauren Hawkeye, Steena Holmes and Jane Porter! But you have to act quickly. This is a limited edition and will only be on sale during the month of May.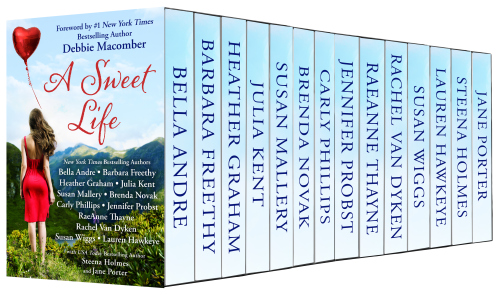 What else will be available at the auction? Too many things to list! You'll be able to bid on tickets to meet Celine Dion, Kindle Fires and Kindle Paperwhites, antique and other kinds of jewelry, trips & stays, handmade items, purses, the chance to have lunch with Lee Child, Catherine Coulter, Diana Gabaldon, Steve Berry or another of your favorite authors and a slew of opportunities for both readers and writers. Don't miss the fun—register today!
Here's to making a difference!