Jennifer Bernard offers a smokin' hot read, all for a good cause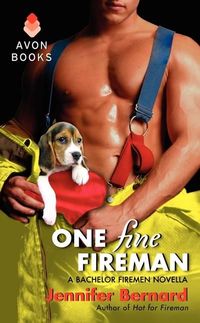 Jennifer Bernard blazed onto the romance scene with back-to-back publications of the first two books in Bachelor Firemen of San Gabriel series earlier this year, with Publishers Weekly calling book one, THE FIREMAN WHO LOVED ME, "solid, sexy, and funny."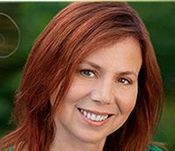 While readers wait for the next full-length story from the Bachelor Firemen, Bernard has a sizzling prequel for them with ONE FINE FIREMAN, an e-original novella from Avon Impulse on sale November 13, 2012 (e-ISBN 9780062257956; $1.99).
Not only will readers get a story with lots of heat, they will also be contributing to a good cause with their purchase of ONE FINE FIREMAN. Bernard has pledged to contribute a portion of her earnings from every book sold for the lifetime of the book to the Firefighters Cancer Support Network, an organization she heard about while researching her novels.
According to its website, the mission of the Firefighters Cancer Support Network "is to provide timely assistance to all fire service members and their families in the event of cancer diagnosis…[and to provide] awareness to fire service members and their families about the importance of cancer prevention and screening by coordinating educational opportunities with various health programs."
After researching for her series and learning the rate at which firefighters develop cancer compared to the rest of the population (according to Firefighter Facts NJ, they are 100 percent more likely to develop cancer than non-firefighters), Bernard knew she had to help in some way.
"One thing I've learned in the process of writing the Bachelor Fireman series is how much firefighters do for their communities in addition to fighting fires," she said. "When I found out that firefighters face nearly double the risk of developing cancer, I was inspired to follow in their footsteps and do what I can to support firefighters when they need help."
One of Bernard's inspirations was Chief Joe Nestor of the real San Gabriel Fire Department. Nestor, an 11-year-survivor of bladder cancer, became involved in the Firefighters Cancer Support Network the year it began, 2005. One of his goals for the Network is to increase awareness.
"The biggest challenge for us is getting the word out. Most firefighters don't even know that the Network exists, and is available to them," he said in an October 28 interview with Bernard, posted to her website. "My hope is that in the future, when a firefighter is diagnosed with cancer, one of the first calls will be to the Firefighter Cancer Support Network."
In ONE FINE FIREMAN, Kirk, a.k.a. Thor, one of San Gabriel's infamous Bachelor Firemen, certainly lives up to his nickname. He's tall and handsome, with a chiseled body worthy of any Viking god. But he'd give it all up for one glance from her.
Sweet, shy Maribel has no idea that Kirk's been pining for her. There's nothing he'd like better than to sweep her off her feet and show her just how exquisite their love could be. But Kirk has a secret, and he won't let anyone get close, least of all the sexiest woman he's ever met.
Can a feisty little dog and an even feistier little boy help these star-crossed lovers find the passion they both so richly deserve?
About the Author
Jennifer Bernard is a graduate of Harvard and a former news producer herself. The child of academics, she read tons of romance in secret and was swept away by the fantasy of it all. She's no stranger to book success as she's built quite a robust career (and online following!) writing erotic novellas straight to e-book.
And check out the other books in the "Bachelor Fireman" series, THE FIREMAN WHO LOVED ME and HOT FOR FIREMAN, on sale now. The third book in the series, SEX AND THE SINGLE FIREMAN, will be on sale January 29!
Avon Books * ISBN 9780062088963 * $5.99 * e-ISBN 9780062088994 * $4.99
Station 1 has been celebrated by the drooling news media as the nation's only all-bachelor fire station. But that moniker is about to change when the men at Station 1 participate in a charity bachelor auction, an auction attended by the matchmaking Nelly McGuire, fondly known as Grans.
News producer Melissa McGuire has a type. That type is artsy, soulful, and poetic. That type is more interested in foreign films than football and would rather lift a glass of wine than a set of weights. That type is definitely not Harry Brody, the rough-around-the-edges fire captain at Station 1. But when Melissa's meddlesome grandmother tricks Melissa into a date with the sexy Captain Brody, she can't deny the sexual chemistry that flares between them.
Brody has been burned by love before, and has no interest getting involved with a woman who thinks of firefighters as meatheads with more brawn than brains. And yet, he can't resist the tempting producer, especially once Melissa's ambitious news anchor assigns her the "Thanksgiving with the Firefighters" news special. Required to spend so much time together, Melissa and Brody can't keep the first spark of attraction from turning into a blazing inferno. Add in her grandmother's matchmaking and the combined efforts of Captain Brody's crew…can Brody help being the first bachelor to succumb to love?
Avon Books * ISBN 9780062088970 * $5.99 * e-ISBN 9780062089021 * $4.99
Ryan Anderson got suspended from San Gabriel Station One a year and a half ago for a daredevil act that nearly killed someone. Now he's back in San Gabriel, fighting to return to the force. He takes a job at a local dive, the Hair of the Dog, while he studies for the test that will get him his job back. But the real test comes in the form of Katie Dane, bar manager.
Katie got stuck running the family bar when her father had a heart attack. The place is losing money like crazy and the insurance is about to lapse. She's willing to go to desperate measures to save the bar, but the sexy former fireman keeps getting in her way. Can these two get along—and keep their hands off of each other—long enough to save their careers? Not likely. This is San Gabriel, after all.