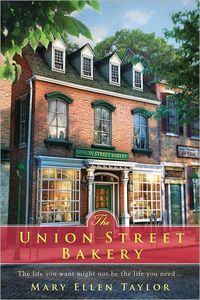 The life you want may not be the life you need
Berkley
February 2013
On Sale: February 5, 2013
352 pages
ISBN: 0425259692
EAN: 9780425259696
Kindle: B0099CTR0E
Paperback / e-Book
Books-A-Million
The life you want might not be the life you need…
This line introduces my first women's fiction novel THE UNION STREET BAKERY, just published as a Berkley Trade Paperback. These few words perfectly sum up the lesson facing my heroine Daisy McCrae who has not only broken up with her boyfriend and lost a great job, but has been reduced to living in the attic above her parents' failing bakery. Making matters worse, Daisy is an adult adoptee with unresolved feelings surrounding her adoption that have her questioning if she's a "real" McCrae.
For Daisy, who grabbed her college scholarship, left town and swore she wouldn't return, being with her family and living and working in the place where she was abandoned as a three-year-old is painful. The McCrae's adopted her and love her as one of their own, but Daisy still wants to know why her birth mother rejected her.
With her parents no longer able to run the bakery, Daisy's doing her best to keep the 160-year-old family business afloat and to manage her less than perfect relationships with her sisters.  Rachel, widowed thirteen months ago, lives in the shop's second floor apartment with her five-year-old twin girls.  She's been shouldering the load since their father's heart attack and reluctant retirement.  An extraordinary baker, she has no head for business. Their sister Margaret and her almost-Ph.D. in archaeology have returned to the store as well, though with a definite lack of punctuality and enthusiasm.
On Daisy's first day back in the shop, wealthy 99-year-old Mabel Woodrow comes by and tells her that she had dreamed about her the night before.  She ignites old sentiments and buried anger by insisting she knew Daisy's birth mother whom she'd seen on the docks hours before she abandoned Daisy.  Equally frustrating is the fact that Mabel chose not to tell the McCraes or the police about the woman. The next morning, Miss Mabel is dead. Her housekeeper delivers the news along with a handwritten journal from the mid-nineteenth century that the old woman had insisted go to Daisy.
Daisy knows she has the book for a reason and she's determined to uncover its secrets, but before she can begin to piece together the mysteries it may hold, she gets the answer to the question that's haunted her for thirty years.  Her birth mother is back.
Oh, I forgot to mention that Daisy's almost-fiancé Gordon Singleton shows up in search of a new life–and Daisy.
THE UNION STREET BAKERY was truly a labor of love. I'm an adoptive parent and have been very active in the adoption community for many years. I've glimpsed many of the heartfelt emotions that adoptees can struggle with and as a writer I spent many years struggling to find the right character who could express some very complex emotions. And then out of nowhere the character Daisy McCrae appeared and before I knew it the story was off and running.
I hope you enjoy THE UNION STREET BAKERY as much as I enjoyed writing it. I've posted an excerpt on my site and I hope you'll take a look. And please be sure to visit my contest page. I'm giving away an autographed copy of THE UNION STREET BAKERY.
Happy Reading!
Mary Ellen
P.S. I've included four of my THE UNION STEET BAKERY recipes in the book.  Happy munching!