Christmas With A Bite by Patricia A. Wolf
Sometimes the holidays totally bite…
Available now — .99 cents until 1/7/18
House of Elysian
Entangled Covet
December 2014
On Sale: December 15, 2014
Featuring: Mara Livingston; Connor Reece
175 pages
ISBN: 1633751589
EAN: 9781633751583
Kindle: B00Q1YU43M
e-Book
Add to Wish List
This Christmas, Mara Livingston is determined to start over. But as she's driving to her "new" home, a freak winter storm forces her off the road. Now she's stranded in the middle of nowhere. Then he shows up. And there's something strangely familiar about him…
Connor Reese never expected to see Mara again. Nor is he prepared for the onslaught of emotions–including an unimaginable rush of desire–she stirs within him. Now he has a chance to claim the woman he's always wanted. Except, there are a couple of small details that Mara doesn't know. The first is that Connor is a vampire. And the second is that if his family finds out about Mara, she will most certainly be killed…
Chapter One

Mara Livingston would have preferred a serious kick in the girly parts over being married to Rob Wright. Her fairy-tale marriage had been nothing more than a craptastic joke. She glanced down at her hands on the steering wheel and shook her head. She eased the gleaming wedding ring off her finger and tossed it into the glove box. She didn't want it anymore, didn't want the bitter memories that came with it.

Then, like Cupid himself mocked her, Rob's baseball tumbled out of the glove box onto the floor of the car. Another disgusting reminder. How easily he had fooled her, charmed her into believing whatever spewed from his lips. She twisted her hands on the wheel nervously, hating how he could still affect her while she was on her way out of his life forever.

She shook her head. It was regret, she told herself, regret that he was never the husband she needed. The last few years had been the hardest of her life, she admitted, and even though she was glad to finally put things to rest with Rob, she couldn't bring herself to forgive him. In fact, she couldn't feel anything but irritated. If only she'd been able to pull off the blindfold earlier and see through his illusions. Then she wouldn't be a thirty-year-old woman with a failed marriage and a failed career.

Love was for idiots, and Mara was the biggest idiot of all.

Now, two weeks before Christmas, to add to the misery, a freak Texas storm popped up, dumping snow and ice on the road just before she planned to drive home to Denver for the holiday. White-knuckled, Mara cruised down the highway, praying that she would make good time to her parents' house.

Hard pellets of ice pelted the windshield. They already covered the road. And—lucky her— dozens of cars littered the side of the highway with bright yellow emergency lights flashing.

Her temples throbbed, and her breath caught in her throat as she found herself gliding sideways on the road, skidding and drifting over the top of the ice hiding in plain sight.

Once she steadied the vehicle, she noticed red and blue lights flickering ahead and the traffic began to slow.

"Great," she sighed.

She tapped her fingers anxiously on the steering wheel until the jam crawled far enough ahead to reach an exit. Once off the highway, she plugged her parents' address into her GPS and set off for what she hoped would be a shortcut.

For a long stretch, she didn't see a single vehicle. Streetlights became fewer and farther between. Her stomach plummeted as she studied the dark ahead of her. The GPS was practically useless. She didn't even know if the piece of crap was working right. Why would it lead her here?

The car began to slide, and the steering wheel jerked from her hands. She grappled with it, but before she could right herself, the car was out of control. As she whipped around, the world blurred, headlights illuminating spinning scenes. Panic squeezed her heart, and she tried to call up her father's repeated instructions should she lose control like this.

"Let off the gas pedal," he would say. She lifted her foot.

"Go with the drift." But she couldn't. She gripped the wheel fiercely, praying, but it didn't help.

She felt herself scream as she slipped off the shoulder of the road and slammed up against a row of tightly- packed trees. The car sputtered and went dark. Only silence followed. For a moment, Mara wondered if she might be dead, but then the biting sting of cold settled over her and she smacked her hands on the steering wheel, letting her head fall back against the headrest. Tears stung the backs of her eyes. She was relieved to be alive and— it seemed— relatively uninjured, but she had wrecked her car. Like she needed one more disaster right now.

"Damn it," she groaned.

She fished around for her cell phone and squinted at the bright screen. No reception. The phone and her GPS were ganging up on her.

"Does anything around here work?" She wanted to scream, have a tantrum, and throw something. But what was the point?

The windows slowly fogged as she sat in the useless, smashed, nonworking car. Its only purpose now was to keep the wind off of her. It would be brutal if she stepped outside. The chill amplified as she became very aware of her limited supplies. She had been in such a hurry to escape her life with Rob, she hadn't bothered to pack many warm clothes. She had no blankets, water, or food.

Is my luck ever going to change?

She laughed. But it wasn't a sound of joy ripping for her throat. "Maybe Texas doesn't want me to leave," she muttered, clenching her jaw as she contemplated her options.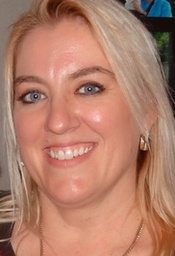 Patricia A. Wolf lives in Texas with her husband, daughter, and two English mastiffs (who act more like horses for her little girl). Aside from writing, Patricia enjoys reading every kind of romance book she can get her hands on, cycling behind her husband (so she can check him out), watching movies in the comfort of her home (which she doesn't get to do often since most of her time is spent chasing after a four year old, being a wife, and writing), and traveling (whenever possible, that is).