I've always been attracted by the image of the heroic highwayman, even though the myth puts a golden gloss on reality. So I squeezed a highwayman into the plot of A PERILOUS PASSION—well, two, actually, although neither steals anything more valuable than a pocketful of eggs.
My imagination was fuelled by the stories of Claude Duval, and James Maclaine.
Duval was a Frenchman who took to highway robbery on English roads after the Restoration of Charles II. A great one for the ladies, Duval robbed them with courtesy and flattery, flouting his handsome looks. When he was executed, aged only 27, it is said a number of disguised but obviously wealthy female mourners came to pay their last respects.
James Maclaine, "The Gentleman Highwayman", worked in partnership with a bankrupt apothecary called William Plunkett. The elegantly-dressed Maclaine pursued the ladies, in search of an heiress or someone with a substantial dowry, but never quite made it to the altar. His clothing and lifestyle were paid for by highway robbery, although he tended to lurk in the background while Plunkett conducted the actual hold-ups. Maclaine, having accidentally grazed writer Horace Walpole with a pistol shot, then wrote him a letter of apology for the inconvenience caused.
Like Rafe, Earl of Beckport in A PERILOUS PASSION, every great hero needs a great heroine, with courage, a generous heart and—to make the story more interesting—a shady past. For me, one such real-life heroine was Emma, Lady Hamilton. Much used and abused by the English aristocracy as a courtesan, she made the best of the situation, setting new trends in fashion, and featuring as artist George Romney's ideal of beauty. She became the mistress and helpmate of Admiral Horatio Nelson, one of England's greatest heroes. After his death, she struggled to bring up their daughter Horatia by herself, and fell into debt, ignored—and even reviled—by the nation Nelson had served so well.
Miss Charlotte Allston, heroine of A PERILOUS PASSION, owes her shady past to her father. For plot reasons, he had to be a smuggler, and I took for my model a man called Isaac Gulliver. From humble beginnings, Gulliver rose to operate an extensive smuggling empire across the South Coast of England, with a fleet of fifteen ships under his control. He dealt in the luxuries of the Georgian era, smuggling tea, gin, lace, and silk, evading customs duties. Gulliver was known as "the gentle smuggler who never killed a man", and became a respectable citizen in later life, but I don't know if the same can be said for his men!
Just to prove Regency England wasn't all pelisses and politeness, I want to mention Harriette Wilson. She was a notorious courtesan, known to take great pleasure her profession. She had "understandings" with some of the greatest men of the Regency period, including the Duke of Wellington, and the poet Byron. When her charms faded, she wrote her memoirs, blackmailing all her previous lovers into paying her to keep their names out of the published book. Very resourceful!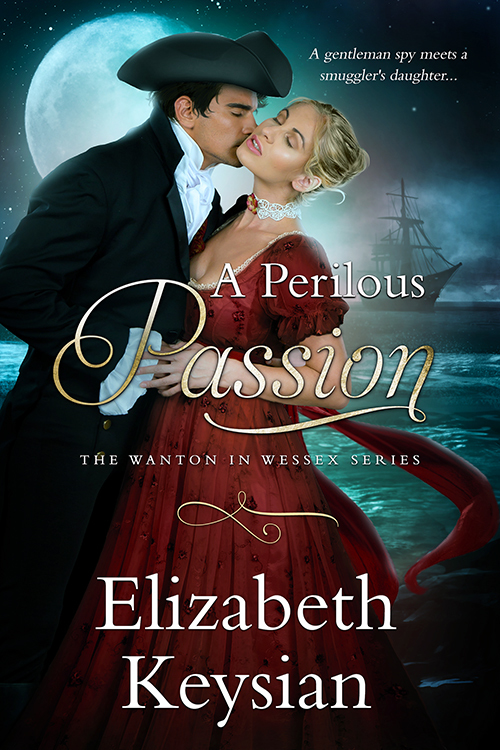 A PERILOUS PASSION
style="width:300px;" rel="share" >
Miss Charlotte Allston is unwittingly ensnared in a sinister web of traitors and spies when she is literally swept off her feet by a handsome stranger on the beach. Fiercely determined to redeem his honor after a humiliating military defeat, the Earl of Beckport is living incognito, hunting a band of smugglers at the center of a French plot to invade England.
The enigmatic Miss Allston instantly becomes a person of interest to the earl…and not just in the smuggling case. Passion flares swift and hot between the two. But when her attempts to help with his secret mission only endanger it, he must question where her loyalty truly lies.
Stunned by the sudden revelation that the woman he is falling for is the daughter of a notorious smuggler, Beckport feels duty-bound to report her. But then Charlotte is captured by the very traitor he's after, forcing the earl to decide between redemption…and love.
Romance Historical [Entangled Scandalous, On Sale: December 11, 2017, e-Book, ISBN: 9781640634459 / eISBN: 9781640634459]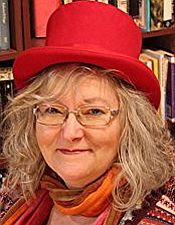 Elizabeth Keysian is an English archaeologist, teacher and museum curator. She first started writing "long stories" when her headmaster father needed something to keep her quiet during school summer holidays. In her teenage years she produced angst-ridden poetry, slightly disturbing sketches for an amateur dramatics group and even her own magazine, to the mixed delight and consternation of her friends.
After completing her History degree, Elizabeth joined an English Civil War re-enactment group, messed about with the Middle Ages and finally settled to an enjoyable reconstruction of Tudor Daily Life at Kentwell Hall in Suffolk.
Her imagination was further inspired by living for seven years on a Knights Templar estate, with a garage full of skeletons, a resident ghost and a moat teeming with newts. She now lives near Bath with her partner and cats.