More specifically, how "Save the Cat," a trip to the San Diego Zoo, a sprinkle of Christmas magic dust, and a warm, wonderful heroine helped me figure out how to (hopefully!) make readers love my hero as much as I do.
Mo Kincaid used to be a sinner. He knows it, he owns it, and he's turned his life around. Even so, he's a loner, a man who fixes vehicle engines and avoids getting close to people—because in his twenties he hurt everyone he cared for.
When HOLIDAY IN YOUR HEART starts, Mo has returned to Caribou Crossing, the small Western town he left many years ago, abandoning his wife and son. He now feels compelled to see them and offer his sincere apology, and see if there's any way to make amends. He thinks no further than that. He never dreams, because he doesn't believe he deserves to dream. The last thing he imagines is that he might become part of a family and find an amazing woman to share his life.
But long before any happy ending could happen, I needed the reader, right up front, to see that this man, a true lost soul, was capable of being so much more.
In Blake Snyder's guide to screenwriting, he has a technique for helping an audience relate to a less-than-sympathetic character. It's called Save the Cat—as in, if the hero saved a cat, wouldn't that tell you something about him and make you like him better?
Well, I didn't have Mo save a cat, but there'd been another character lingering in my brain ever since I saw New Guinea Singing Dogs at the San Diego Zoo a couple of years ago. They're not your normal dog. They're wilder, free spirits, independent, not the kind of dog that begs for your affection. But they can also be domesticated and they're capable of affection. Their personality is more like that of a cat. (And there's that cat again…) Their name comes from their weird, warbly howl. They can climb trees and fences, and wriggle through the tiniest holes. Are you in love yet? I was. So, enter Caruso, a singing dog that was abandoned at the animal shelter and keeps escaping.
In the first scene, his escape path leads straight to Mo and a connection is made, one that leads over time to the two adopting each other. It's in part through this relationship that I show readers Mo's capability for affection, commitment, and responsibility, and the way those qualities unfurl and flower over the course of this redemption story.
Now, this is a romance, so of course there's a woman. Maribeth Scott's openness to Mo and her ability to see his strengths are huge factors that help him realize his potential. She facilitates his reunion with his ex-wife and son—her friends Brooke Brannon (the heroine of GENTLE ON MY MIND, who is also a redeemed sinner) and Evan Kincaid (the hero of HOME ON THE RANGE). Maribeth helps Mo realize that he's long since paid for his sins and that he deserves to dream and to move on with his life.
But can he move on with her? When the book begins, 39-year-old Maribeth, who's been dating for a quarter of a century but never found Mr. Right, has decided to move ahead with her own life and realize her dream of being a mother. She's going to find a sperm donor. But then she meets Mo and feels the kind of attraction she's never felt before, not just to his sexy looks but to the warm, generous man she knows lurks inside his battered, guilt-ridden soul. There's one huge obstacle, though. Even if Mo can come to believe—with the help of Caruso, Brooke and Evan, and Maribeth—that he's capable of love, he is convinced that, after having utterly screwed up parenthood the first time, he should never again have a child.
Can Maribeth—and the miracles of a Caribou Crossing Christmas—convince him that he not only deserves to dream, but to have his dreams come true?
In a starred review, Publishers Weekly says: "Fox knows just how to spin a sweet (and slightly spicy) romance with plenty of heartstring tugging and Christmas cheer."
I'd love to hear your views on redemption stories. Do you believe that sinners who truly regret their past actions deserve a second chance?
GIVEAWAY
Just post below your thoughts on redemption and one reader will win an autographed copy of HOLIDAY IN YOUR HEART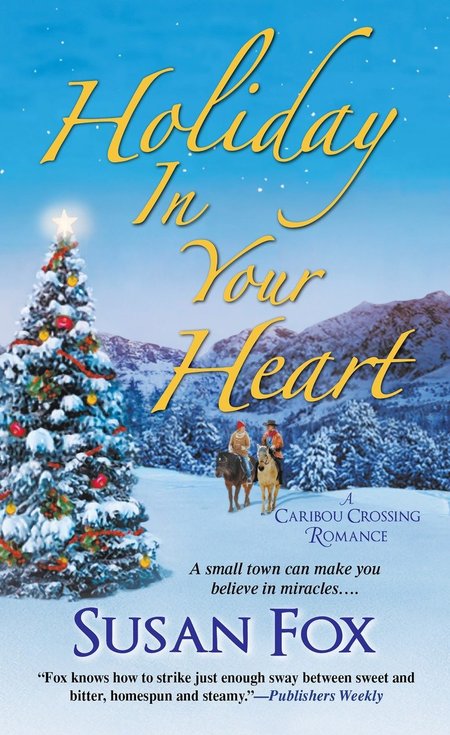 It's Christmas in the cozy Western town of Caribou Crossing, the season for homecoming, forgiveness, and—just maybe—the gift of a fresh start…
As the holidays approach, the air is filled with the festive sounds of bells chiming and carolers singing. Maribeth Scott loves Christmas, but she's pretty sure that after years of waiting, Santa isn't finally going to gift her with Mr. Right. In fact, the only thing she truly wants for Christmas is a baby to love. At thirty-nine, she's determined to become a mother and she will make it happen, even if she has to do it on her own.
When Mo Kincaid returns to the rustic town after almost twenty years away, he's seeking redemption from his checkered past. The last thing on his mind is romance, and he's certain he doesn't deserve it. But now there's irresistible Maribeth, showing him the true spirit of Christmas and winning his heart. For the first time in Mo's life, the future looks bright. Only one thing stands between them: Maribeth's deep desire for a child and Mo's conviction that he's too flawed to be a father. Is his world-weary heart ready to take the ultimate leap of faith?
Romance Contemporary | Romance Western | Holiday [Zebra, On Sale: September 27, 2016, Paperback / e-Book, ISBN: 9781420140286 / eISBN: 9781420140293]