1–What's the name of your latest release?
LOATHE AT FIRST SIGHT, coming out August 18!
2–What is it about?
LOATHE AT FIRST SIGHT is an #OwnVoices workplace rom-com set in the video game industry. In this novel, Korean-American producer named Melody Joo is tasked with launching a controversial video game while being antagonized by everyone around her, especially Nolan MacKenzie, the company's new MBA intern.
3–What word best describes your heroine?
Fierce.
4–What makes your hero irresistible?
He's a charming, smart, quirky, plaid-shirt-and-tortoise-shell-glasses-wearing kind of guy.
5–Who are the people your main characters turn to when they need help?
Her best friends Candace and Jane, as well as her mentor/friend at work, Kat.
6–What do you love about the setting of your book?
The backdrop is Seattle, where I lived for a long time. I love the sense of place it invokes, especially with the weather and the food and cafe scene. The work setting is also something I loved including in this book: I hearkened back to my days in tech where we had cubicles/workspaces and hard-to-book conference rooms and it was a lot of fun to describe.
7–Are you a plotter (follow an outline) or a pantser (write by the seat of your pants)?
I've been a pantser for a long time, but then with my new book coming next summer, I tried to do some loose outlining (basically, a really long synopsis) and didn't follow it at all. So, I'm a pantser by default because I'm a failed plotter! 
8–What is an ideal writing day for you?
An ideal day would start with drinking an iced coffee while getting through email/admin/marketing. Then a snack. I like writing sprints so I'd rope in my friends Helen or Judy to write in spurts until lunchtime. Then more sprints after lunch with more intermittent snack breaks.
9–Do you listen to music while you write, need total silence, or do you have the TV on?
I prefer total quiet, but with the pandemic and all of a sudden having "coworkers," one of which who likes watching Pokemon, Avatar the Last Airbender, and Teen Titans Go (in the same room I'm in), I've had to adapt to working through loudness. I tried noise-canceling headphones but all that does is make me hear my own breathing a la Darth Vader, which to me is actually much worse. 
10– How do you approach research?
For LOATHE AT FIRST SIGHT, I went into heavy research mode and collected all sorts of quantitative and qualitative data: I attended industry panels, read a ton of articles and books, scoured message boards, and interviewed friends who worked at game companies (both males and females). I have a background in marketing research and sometimes go overboard on making sure all the little details are right. This book required more research than anything else I've written–usually I end up reading subject-specific books and online articles and if necessary, I do interviews, too.
11–What is your publishing journey story? 
I had always wanted to become a humor writer (is "Humorist" a real job title these days?), and through a series of random events, I tried out stand-up comedy, thinking that was a good way to start. My comedy career was going well, but over the years it didn't feel like it was what I was put on Earth to do. I took a lot of writing classes in the evenings after work (one was held at a poorly lit Seattle Best Western meeting room with uninspiring decor) and the first novel I drafted was an absolute disaster. It was a three-hundred-page blog entry about pretty much nothing. I cleaned it up considerably and submitted the manuscript for a mentorship contest, and my mentors helped me with plotting, planting (foreshadowing) and pacing. After a few rounds of intensive rewrites, my three-hundred-page blog post turned into a real novel. From there I got a literary agent, and years later, I sold a young adult novel in a two-book deal. After that, I sold LOATHE in another two-book deal. Nothing happened for a long time, and then all of a sudden, everything happened!
12–Do you have critique partners/writing groups you want to give a shout-out to? 
Yes! Huge shout-out to Helen Hoang, Whitney Schneider, Roselle Lim, and Annette Christie. My writing group has been through many drafts of a lot of projects–thank you MAPID group, Ken, Michael, Katrina, Ben, and Jason!
13–What're the most frustrating things about being an author?
Definitely the lack of control. There are a lot of editorial, marketing and sales decisions that the author isn't involved in, and lots of surprises spring up all over the place. Sometimes it's like an endless whack-a-mole game.
14–What's your favorite scent?
Fresh baked cookies. Mmmmm. I also love the smell of old library books, fresh-cut grass, and brewed coffee.
15–What movie will you watch no matter what if it's on TV?
A tie: The Sound of Music or Anne of Green Gables
16–Do you like breakfast, lunch, or dinner best?
At a restaurant, breakfast! If I make it at home, lunch 
17–What's one thing you wish you knew more about?
Curing insomnia 
18–What's the silliest thing you've recently done? 
19–What can readers expect from you next?
Two more rom-comy books coming out in 2021, one YA and the other another adult book–about an overworked female Wall Street banker! My YA book cover should be revealed in the next few weeks!
20–How can readers reach you?
At www.suzannepark.com, www.twitter.com/suzannepark, and www.instagram.com/suzannepark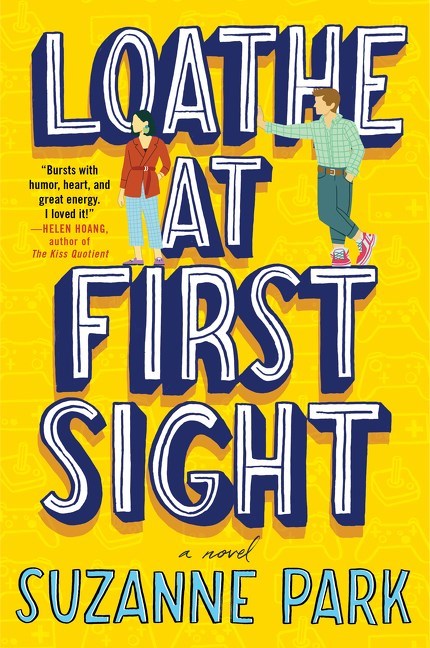 In a debut perfect for fans of Jasmine Guillory and Sally Thorne, a junior video game producer finds herself getting closer and closer to the one person she hates most after a mass troll attack online almost ruins her life.
Melody Joo is thrilled to land her dream job as a video game producer, but her new position comes with its share of challenges. Namely, an insufferable CEO and a team that consists of mostly male co-workers who make the term "misogyny" pale in comparison to their obnoxious comments. Then there's the infuriating—yet distractingly handsome—intern Nolan McKenzie, a.k.a. "the guy who got hired because his uncle is the boss".
Just when Melody thinks she's made the worst career move of her life, her luck changes on a dime. While joking with a friend, she creates a mobile game that has male strippers fighting for survival in a post-apocalyptic world. Suddenly, Melody's "joke" is her studio's most high-profile project—and Melody's running the show.
When Nolan is appointed a key member of her team, Melody's sure he'll be useless. But as they grow closer, she sees he's smart and sexy, which makes Melody want to forget he's her intern. As their attraction deepens, she knows it's time to pump the brakes even with her Korean parents breathing down her neck to hurry up and find a man. But she's here to work—and nothing more. All she has to do is resist the wild thoughts coursing through her mind whenever Nolan is near. Easy . . . or so she thinks.
With her pet project about to launch, Melody suddenly faces a slew of complications, including a social media trolling scandal that could end her career. She suspects one of her co-workers is behind the sabotage and is determined to find out who betrayed her. Could the man she's falling hard for help her play the game to win—in work and love?
Romance Comedy [Avon, On Sale: August 4, 2020, Paperback / e-Book, ISBN: 9780062990693 / eISBN: 9780062990709]
Loathe at First Sight is Love at First Chapter.
Suzanne Park is a Korean-American writer who was born and raised in Tennessee. As a comedian, she was selected to appear on BET's Coming to the Stage. Suzanne was also the winner of the Seattle Sierra Mist Comedy Competition and a semi-finalist in NBC's Stand Up For Diversity showcase in San Francisco. Suzanne graduated from Columbia University and received an MBA from UCLA. She currently resides in Los Angeles with her husband, female offspring, and a sneaky rat that creeps around on her back patio. In her spare time, she procrastinates. She is also the author of a YA romantic comedy novel The Perfect Escape.