I'm a huge believer in fate. When we don't know what's ahead, or can't see how things work, we can trust that Fate is there, stepping in, even if we don't know she's there! I've seen evidence of this so many times in my life. So much so that I've learned to trust. To be comforted, rather than frightened, when Fate takes a hand.
Take, for instance, the year I was invited to take part in a Harlequin anthology celebrating older heroines. This was twelve years ago. I'd been asked to contribute a novella to the anthology. I could write any story I wanted to write – as long as the heroine had a late in life pregnancy.
Of course, I happily accepted! Within a week, I'd had a call from my brother, who'd already had his fortieth birthday, telling me that he and his wife, his same age, had just found out that they were expecting a child. They'd taken measures, physical measures, to have no more children. This child was truly a miracle.
I set out to write my story with joy in my heart.
I started researching immediately. And found that one of the big scares for women giving birth after forty, was having a baby with Down Syndrome. Because of the way a women's body works, eggs breaking down, the risk of have a child with Down Syndrome increases noticeably after age forty.
So, my heroine had a reason to be afraid. That's all I needed. I moved on.
And a week later, received a call from my brother telling me that he and his wife had come from a test that showed that their unborn child had Down Syndrome. He was crying. Absolutely devastated. I cried for him. Hurt for him. But in my heart…I felt sad for him. Not for the child. I'd read about the joy people with Down Syndrome bring to the world. They have challenges, some more than others, but something about genetic being makes them prone to joy. I couldn't wait to meet this very very special miracle child.
Our little guy celebrated his eleventh birthday this summer. He is more joy than I'd even imagined he'd be. He has his challenges. If I could wish them away I would. But I would never, ever wish him away. He is perennial joy. Just being in the room with him, watching him, makes me happy. When I hear his voice on the phone, or get a picture, I just smile. Every time. Our boy is truly that special miracle I'd known he would be. He adores his father. And his father adores him, too.
My nephew was the inspiration for my August release, FOR LOVE OR MONEY. I'd share a picture with you because he's handsome and adorable, but I have a thing about putting my little one's pictures on the internet. You'll just have to trust me. But you can read about Dawson, a four-year-old special spirit who brings joy to those around him. You'll get a slice of the joy my boy brought to my heart. From him through me, to you. In FOR LOVE OR MONEY.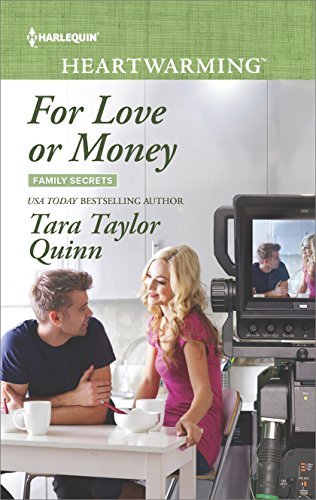 She can't afford to lose this or him
There's no way that struggling single mom Janie Young is going to lose Family Secrets. Not even to Dr. Burke Carter. The prize money and media exposure from the cooking-competition show will secure the future for her and her son, who has special needs. Sure, Burke is a talented chef with his own reasons to win, but he already has so much: wealth, a beautiful daughter, great looks and definitely her attention. As their families become closer, Janie is beginning to care too much about him. But she can't afford to get involved. Not when everything is riding on beating him.
Romance Contemporary [Harlequin Heartwarming, On Sale: August 1, 2016, e-Book, ISBN: 9780373367993 / eISBN: 9781488009167]