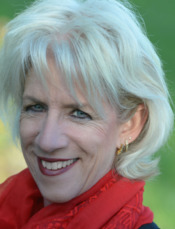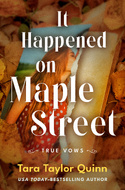 I'm so glad to be back with Sara and Gwen and Faye and everyone here at Fresh Fiction.  My husband, Tim Barney, and I are on a fifty stop original post blog tour, and a physical tour as well for our new book, IT HAPPENED ON MAPLE STREET.  We're having all kinds of new experiences and are very grateful for every one of them, but it just plain feels good to be someplace familiar!  In celebration of our return to Fresh Fiction, we're giving away a copy of IT HAPPENED ON MAPLE STREET to one of today's commenters.
IT HAPPENED ON MAPLE STREET is a very unique book.  It's marketed as romance fiction.  And it's a true story.  I am a romance writer.  And I wrote my true life story in the form of one of my fiction novels.  As we travel, we're hearing some of the same questions over and over and today I'm going to answer the three at the top of the list!
First:  How much of the story is true?
Almost all of it.  As in with films based on true stories, some of the names and circumstances have been changed, but not many of them.  Most of the story is told one hundred percent as it happened.  Tim and I did not spare ourselves as we told this story.  We wrote this book, in large part, to reach out to women who, like I did, are living in the darkness of silence.  In large part, I  lost twenty-seven years of my life because of my silence.  I spent years in the internal hell of isolation chained by fear and guilt and feelings of unworthiness.  I lost Tim twenty-seven years ago because of that silence.  With his help, I'm speaking out, in the hopes that other women who might be suffering under the same misconceptions that held me silent, will find their voices.  We can't reach these women if we glorify ourselves.  We'll only set ourselves apart and seem like some kind of magical lucky ones.  And so in IT HAPPENED ON MAPLE STREET, you get us for real.
The intervening years – the term Tim and I use to refer to the years we were apart – are fictionalized.  But where he and I are concerned personally (meaning, the way we felt inside) even those years have factual basis.  And a drive by Tim does during the intervening years in the book really took place.
Second:  What Happened On Maple Street?
Everyone, from our publisher's sales staff to newspaper reporters, are asking this question!  Maple Street is where Tim grew up.  It was where he lived when he and I met in college.  He and I fell in love on Maple Street.  Tim gave me his class ring there.  And as you'll find when you read the book, things were pretty hot and heavy there.  The culminating factor to our original break up took place there.  And today, Tim and I live only a couple of miles from that house on Maple Street.  It looks pretty much the same now as it did thirty years ago.  New paint.  Some renovation, but the same exact bones on the same exact lot.  The book was titled by those who knew the story.  I had no idea the title would raise such question from the outside looking in.
Third:  What is your association with the National Domestic Violence Hotline?
I am a spokesperson for the hotline – and what that means is that I am distributing their information every single place I go.  The hotline The National Domestic Violence Hotline was established in 1996 as a component of the Violence Against Women Act (VAWA) passed by Congress.  The Hotline is a nonprofit organization that provides crisis intervention, information and referral to victims of domestic violence, perpetrators, friends and families. The Hotline answers a variety of calls and is a resource for domestic violence advocates government officials, law enforcement agencies and the general public. The Hotline serves as the only domestic violence hotline in the nation with access to more than 4,000 shelters and domestic violence programs across the United States, Puerto Rico and the U.S. Virgin Islands.  Advocates receive approximately 23,500 calls each month. The Hotline is toll-free, confidential and anonymous. It operates 24 hours a day, 365 days a year, in more than 170 different languages through interpreter services, with a TTY line available for the Deaf, Deaf-Blind and Hard of Hearing.
I can tell you that every single call to the National Domestic Violence Hotline is treated with respect and kindness.  Even if you just think you or someone you know might possibly be a victim, they will listen with compassionate ears and give sound direction.  They really really can help.
And as IT HAPPENED ON MAPLE STREET attests, there is no shame in making the call.  No shame in being mistreated.  No matter how hard that is to believe sometimes.
Tim and I are making appearances from now through April, 2012 and would love to see any and all of you if we happen by your area or you happen by ours.  Our appearance schedule is up at www.tarataylorquinn.com.  And for the Tea Readers – we're going to be at Readers and 'Rita's in November!!  We can't wait to visit with you all – and party hardy this time around.
In the meantime, we hope you'll join us for the IT HAPPENED ON MAPLE STREET International Blog Tour, underway now.  We're giving out a basket of goodies each week drawn from the week's blogs commenters.  In addition to the random book giveaways.
This post is brought to you as part of the IT HAPPENED ON MAPLE STREET International Blog Tour.  For a complete tour schedule visit www.tarataylorquinn.com.  All blog commenters are added to the weekly basket list.  Gift Basket given each week to one randomly drawn name on the list.
If you or someone you know is a victim of domestic violence, or if you suspect someone is, please contact www.thehotline.org, or call, toll free, 24/7, 1-800-799-7233 (SAFE) or 1-800-787-3224 (TTY).  The call can be anonymous and is always confidential.  There is not one second of life that is worth wasting.
Next tour stop, Wednesday, April 20, Australian Romance Readers Association:  http://australianromancereaders.wordpress.com/.
To get your copy of IT HAPPENED ON MAPLE STREET, visit your favorite bookseller, or www.maplestreetbook.com.
Don't miss The Chapman Files!  Still available at: Amazon.com
IT HAPPENED ON MAPLE STREET is available on Kindle and Nook, too! Kindle ;  BarnesandNoble.com
To comment on Tara Taylor Quinn's blog please click here.