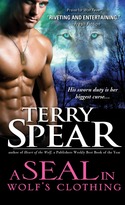 Having a SEAL in a wolf title probably doesn't sound like that big a deal, right? Hot and sexy SEALs are the rage right now. I almost feel sorry for the Rangers and Special Forces men, or others that go through so much rigorous training, but aren't getting all the rave publicity. My son is in going through some now for the AF even.
When you combine SEALs with wolves, sounds like the perfect combination, right? But there's a problem.
Mentioning the title means the listener can't see the capitalized SEAL, as in Navy SEAL, and that's a whole 'nother story.
Ohmigod, she's flipped out.
That's the look I get.
She's now writing about seal shifters? With wolves? Really?
No one is ready for that. And I have to smile before I go on and explain. SEALs as in US Navy SEALs.
Oh.
I can see the relief on their faces. I'm going to be all right. I haven't gone off the deep end. Yet.
Titles are so important in marketing a book. It can catch your attention and make you read the blurb, then want to go further and read the book. So I can just envision the images evoked when saying the title out loud:
Barking seals and howling wolves.
And not a muscled, fit Navy SEAL who protects a body in the gravest of missions.  Now don't get me wrong. I love seals. They're adorable! But SEALs are much more….wolfish…
Of course when I mention the title, I could start out with, it's about a US Navy SEAL, but what's the fun in that???
I'd rather get the startled look, the small smile…see the cogs in motion as the listener is imagining a cute little seal and a hungry wolf and that I've flipped out. And then seeing the light dawn when I say, SEAL as in hunky Navy SEAL. Call me a tease. I get it from my dad. He was the world's biggest tease.
He'd appreciate the humor. Although he was AF and might have preferred some other special ops type of guy. I was Army, so I should be basing one on a hunky Ranger or Green Beret!
But when I wrote about Hunter a couple of years ago, and the fact his pack is living on the Oregon Coast, I thought—SEAL. And that's what the story is about. A team of alpha SEAL guys. Hurrah!
Of course it doesn't hurt to have a gorgeous hunk of a SEAL on the cover of the book either!!!
I have to also mention that just up the coast from the cabins Hunter and Meara rent out, there is a seal cave. The cute barking kind. I believe I mentioned them in TO TEMPT THE WOLF, Book 3, and the first book that mentions Hunter and his pack.
Oh yeah, here is the excerpt from TO TEMPT THE WOLF:
"The way the light plays off the storm-driven waves. The deer eating undisturbed in the sun-mottled forest. Even the seals basking on the rocks near the caves below the cliffs. As if you were an unobtrusive observer preserving nature at its best with one click of the camera," John said, motioning to them.
So if you love that kind of seal, they're in TO TEMPT THE WOLF also!
And here's a little from A SEAL IN WOLF'S CLOTHING, showing just how a she-wolf and a SEAL from Meara's brother's team interact:
She thought again about what he'd told Hunter, that he saw her in a brotherly way. Right. Yet she didn't move away from him, seeking a safe distance, either.
The chill in the night air made her shiver, and she instinctively inched closer to Finn, seeking both the heat from his body and his protection from the breeze. She'd thought she might be walking along the beach with Joe tonight, if he hadn't said he'd known Hunter and turned out to be an imposter. But she'd never expected to be snuggling up to one of Hunter's SEAL mates and devouring melted chocolate-marshmallow creations beside him.
She glanced up at him and saw that his lips had remnants of chocolate and a couple of specks of marshmallow. She wanted to lick the chocolate and marshmallow off his lips, but she resisted. He watched her, and she suspected he knew just what she'd thought of doing.
Before she did anything stupid, she motioned for him to get back to cooking her marshmallows. "Some more."
He laughed in a deeply seductive way and then skewered another couple of marshmallows. "Hunter didn't tell me you had a real sweet tooth."
"Hmm, I'm sure Hunter didn't tell you a whole lot about me."
A smile lingered on Finn's lips as he turned away to watch the marshmallows melting, browning over the fire, and almost ready to eat.
"Well, he didn't, did he? I mean, maybe that I'm strong-willed."
Finn took a deep breath. "He told us you saved a human girl once who had fallen into a swollen river. Nearly drowned yourself in the process. And another time, you took on a pack of hunters who were killing deer out of season. That you chased a purse snatcher, faced down the knife he was armed with, and still got the woman's purse back intact without getting sliced to ribbons."
"It was instinctive." Meara didn't care for the way Finn was looking at her, just like Hunter would when he thought she'd done something foolhardy. She was a werewolf, and that meant she reacted instinctively. Well, because she was an alpha werewolf. A beta probably wouldn't have.
At least Hunter hadn't known about most of the situations she'd gotten involved in because he was away on missions, either serving in the Navy or working on contracts after that. She just wasn't the type of woman who could stand by and hope someone else would step in and save the day.
"I don't want you doing that here. While I'm protecting you, no heroics."
"Unless you're the one who's being heroic," she said.
"That's my job. I'm trained for it. So yeah, let me take care of the bad guys, if the time comes."
She smiled. "Suit yourself." But if Finn needed her help, she was not going to sit back and watch as if she was observing a gladiator fight and was strictly a spectator.
He looked like he didn't believe her. "I mean it, Meara."
If that didn't sound just like Hunter! "I heard you the first time."
"Yeah, but you have that intense look that says you're not going to mind."
She didn't respond, watching the shape of his mouth as it closed over the last bite of his s'more.
This time when he finished it, she boldly reached up and licked the chocolate off his lips. She could be just as brash as he was.
***
And that's the difference between a SEAL and a seal…and a she-wolf who's just as alpha!
What do you envision when you hear the title? Cute and fluffy, or hot and sexy?
Terry Spear
Her instincts tell her he's dangerous…
While her overprotective brother's away, Meara Greymere's planning to play—and it wouldn't hurt to find herself a mate in the process. The last thing she needs is one of his SEAL buddies spoiling her fun, even if the guy is the hottest one she's ever seen…
His powers of persuasion are impossible to resist…
Finn Emerson is a battle-hardened Navy SEAL and alpha wolf. He's a little overqualified for baby-sitting, but feisty Meara is attracting trouble like a magnet…
As the only responsible alpha male in the vicinity, Finn is going to have to protect this intriguing woman from a horde of questionable men, and definitely from himself…
Experience the sensual, action-packed, critically acclaimed world of Terry Spear, author of a Publisher's Weekly Best Book of the Year…
ABOUT THE AUTHOR
Terry Spear has written a dozen paranormal romance novels and two medieval Highland historical romances. An award-winning author, Terry's Heart of the Wolf was named a Publishers Weekly's Best Book of the Year in 2008. A retired lieutenant colonel in the U.S. Army Reserves, Terry Spear is a librarian by day and spends every spare moment writing paranormal romance as well as historical and true life stories for both teen and adult audiences. Spear lives in Crawford, Texas, where she is working on new paranormal romances! For more information, please visit http://www.terryspear.com/.
http://terry-spear.blogspot.com/
http://twitter.com/#!/TerrySpear
If you want to leave a comment on Terry Spear guest blog post click here.